Peter Schiff recently made a video where he went to the parking lot of Wal-Mart (NYSE:WMT) and asked customers if they thought that Wal-Mart workers should be making $15 per hour. Many replied yes. Then, he asked them if they were willing to pay 15 percent more for everything to make the $15 per hour wage possible. Of course, they did not want to pay.
The following is the income statement for Wal-Mart.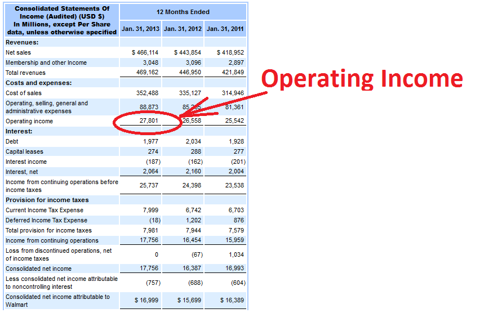 As you can see, during the last fiscal year, Wal-Mart made $27.8 billion in operating profits. What would it mean to the financials if the company was required to pay its employees $15 per hour?
Wal-Mart has 2.2 million employees. For simplicity, let's assume that all of them make $7.25 per hour and work 40 hours per week. I understand that some, including the CEO, make millions -- but the majority of them make very little. If they got paid $15 per hour, this means that Wal-Mart would have to pay an additional $7.75 per hour which is the difference between $15 and $7.25. This would equate to $34.1 billion of extra expense per year as shown below.
2,200,000 employees x $7.75 per hour x 40 hours per week x 50 weeks per year = $34,100,000,000 or $34.1 billion. This is what the impact would be on the company's profits.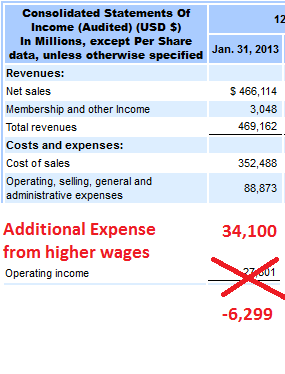 In other words, Wal-Mart would be losing $6.2 billion per year if it paid its workers $15 per hour. So if the new minimum wage went to $15 per hour, prices for everything the store sells would have to go up, or the company would go out of business -- thus firing 2.2 million people. I am not defending Wal-Mart or Peter Schiff, but simply presenting a reality. If you think the minimum wage should be raised, then you also think that consumer prices are too low, which is fine, but you can't have it both high minimum wage and low prices. Retailers operate on very low margins.
Disclosure: No positions