Over the past 5 years, shares in Visa Inc. (NYSE:V) have increased by an amazing 297.9%, currently reaching an all-time high of $219.59. The year-to-date increase stands at a very respectable 44.3%. The question I will try to answer in this article is: Can history repeat itself? Will Visa continue to grow?
First off all, let's take a look at Visa's revenues. In fiscal year 2008, Visa's revenue was at $6.26 billion. Five years later, in the recently ended fiscal year 2013, revenues were at $11.78 billion. Analysts expect this revenue to grow to $12.97 billion this year, with a further increase to $14.43 billion expected in fiscal year 2015. This gives Visa a forward price to sales ratio of 10.7, which is close to MasterCard's (NYSE:MA) P/S ratio of 10.4 for fiscal year 2014. The graph below shows Visa's annual revenue increases.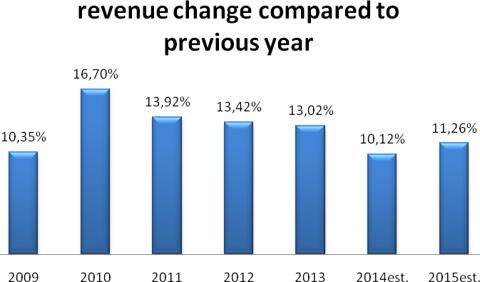 Visa's earnings per share have been growing at an amazing rate in previous years due to the company's massive share repurchases and growing net income. The total number of shares has decreased from 1.39 billion at the end of fiscal year 2008 to only 636 million today. Net income went from $804 million in 2008 to $4.98 billion in the most recent fiscal year. Earnings per share are expected to reach $8.89 in fiscal year 2014, giving the company a forward P/E of 24.6, which is a bit cheaper than MasterCard's forward price to earnings ratio of 26.1.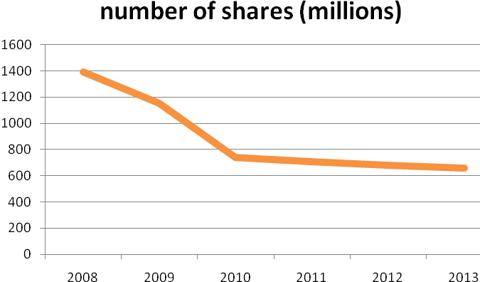 Looking at Visa's balance sheet should put a smile on any investor's face. The company is completely free of debt, and keeps $2.19 billion in cash. It's refreshing to see a company that doesn't need to borrow money to repurchase share or pay its shareholders dividends.
At current levels, investors in Visa aren't getting too much in the form of dividends, with the current yield at 0.73% (which is still better than MA's 0.54%), but considering the low payout ratio, I wouldn't be surprised to see shares in Visa yield a lot more in the near future. If analyst expectations for EPS of $10.36 in fiscal year 2015 are correct, Visa could pay $1 per quarter in dividends, while still keeping the payout ratio at a relatively low 38.6%. This would give investors getting in now a yield on cost of 1.83%.

Disclosure: I have no positions in any stocks mentioned, but may initiate a long position in V over the next 72 hours. I wrote this article myself, and it expresses my own opinions. I am not receiving compensation for it (other than from Seeking Alpha). I have no business relationship with any company whose stock is mentioned in this article.
Disclaimer: I am not a registered investment advisor and do not provide specific investment advice. The information contained herein is for informational purposes only. Nothing in this article should be taken as a solicitation to purchase or sell securities. Before buying or selling any stock you should do your own research and reach your own conclusion. It is up to investors to make the correct decision after necessary research. Investing includes risks, including loss of principal.