As an income-driven investor, there are a number of minimum criteria I like to establish before deciding whether I should be bullish or bearish on a particular dividend paying stock.
For example, these criteria include but are not limited to a dividend yield over 3.5%, a forward P/E ratio of 35 or lower, strong dividend behavior over the last several years, and a positive 20-day, 50-day, and 200-day simple moving average. In today's article, I wanted to venture into the Hotel/Motel REIT sector and highlight several reasons why I'm staying bullish on shares of LaSalle Hotel Properties (NYSE:LHO).
LaSalle Hotel Properties (Overview)
Based in Bethesda, Maryland, LaSalle Hotel Properties, a real estate investment trust (REIT) is currently engaged in the purchase, ownership, redevelopment, and leasing of primarily upscale and luxury full-service hotels in convention, resort, and urban business markets in the United States. It owns 34 hotels, totaling approximately 9,200 guest rooms in 15 markets in 11 states and the District of Columbia. (Yahoo! Finance)
#1: Recent Performance & Trend Behavior Looks Positive
On Tuesday, shares of LHO, which currently possess a market cap of $3.01 billion, a forward P/E ratio of 34.39, and a dividend yield of 3.56% ($1.12), settled at a price of $31.43/share. Based on their closing price of $31.43/share, shares of LHO are trading 2.58% above their 20-day simple moving average, 1.91% above their 50-day simple moving average, and 14.95% above their 200-day simple moving average. These numbers indicate a short-term, mid-term, and long-term uptrend which generally translates into a near-term buying mode for traders and a moderate buying mode for longer-term investors.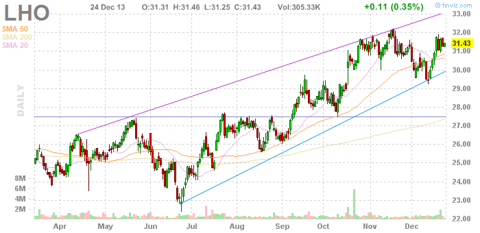 #2: 3-Year Dividend Behavior
Since December 29, 2010, the company has increased its quarterly distribution twice in the last three years, with the most recent increase having taken place in September of this year. The company's forward yield of 3.56% ($1.12) coupled with its ability to maintain its quarterly distribution over last three years, make this particular Hotel/Motel REIT play a highly considerable option, especially for those who may be in the market for a moderate stream of quarterly income.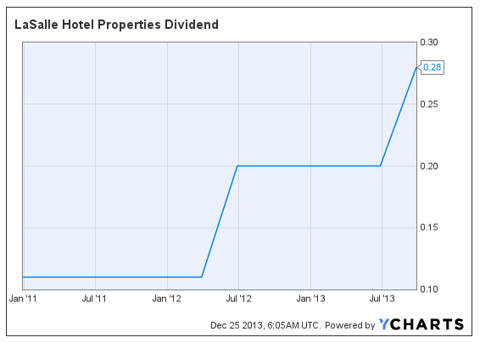 #3: Comparable Dividend Growth
Not only does the company's 3.56% dividend yield and 3-year dividend behavior make this particular stock a highly attractive option for most income-driven investors, its dividend growth over the last three years versus one of its sector-based peers is also something REIT investors like myself should consider. From a comparable standpoint, LHO's dividend has grown a solid 154.5% over the past five years, whereas the dividend growth of its sector-based peer Chesapeake Lodging Trust (NYSE:CHSP) had only increased 30% over the same period.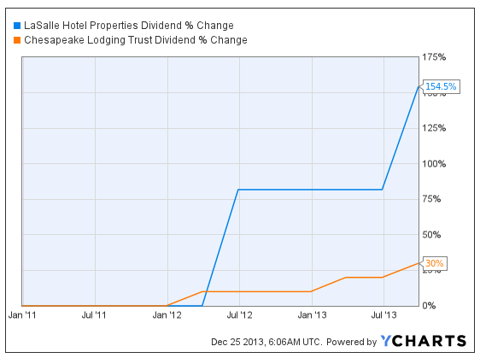 #4: Looking Ahead To Q4 FFO
If we begin to look ahead to the company's Q4 FFO, in which analysts are calling for LHO to earn $0.67/share in terms of FFO (which is $0.09/share lower than the company had reported during Q3 2013 and $0.20/share higher than the company had reported during Q4 2012) and $252.75 million in terms of revenue (which is $17.25 million lower than the company had reported during Q3 2013 and $37.05 million higher than the company had reported during Q4 2012), I suspect most investors would like to see LaSalle continue to demonstrate the strong quarterly performance that has occurred in each of the last four quarters. In my opinion, the company's streak could very well continue, however, a few key increases may need to happen in order for estimates to be met or even slightly surpassed.
How can LaSalle Hotel Properties surpass estimates?
If the company can demonstrate an increase of at least 3.75%-to-4.25% in terms of Room Revenue Per Available Room (RevPAR), an increase of at least 40 basis points in terms of its Hotel EBITDA Margin (36.3% was reported during Q3 2013), and a 1.25%-to-1.65% increase in its Average Daily Rate, I see no reason why the company's FFO and Revenue estimates can't be met or even slightly exceeded when LaSalle announces its Q4 results sometime in February.
Risk Factors (Most Recent 10-K)
According to LaSalle's most recent 10-K, there are a number of risk factors investors should consider before establishing a position. These risk factors include but are not limited to:
#1 - The company's obligation to comply with the financial covenants located in its unsecured credit facilities and mortgages on some of its hotel properties could impact overall operations and may require the company to liquidate its properties and could adversely affect its ability to make distributions to our shareholders.
#2 - The company currently owns only luxury, upper upscale and upscale hotels. These segments of the lodging market are highly competitive and generally subject to greater volatility than most other market segments, which could negatively affect the company's growth and profitability.
#3 - The company's hedging strategies may not be successful in mitigating its risks associated with interest rates and could reduce the overall returns on your investment.
Conclusion
For those of you who may be considering a position in LaSalle Hotel Properties, I strongly recommend keeping a close eye on the company's earnings growth, its dividend behavior and any acquisitions it may make over the next 12-24 months as each of these factors could play a role in the company's long-term performance.
Disclosure: I have no positions in any stocks mentioned, but may initiate a long position in LHO over the next 72 hours. I wrote this article myself, and it expresses my own opinions. I am not receiving compensation for it (other than from Seeking Alpha). I have no business relationship with any company whose stock is mentioned in this article.