It's been a while since my last article on Facebook (NASDAQ:FB) and in the meantime this expensive stock has gotten even more expensive. In this article, I intend to further flesh out my case against Facebook, address some of the comments and criticisms my previous articles received and address some of the recent Facebook developments.
To bring readers up to speed with my previous writing on Facebook, I'm going to quickly summarize the main arguments contained in those previous two articles.
In my first article I noted how Facebook compared unfavorably to Google (NASDAQ:GOOG) and pointed out that Facebook needed to grow as fast as Google did when Google had similar annual revenue to Facebook - back in 2005, to justify its high valuation. I went on to argue that Facebook hadn't developed anywhere near as impressive an advertising money making machine as Google had in its Adwords and Adsense services. And therefore Facebook would find it impossible to increase its revenues 10 fold, as is required if it is to grow into its valuation.
The reason for Google's success is that its Adwords manage to do something unique in the advertising industry and that's deliver utility to the people clicking on those ads. This is the ultimate source of value for these ads and the reason why companies bid up so much for them.
Facebook hasn't come up with anything that equals that innovation, and in fact its latest idea - video ads - simply copies what a huge number of websites are now doing, including Google's YouTube.
In my second article, I noted how Facebook's revenue growth had disturbing parallels with Yahoo's (YHOO) revenue growth in the few years before 2007 when Yahoo's revenue growth peaked. I noted that Yahoo's investors had priced the company at a 6-8 X revenue multiple as if it would keep growing as fast as Google is now.
Facebook's revenue growth seems to be following Yahoo's revenue growth:

Yahoo's 10k.
One difference between Yahoo and Facebook, as pointed out by commentators on my previous Facebook article, is that Yahoo's revenue growth peaked and then declined because Google came along and basically ate its lunch. Does this mean Facebook investors can sleep easy at night?
Social advertising bubble
I would argue no because although Facebook doesn't face any threat equivalent to Google, I do think it will struggle to hang on to its advertising revenue. Why? Mainly, because I think there is a bit of a bubble in the kind of advertising Facebook delivers. Facebook's social advertising is an inherently low quality form of advertising with poor ROI.
As noted in my first article on Facebook:
"Now at the moment Facebook's social interest ads are doing well, with high click through rates - useful for branding campaigns - and good return on investment. But advertising is a faddish industry and new products will often do well initially just due to novelty. The first banner ad appeared on a site called Hotwired in 1994 - it had a staggeringly high 44% click thru rate, whereas now you'd be lucky to get 0.1%"
Thus in my view Facebook's revenue growth will likely largely disappear of its own accord.
The only consolation for Facebook is that it may not experience the same revenue decline as Yahoo did, rather it may see its revenue plateau.
The second big difference between Yahoo and Facebook is that Facebook this year has managed to reverse the trend of decelerating revenue growth: growth this year will be perhaps 60% after only 38% last year.
This is down to Facebook finally monetizing mobile views, which has led to a one off jump in revenue. Estimates are for Facebook to report about $7.5 billion in revenue for 2013.
Mobile monetization can only be done once
The best way of thinking about this is with the following thought experiment: imagine if Facebook had come into 2013 with no growth in users or revenue and no mobile revenue at all. Now suppose that over the course of 2013, mobile revenue grew until it equaled desktop revenue - something it is close to doing now - in that case Facebook would have seen an overall 100% growth in revenue.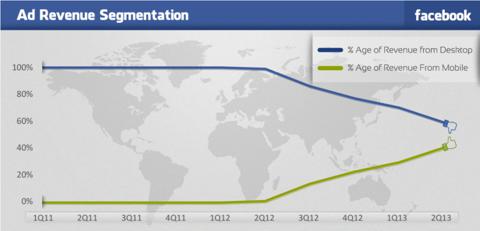 However, that would be it; Facebook's revenue would have peaked.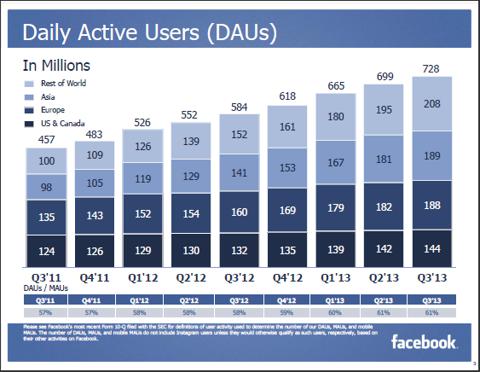 Now as we know, Facebook will keep growing because it is still adding users and managing to increase the ARPU of some of its users in poorer countries. However, there are structural differences between markets that will limit gains.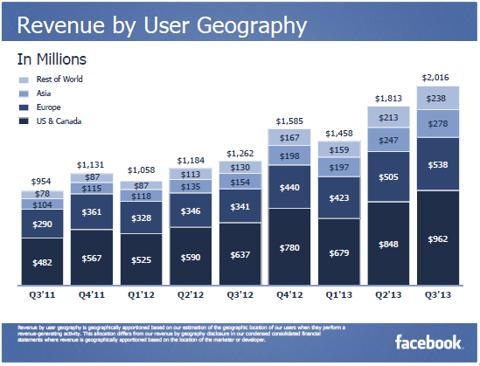 This is because if you compare Europe to the U.S, there are fewer internet users per capita and of those online there are fewer who spend money online. These factors are even stronger in developing countries. These differences are not going to go away any time soon.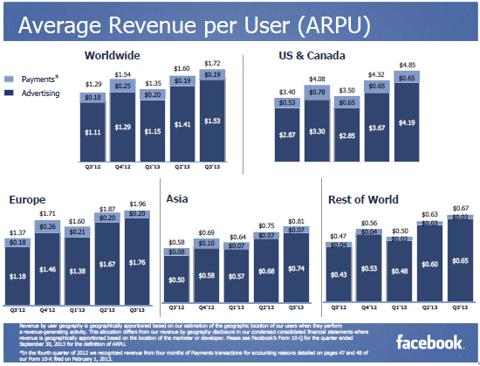 Adding additional developing world users and increasing ad load are now the only drivers of Facebook's revenue growth going forward.
Obviously, Facebook could try and swamp users with more ads, but all that will do is lead to even poorer ROI for advertisers, not to mention pissing off Facebook users. This leads me to conclude that adding users is the only way for Facebook to increase revenue.
By extrapolating Facebook's long-term revenue growth trend (and ignoring the one-off boost provided by mobile monetization), Facebook will do perhaps 20% revenue growth in 2014 and then another 10% in 2015, at which point revenue growth will stall.
Therefore Facebook's revenue is likely to never exceed $10 billion.
At the same time as Facebook is trying to add marginal users in developing countries it is also trying to hang on to its core demographics in the U.S and Europe.
Facebook's recent $3 billion bid for Snapchat demonstrates how potentially fickle younger users can be. Other services such as BlackBerry's (BBRY) BBM and WhatsApp are also threatening to draw users away from Facebook even if they don't depend on advertising themselves.
Twitter (NYSE:TWTR) is playing in the same pig pen as Facebook as far as social advertising goes, but even if it doesn't provide advertisers with superior ROI to Facebook's platform, it will draw away advertising dollars from Facebook - or equivalently expand the pool of social advertising inventory. How much are we talking about?
Analysts have estimated that Twitter should do $1 billion in revenue in 2014 - all from advertising. That's up from $500 million this year, so an incremental $500 million that potentially could have gone to Facebook. Given that I suspect Facebook will only see incremental revenue growth of $1.5 billion that is quite a lot of revenue Facebook is losing to Twitter.
Valuation
How much should you pay for a company that has $10 billion in revenue, say $2.5 billion in profit and no growth? That's Facebook in 2015. I think $20 billion is fair. When you add Facebook's cash pile to number - assuming Facebook won't spend it all on acquisitions - you can then add another $10 billion to that, or $30 billion in total. That works out to $12 per share or over 75% downside from Facebook's current level.
Disclosure: I have no positions in any stocks mentioned, and no plans to initiate any positions within the next 72 hours. I wrote this article myself, and it expresses my own opinions. I am not receiving compensation for it (other than from Seeking Alpha). I have no business relationship with any company whose stock is mentioned in this article.