By Carl Howe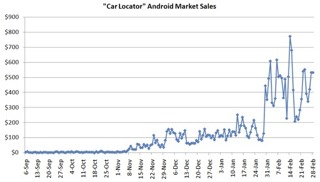 Eddie Kim, author of the Android Car Locator app, just announced Tuesday that his app has reached a new milestone of $13,000 a month in revenue. Now that may be chicken feed next to what top performing iPhone apps do (the record-breaking PopCap game Plants versus Zombies for iPhone, for example, just went from zero to $1 million in revenue in 9 days). However, Eddie makes a more important point farther down his post:

The price of the application was increased from $1.99 to $3.99. I ran a few price experiments and was surprised to see that though I doubled the price of the app, the number of purchases decreased by much less than half. Android users appear to have a willingness to pay more than a couple dollars for apps.
We've seen this same trend of consumers warming to paid apps in other app stores as well; Dutch app analytics firm Distimo has reported paid app average prices now ranging from $2.53 in the Palm (PALM) App Catalog to $8.26 in Blackberry App World. This fact combined with data from our Anywhere Consumer Survey Suite that more consumers are now turning to paid apps has caused me to revise our U.S. app forecast for 2009-2014 upward by almost 50 percent in dollars, even though the number of downloads projected is roughly the same. Look for that new forecast report to hit the Yankee Group Web site later this month when I'll provide the final numbers. Hint: the 2014 number requires 11 digits.