Despite the stratospheric high 121.16 P/E of Facebook (NASDAQ:FB), I'm still going long on FB. Zuckerberg and company are doing a fine job chipping away at Google's lead in digital advertising. I do not see any serious headwinds to halt FB's continuous ascent next year. FB has done very well this year with an amazing 117.73% YTD growth. I expect another momentous year for Facebook for the coming 2014.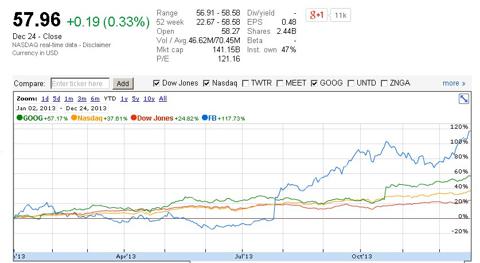 The company's performance this year in mobile advertising makes me believe the stock has enough upside potential due to the explosive growth in mobile advertising. Facebook's incredible performance in global mobile ad sales this year is my compelling reason to buy more FB shares. FB not only beat the Dow Jones and Nasdaq, Facebook also performed better than Google (NASDAQ:GOOG).
Despite the naysayers of last year, Facebook made a strong comeback this year. The 2012 IPO of Facebook was a big letdown. Patience is a virtue that's has potential for big rewards - investors who held on to their FB shares have been amply rewarded. The stock is now 65.56% higher than its May 17, 2012 IPO price of $38. Here's the great fall and rise of FB from May 25, 2012 to today's high of $57.96.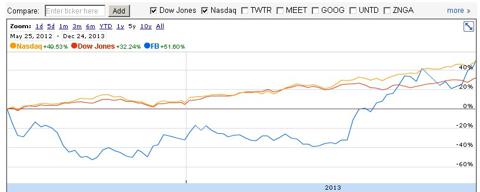 This incredible comeback story is because of Facebook's great success in digital mobile advertising.
Facebook is Quickly Catching Up with Google in Mobile Ads
Based on eMarketer data, Facebook tripled its global market share in total net mobile ad sales. It is now the 2nd biggest mobile advertising company, next only to Google and way ahead of Twitter (NYSE:TWTR), Pandora (NYSE:P), and YP. From 5.34% in 2012, Facebook took in 16.91% of this year's global net mobile advertising revenue. The 300% increase is very impressive and a strong validation of the company's Mobile First approach.
Google still has the lead with 41.5% but if Facebook's momentum growth is not slowed down and it makes another triple digit incremental increase - say a 100% increase - Facebook will be at 33% market share next year. If the trend continues, Facebook might actually overtake Google's lead in the lucrative mobile advertising business by 2015.
This year's 300% growth contributed to a decrease in Google's share of the market. Google should definitely worry about Facebook's mobile ads exponential growth. I'm long on GOOG but if FB shows another 50% growth in mobile ads revenue by 2Q 2014, I will probably dump GOOG and use the money to buy more FB.
Mobile is the Future of Digital Advertising
Facebook's tremendous success in mobile this year is perfectly in line with the new shift towards mobile advertising. The trend forecast is more people in the U.S. will be viewing ads on tablets and smartphones than desktop or laptop computers by 2017.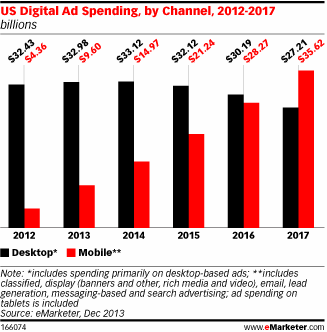 In the first half of 2013, mobile ad spending went up 145% compared to 2012's first two quarters. Forbes has this chart that convinced me Facebook's is on the right track. The future of digital advertising is mobile.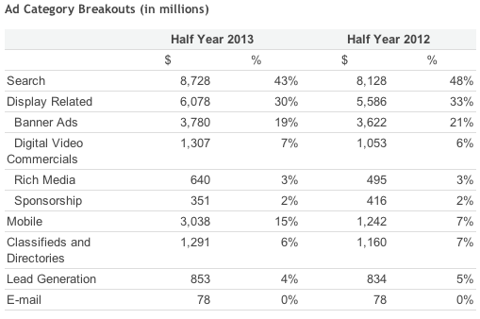 Mobile advertising now accounts for around 22% of U.S. digital advertising sales. That's a huge 700% increase from 2010 when mobile ads only accounted for 3%. For 2012, mobile ads only comprise 11.9% of total digital ad revenue in the U.S.
This trend was made possible by the high CAGR of affordable Android OS-powered phones and tablets since 2011. Facebook's 16.91% share of the global mobile ad sales is due to the proliferation of cheap Android devices in developed and emerging countries. How ironic isn't it? A Google product, Android OS, helped and will continue to help FB's future growth.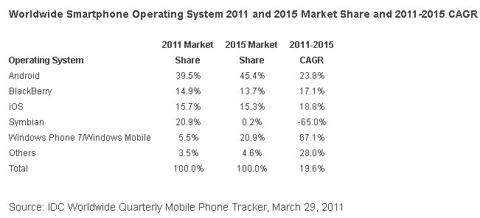 The shift towards toward mobile viewing of ads is unstoppable. By the year 2017, more people in the U.S. will be viewing advertisements on their smartphones and tablets than desktop computers. Based on the chart provided by eMarketer, the U.S. mobile advertising business will be worth more than $35 billion by 2017. Facebook and Google will definitely be the major beneficiaries of this bonanza.
Facebook's Share in the U.S. is Also Growing
Facebook's share of the U.S. mobile advertising business also did a great YoY increase of 77% this year. From 2012's 9%, Facebook has 16% of total net U.S. mobile ad revenue this year. While the company is enjoying triple digit growth rate in the rest of the world, the American market is also being penetrated by Facebook.
As per the previous chart from eMarketer, the U.S. mobile ad business will be worth more than $21 billion. If Facebook doubles up on its projected 12.2% 2015 market share, the company will reap substantial income from U.S. mobile advertising.
Consistent Double Digit Growth in Revenue
Facebook's history shows consistent YoY growth in revenue from 2008 to 2012. Here's Facebook's quarterly and annual revenue growth chart. The company has TTM revenue of
Annual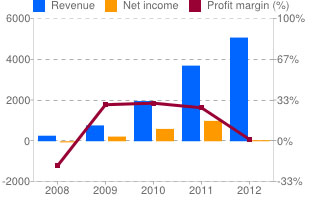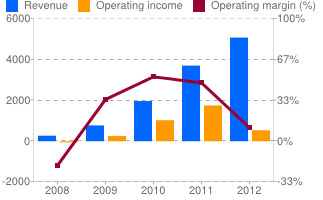 Quarterly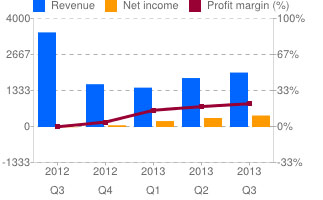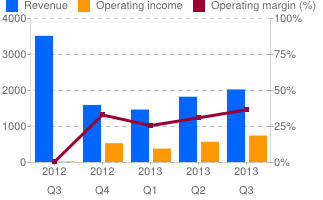 Facebook's important profit margin and operating margin percentiles are both on the upswing this year. I am highly confident it will continue to do so for the next five years.
Conclusion
The exponential growth in mobile advertising greatly benefits Facebook. The management showed us this year that it has a solid strategy for Facebook's push towards mobile advertising. Its new Video Ads campaign will also help it increase its revenue stream.
Facebook's latest deal gives T-Mobile (NASDAQ:TMUS) GoSmart subscribers free unlimited access to Facebook on their smartphones. It's just another tactic for Facebook's overall Mobile First strategy to dominate the digital advertising market.
FB benefits from increased sales of Android and iOS products too. Facebook's close relationship with Microsoft (NASDAQ:MSFT) is another big positive.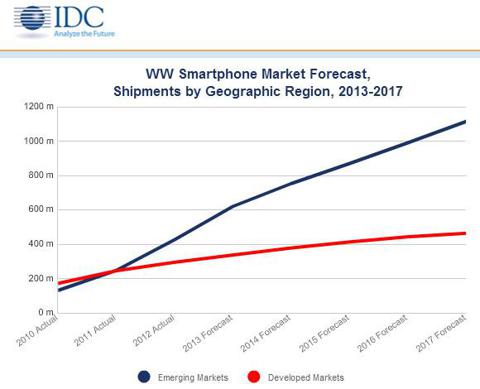 The company has a healthy balance sheet and $9.33 billion in cash & equivalents.
FB is a strong buy.
Disclosure: I am long GOOG, FB. I wrote this article myself, and it expresses my own opinions. I am not receiving compensation for it (other than from Seeking Alpha). I have no business relationship with any company whose stock is mentioned in this article.