Over the past year, shares of Goldman Sachs Group Inc (NYSE:GS) have outperformed the Dow Jones Industrial Average by a nice margin. However, GS has lagged well behind the Dow's best performing stock in 2013, Boeing (NYSE:BA). There are three reasons why I believe GS will be the best performing stock in the Dow for 2014.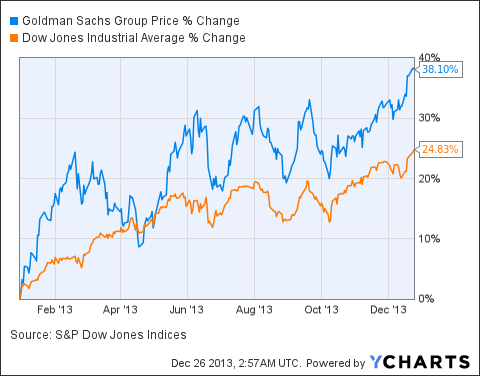 1. Valuation
Currently, GS trades at 1.13 times book value. In the not too distant past, GS traded at nearly 1.75 times book value. While GS is not trading at terribly cheap valuations relative to its historic norm, GS is also not trading at the upper end of its historical valuation range. Comparably, many other Dow stocks, as shown by the charts below, are trading at the very upper end of their historical valuation range. I believe the argument for GS to trade towards the upper end of its historical valuation trend is stronger than the argument that other Dow stocks will be able to trade at a significant premium to the end of their historical valuation trend.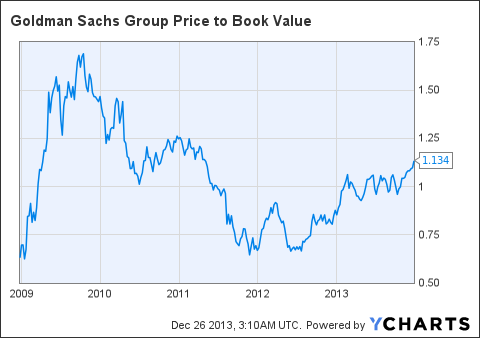 GS Price to Book Value data by YCharts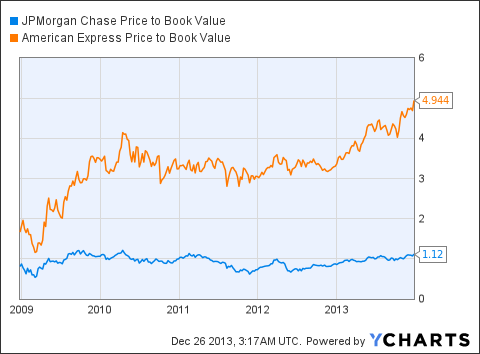 JPM Price to Book Value data by YCharts
JNJ PE Ratio (Forward) data by YCharts
2. Volcker Rule
Most analysts see the Volcker rule as a major headwind for GS going forward. To be fair, this argument has some merit because GS is highly reliant on its FICC division for profits. However, I believe the markets have already factored in negatives associated with the Volcker rule. More importantly, GS has had time to adjust its business for a considerable amount of time prior to implementation. This leads me to why I believe the Volcker rule may actually be a bullish catalyst for GS.
Essentially, the aim of the Volcker rule is to reduce the role proprietary trading plays for the major investment banks. Proprietary trading has been a good business for GS in terms of profits. However, proprietary trading is not a good business for valuation. The reason why proprietary trading profits are not valued as highly as other profits such as underwriting fees or M&A advising is a lack of consistency. As shown by Goldman's most recent quarter, trading profits tend to be quite variable. Discussion of weakness in FICC was a common theme in Goldman's Q3 conference call. Perhaps a better example of the inherent risks in proprietary trading were the losses in 2008.
A decreasing reliance on proprietary trading may very well lead to lower profits over the short term. However, the decreasing reliance on proprietary trading, will in my opinion, lead to a significant increase in the premium investors are willing to pay for GS earnings stream. Smaller firms that do not rely as much on proprietary trading such as Greenhill & Co (NYSE:GHL) and Lazard (NYSE:LAZ) both trade at significantly higher valuations than GS. A change in GS's business mix may result in lower profits but a change in the way those profits are valued could send shares surging.
GHL Price to Book Value data by YCharts
To further make my point about a possible change in the way GS earnings are valued, I would like to consider GS valuations when the company first came public. As shown by the chart below, at one point, GS traded at close to 5 times book value. It is worth noting that GS is now producing significantly greater profits but the market is valuing these profits differently than it valued GS profits in the past. I believe a large part of this revaluation lower is a result of increased volatility in GS profits. If the Volcker rule reduces some of the volatility in GS earnings then I believe investors will be willing to pay more for the earnings.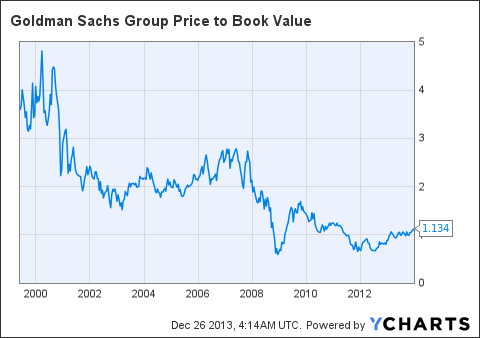 GS Price to Book Value data by YCharts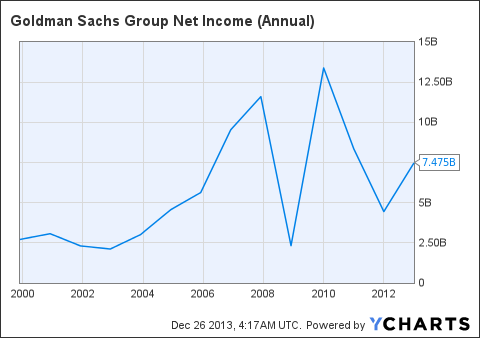 GS Net Income (Annual) data by YCharts
3. Strong Capital Markets
While there is significant debate about the heath of the economy, there is less debate about the health of the capital markets. With the Dow trading at an all-time highs and inflation rather tame, it is a good time to be in the business of capital markets. There has never been a better time for private companies to come public. High profile companies such as Twitter (NYSE:TWTR) and Hilton (NYSE:HLT) have recently come public. With the markets so strong, it seems likely that strong deal flow will continue into 2014. In addition to robust conditions for the IPO market, M&A volume continues to increase. The latest deal appears to be a $20 billion takeover of T Mobile US (NASDAQ:TMUS). Strong equity markets help to increase M&A flow because companies are more willing to use their high priced shares as currency for takeovers. GS continues to be the leader in terms of both M&A and equity offering fees. The strength of the capital markets means that 2014 will likely be another big year for both M&A and equity offerings.
Thoughts on Morgan Stanley
I am also bullish on Morgan Stanley (NYSE:MS) for many of the same reasons why I am bullish on GS. MS is not trading at historically high valuation, stands to benefit from a change to its valuation range due to a change in revenue mix, and will also benefit from the strong capital markets. A key difference between MS and GS is MS's increasing focus on the wealth management business following the companies deal to acquire Smith Barney. While this decision has proved wise so far, I would not be surprised to see increased competition from UBS (NYSE:UBS) as the company continues to shift its business away from investment banking towards wealth management. Increasing competition in the wealth management business has the potential to decrease profit margins.
Conclusion
Ironically, despite the potential for a decrease in profits, the Volcker rule may lead to a change in the way GS is valued. Given the company's current valuation, GS has the potential to move significantly higher and that is why it is my favorite Dow stock for 2014. With the exception of a major breakthrough on a blockbuster drug from one of the major pharmaceutical companies in the Dow, I do not see any companies that have the potential for a major change in the way the company is valued.
Disclosure: I have no positions in any stocks mentioned, and no plans to initiate any positions within the next 72 hours. I wrote this article myself, and it expresses my own opinions. I am not receiving compensation for it (other than from Seeking Alpha). I have no business relationship with any company whose stock is mentioned in this article.