As I mentioned in my last article, "What A Difference A Year Makes" my focus this past quarter has moved from choosing and buying individual stocks to building a portfolio. In the current market, the action for me is the same (buying stocks), but the motivation, purpose, and research are different.
I have been in discussion with an experienced, retired, local investor friend whose stage, approach, and outlook are significantly different from my own. It has been another stretching experience. In considering his suggestions, I have begun to look at my portfolio in a variety of ways. Now that I partner with thirty quality companies, triple the number I held a year ago, I am starting to acquire more of positions I already have instead of each bi-monthly purchase being a new name. Also, I am much more concerned about how each company fits within my strategy and framework. I am now building a portfolio, not just buying stocks.
Allocation Across Asset Classes
My friend is quite concerned about my asset allocation, citing studies that show that asset allocation accounts for up to 50% of long-term returns. As we do not have access to any pensions, and I am not willing to be dependent on government social assistance programs, the retirement portfolio I am building is the entirety of our retirement future.
I am currently 100% equities. This is not my desire, but note that I have only really been building my portfolio in the last year. I was mostly trading before that. At this point, I simply do not see opportunities in the near-term anywhere else. As the investing climate changes, I will be willing to remedy this, but not at this point. From a larger viewpoint, this has been beneficial in allowing me to focus my attention as a new investor to only one segment of the investing landscape. My radar is out, I am waiting for the signals of a change, and I am paying more attention to information about different asset classes, so a library book entitled, "The Intelligent Asset Allocator" is packed for our upcoming trip. I do not think now is the time to diversify and I will remain fully invested in equities for the time being.
Allocation Across Markets
Meanwhile, my friend has challenged me in other areas of asset allocation, such as how my portfolio reflects other markets.
What portion of your assets do you think should have exposure to other markets? Many investors are quite nationally focused with most of the assets in their home country. I am a Canadian, but the principle applies to everyone. The Canadian market makes up only approximately 5% of world markets, and has significant resource and financial exposure and limitations in exposure to some other sectors. Wandering into the world of currency risk can be dangerous, but with our Canadian dollar hovering around par for most of the last few years, there have been excellent opportunities for Canadians to purchase quality US companies. As our government manipulates the dollar to increase trade, the opportunity is diminishing. American investors have the ability to purchase many quality Canadian companies (such as our banks and telecoms) on the NYSE without direct exposure to currency risk and the opportunity is currently ramping up to reap higher dividends as the USD increases in value.
Another consideration that has limited my exposure to American companies over the past year has been ideal asset location, which has been a significant focus for me over the last year. Because the advantages of specific types of accounts and the strategies I use them for, and based on where the contributions can be most beneficial over the long-term, funds are sometimes simply not available to purchase US-based companies.
Here is my portfolio divided between Canadian and American based companies. I was surprised to find that I essentially have the 50/50 split, which I would consider ideal.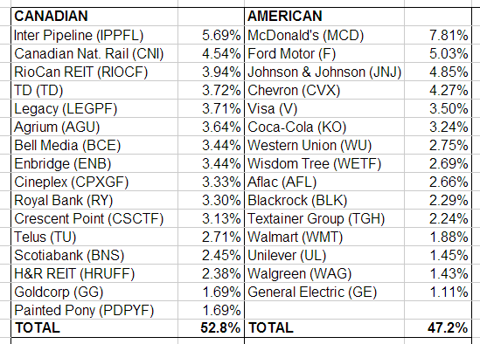 Here is my portfolio with North American and international exposure extremely simplistically displayed. The companies that focus on North American markets, on the left and those with exposure to international markets on the right. These are not hard and fast percents, as many international companies have only a modest percent of their income from international markets. However, again I was surprised to find that nearly half of my portfolio has at least some international exposure. Additionally, I only have part positions in a few companies such as General Electric (NYSE:GE), Unilever (NYSE:UL) and Wal-Mart (NYSE:WMT), and no positions yet in a number of companies on my watchlist with international exposure such as Procter & Gamble (NYSE:PG), Colgate-Palmolive (NYSE:CL), General Mills (NYSE:GIS), Diageo (NYSE:DEO), and Hershey (NYSE:HSY), etc. that will increase my international and emerging markets exposure over time.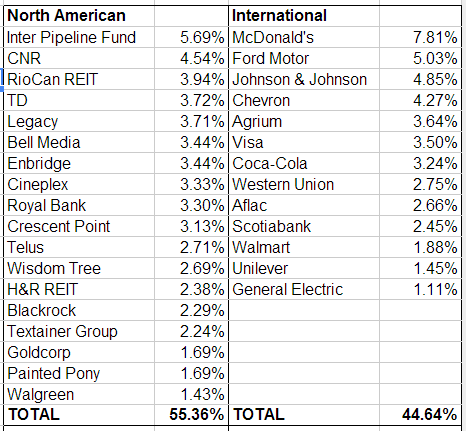 Allocation Across Risk
In his November 27th article, Dennis Miller expertly discussed his approach to asset allocation and posted his handy chart which I have adopted and filled out below. Already understanding the risk standing of each company in my portfolio allows me to quickly move to protect my assets, if at some point I feel that is necessary. I was surprised once again to find my ideal situation here, less assets in the each column as we move toward more risky categories. One could argue that I engineered that result, as this is quite a subjective exercise, but the exercise of assigning the companies was undertaken weeks ago with no expectation of sharing, and the numbers were just added now, so I did not know the results until all the stocks were carefully assigned to categories. I can also imagine heated discussion about what is and is not a core holding and people exclaiming, "What? Aflac (NYSE:AFL) is not a core holding?" No. To me, the Yen currency risk means I will be watching it more carefully than a pure core stock.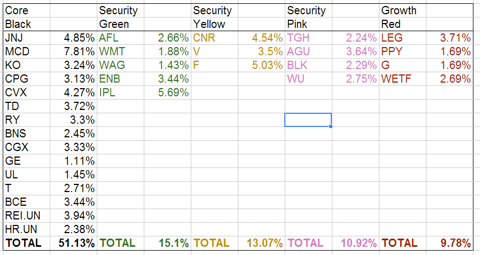 Allocation Across Sectors
This was the first way I, and many newer investors, look at their portfolio. The sector chart included in my last article is the way I view my portfolio on a daily basis. This is a chart of the 10 official sectors. I have added three more categories, the first of which is non-dividend energy. These are the stocks I still hold from my trading days and do not really consider them part of my dividend-growth portfolio. However, taking them out would make all the calculations here more difficult and the funds allocated to them mean less dividends for my portfolio. Because of that they have been included everywhere in this article, but they are not long-term holdings, so I find it helpful to keep them separate when I consider my sector allocation.
The second category added is non-bank financials. Financials are a great place to be right now and my current portfolio includes three of the Canadian banks. Someday I will own them all. As the Canadian banks are a backbone of all dividend mutual funds and most individual Canadian's retirement portfolios, they deserve a special section of their very own. The non-bank financials heading is the catch all for the rest.
The last added category is for REITs.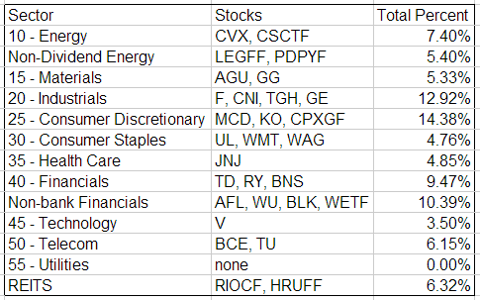 I think the ideal would be an even division across sectors, approximately 8% in each (no non-dividend energy). This chart does not reflect this prototypic allocation at all. What does this chart tell me? I am not diversified by sector nearly as much as I would like to be. However, with my young portfolio I have not had the opportunity to purchase everything I would like at attractive valuations as certain sectors do better during various market conditions. Over a longer term, this will be remedied as I buy into what is currently attractively valued.
The market has favored financials and industrials, and this is also reflected in my portfolio. The outsized industrial sector has benefited most from growth. I purchased CNI in January this year and it has done well. I purchased Ford at $9.14 and it has done very well since. Financials have also done well.
For a complete portfolio, I need some utilities. However, looking back over the last year, you can understand why I do not own any. There simply have seemed to be always better opportunities out there. However, by retirement I imagine I will hold significant assets in utilities. Another popular sector for DGI is consumer staples. Again, it is the valuation that has prevented me from jumping in more than I have. As McDonald's (NYSE:MCD) was one of my first DGI stocks, and I only held less than 10 at the time, I bought a full position. Even as I have expanded my holdings, it has remained an outsized position.
Allocation Across Dividends
As a dividend growth investor, a primary focus is, of course, the dividends. The three targets I aim to meet each quarter and more importantly, each year, are; contribution targets, dividend targets and growth targets, which will all work together to meet our needs in retirement. I can control the contributions and the dividends, but the growth is at the whim of the schizophrenic Mr. Market. All of this works together to make up the total portfolio value. At this point, reaching the total portfolio value target is still important to me, but as we come closer to retirement - still twenty years away - it will fade from importance. My goal is to establish that growing dividend stream now and watch the miracle of compounding do its work.
At this point, still in rapid (or rabid?) accumulation stage, it is appropriate to sacrifice a little dividend yield for growth, but that will not be the case for too long. This chart will help keep watch over how much of the portfolio is in lower dividend, more growth oriented names. As time goes by, I expect my holdings to gradually move a little right.


Dividends alone are not the key to the success of a DGI strategy - the dividend growth is. This shows the same chart above, with the 10 year dividend growth history added, where possible, with the columns sorted by average 5 year dividend growth instead of yield.

I want to thank the many Seeking Alpha contributors whose shoulders this article stands on. David Van Knapp's Mr. Market articles entertainingly illustrates market dangers and have been instructive. Eddie Herring's dividend chart included in his article "My 5 Points for Managing My Retirement Investing Behavior" is a daily encouragement which I shamelessly copied as I did Dennis Miller's table above. Robert Allan Schwartz discussed in a comment how his portfolio is already built and he adds to positions as cash is available based on what is most attractive at the time. This is a destination I hope to reach. These contributors are an extremely limited sample of those who have significantly impacted my portfolio this year. Your willingness to share your work, your approach and your insights have been invaluable to me and, no doubt, many others as well. I deeply appreciate the 'as iron sharpens iron' attitude on this forum. I count it a great privilege to be allowed to come out and play with the big kids.
As you may have noticed, this is the first part of a series. Keep an eye out for Building a Portfolio Part 2: Choosing a Stock, and Building a Portfolio Part 3: Due Diligence.
Summary.
I hope this illustrated discussion has challenged you to examine your portfolio from a variety of angles as you conduct your annual review. All of this work chart-making will help me make better decisions in the new year. Is there a way you view your portfolio that I have not included? Correcting allocation weightings in any of these areas, but especially in regards to risk, is always much nicer when done in a bull market as we currently have. Do not wait until the market changes before finding out where your portfolio's weaknesses are. If you do not have this focus already, I encourage you to look into building a complete, cohesive portfolio, instead of just picking stocks.
Disclosure: I am long F, CNI, GE, TGH, ENB, OTC:OTCPK:IPPLF, CVX, CSCTF, TD, RY, BNS, AFL, WU, BLK, WETF, V, CGX, MCD, KO, UL, WMT, WAG, JNJ, BCE, TU, OTCPK:OTCPK:RIOCF, OTCPK:OTCPK:HRUFF, OTCPK:OTCPK:LEGPF, OTCPK:OTCPK:PDPYF. I wrote this article myself, and it expresses my own opinions. I am not receiving compensation for it (other than from Seeking Alpha). I have no business relationship with any company whose stock is mentioned in this article.