By Chris McKhann
Shares of Pinnacle Entertainment (NYSE:PNK) have rallied sharply for the last two days, but the latest option action appears to be bearish.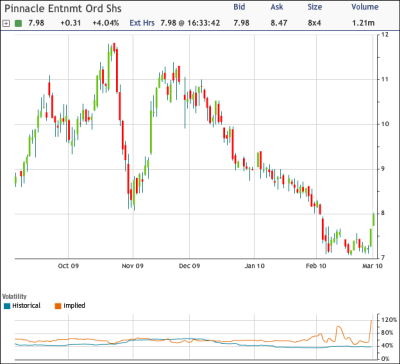 The casino operator finished yesterday up another 4 percent, to close at $7.98, tacking onto Monday's gains that brought the price up off support levels just above $7. PNK, who recent gains came after a court victory involving one of its riverboat casinos in St. Louis, has been trending down for the last four months from resistance above $11.
But even with the bounce--or perhaps because of it--yesterday's option activity was in the puts. A trader sold 1,714 March 10 puts for $2.10 against open interest of 1,861 and, at the same time, bought 2,500 of the June 7.5 puts for $0.70.
The latter trade dwarfed the open interest of just 32 contracts, so it was clearly a new opening position. The average total daily options volume in PNK has been 200 contracts.
It appears that this trader was selling long puts that are now deep in the money and rolling down to now out-of-the-money puts to take some profits off the table and pick up more contracts. Given the difference in contract size, it doesn't seem that this was done as a protective position but instead as an outright bearish bet.
Disclosure: No positions