The recent quarterly results show that BlackBerry's (NASDAQ:BBRY) smartphone hardware business is going downhill at an accelerated pace. The company made huge mistakes earlier with pricing of its phones and is paying a heavy price for that. BlackBerry 10 operating system and the flagship Q10 and Z10 models had raised high hopes amongst investors. However, the pricing and the segmentation of the smartphones left a lot to be desired. The company was forced to heavily discount its touch screen Z10 smartphone and took a $1 billion write-down in the last quarter. That problem has grown even bigger in this quarter with the inventory write-down increasing to $1.6 billion. I had been advocating that BBRY needs to find a strategic partner with big pockets and the company belatedly announced that it would look for a strategic partner. However, the company failed to find a buyer and was forced to look for alternatives. The lack of interest left the company in a weaker condition and the company replaced its CEO. The new CEO Chen seems to be making the decent changes, but the task at hand is Herculean. The company is losing money at an accelerated pace and still has to decide on a comprehensive strategy for a turnaround. Despite the worse-than-expected results, BBRY has rallied ~25% from the lows after the quarterly results. The stock remains highly volatile and though the valuation is low, I would avoid the stock given the huge problems that the company faces in a turnaround.
BlackBerry's Problems
1. Smartphone units sales have dropped precipitously
BlackBerry reported a 39% decline in smartphone sales this quarter compared to the last quarter. This is a dramatic fall for the company and makes it one of the fringe players in the smartphone market. The 4.3 million units that were shipped this quarter means that BBRY has less than 2% of the global marketshare. The company is losing mindshare rapidly as low revenues means less money for marketing. Its bargaining power with carriers and suppliers has also reduced drastically. The Foxconn (OTC:FXCOF) partnership was perhaps the only path left for the company if it wanted to continue in the smartphone market.
Hardware represented 40% of revenue and declined 38% from the second quarter. The decline reflects the fewer number of devices that were recognized in the quarter as a result of intense competition. Of the 4.3 million BlackBerry smartphones that sold through to end customers in the quarter, approximately 1.1 million were BlackBerry 10 devices.

Source - Seeking Alpha
2. Company is giving up on launch of two new BB10 Smartphone models
It has been reported that BBRY is abandoning the launch of two cheap smartphone BB10 models that the company was planning to introduce. The company has cancelled the launch of these 2 units as it is suffering from massive inventories due to low sell through. This is bad news for the company as the new product cycle has been reduced to 3 months by smartphone giants such as Samsung (OTC:SSNLF), Sony (NYSE:SNE) and others. BlackBerry is already being forced to sell a stale lineup of old BB 7 devices and this will mean that it will have to continue to do so for more time until the Foxconn partnership can come up with newer devices.
3. BBM Messaging is just one amongst many messaging applications
I think BBRY lost the mobile messaging market when it failed to capitalize on BBM's first mover advantage. Its competitors such as WhatsApp, Snapchat, Facebook (NASDAQ:FB), Twitter (NYSE:TWTR) etc. have become too entrenched with a greater number of subscribers. BBM lacks any USP that would make it stand out in the market like the email functionality in the early BlackBerry days. While the company has been claiming success due to a large number of downloads on iOS and Android devices, the monetization of messaging remains highly difficult in a crowded market with tons of free services.
4. BES 10 and MDM is still work in progress
BlackBerry's core software and services strengths lie in its secure messaging and email infrastructure. However, BES 10 server was launched only last year and it is still a work in progress. BES 10 is facing stiff competition which has resulted in a slower uptake by enterprise. Mobile Device Management (MDM) market is still in its infant stage and it is still too early to say that BlackBerry will be a leader in this market with significant sales.
5. No clear turnaround strategy in place
John Chen has still not spelled out a clear strategy on how BBRY will become a software and service company from a smartphone company. It is not clear that BBRY can become a big mobile services company without its handset business. How interested would Foxconn be in pushing BlackBerry sales is a big question. I would turn positive on BBRY if it gives a clear vision and starts executing on that plan.
What would make me bullish again
I think John Chen has made some good first moves after taking over, such as the Foxconn partnership which will reduce cash outflows and buy some breathing space for the company. I have always advocated that BBRY needs a strong well capitalized partner. There are huge costs related to a global marketing and selling network and BBRY does not have the resources or the volumes to offset such large costs. With Foxconn taking over inventory management, BBRY's precious cash will be conserved. BlackBerry will be free to concentrate its resources on improving its services and software business. BBM has won some traction, though not enough to make the stock a buy. The MDM and BES 10 server solutions are also winning over customers. If the company can generate strong growth at QNX, BES 10 and BBM without losing further marketshare in smartphones, then BBRY could be a good buy in the future.
While the partnership with Foxconn represents a new model for production of BlackBerry devices, it also represents a significant change, an important change, in our model for managing working capital risk. Under this new partnership, Foxconn will jointly develop and manufacture certain new BlackBerry devices and manage the inventory associated with those products. This will allow the company to participate in new products and new market opportunities, with very minimal inventory risk and therefore allowing us to preserve our liquidity.

Source - Seeking Alpha
Stock Valuation and Performance
BlackBerry has a market valuation of just ~$4 billion and trades at a low valuation, with a P/B of 1x and P/S of 0.5x. The low multiple is justified given that BBRY will not be profitable before 2015. BBRY stock has climbed by ~23% in the last one month though it has fallen by ~27% over the last year. The stock is highly volatile and only suitable for an investor with high risk appetite.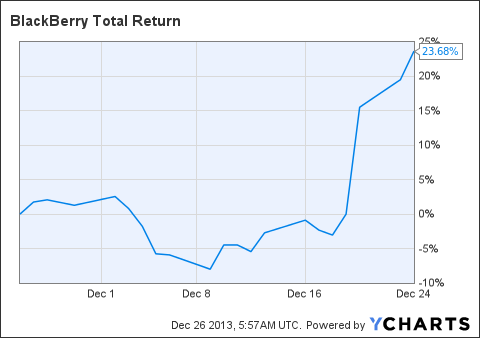 BBRY Total Return Price data by YCharts
Summary
The recent quarterly results for BBRY were worrying as the company hemorrhages large amounts of money. The Foxconn partnership will help the company curtail its smartphone losses but the success of the partnership will have to be awaited. BlackBerry has still not spelt out a clear vision on how the company can get back to sustained profitability. Most of the company's crown jewels such as BBM, BES 10 etc. are still not major revenue earners. The stock price saw a strong jump after the Foxconn partnership announcement; but it's still not out of the woods. The company's marketshare has made it into a fringe player, even far behind in unit sales than the Tier 2 Chinese and Indian smartphone vendors. The stock is highly volatile and not a buy, given the uncertainties associated with its turnaround.
Disclosure: I have no positions in any stocks mentioned, and no plans to initiate any positions within the next 72 hours. I wrote this article myself, and it expresses my own opinions. I am not receiving compensation for it (other than from Seeking Alpha). I have no business relationship with any company whose stock is mentioned in this article.