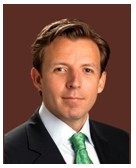 Andres Garcia-Amaya
Global Market Strategist
J.P. Morgan Funds
The act of "tapering" Quantitative Easing has not negatively affected emerging markets (EM), but rather expectations of U.S. short-term rate increases have disrupted the asset class.
Back in May and June of 2013, when Fed officials first mentioned the idea of "tapering," EM stocks fell 16%. Most assume the spike in U.S. 10-year Treasury yields was to blame for the turmoil in EM, but the reality is that a rising 10-year yield has no statistical significance with the performance of EM equities this year. In fact, I would argue that a rise in long-term U.S. rates on its own would be a positive for EM stocks since it encompasses the expectations of faster global economic growth.
The spike in the U.S. 2-year U.S. Treasury yield, on the other hand, spelled trouble for EM. A rising 2-year yield signifies that investors are expecting U.S. short-term interest rates (such as the overnight lending rate) to be higher two years from now. This is important for EM because over the past few years global investors have been borrowing dollars at abnormally low short-term rates and investing the proceeds in emerging markets. One example is that foreign holdings of local currency EM debt have increased from 9% in 2009 to over 25% in 2013*. In other words, the "carry trade" is funded with short-term Treasury bonds (not long-term), so a rising 2-year yield forces global investors to sell their EM positions and return their borrowed dollars (potentially at a loss).
The chart below illustrates the negative relationship between the U.S. 2-year yield and EM stocks. Since May, on average, for every 5 bps increase on the 2-year yield, EM equities saw a -0.32% drop.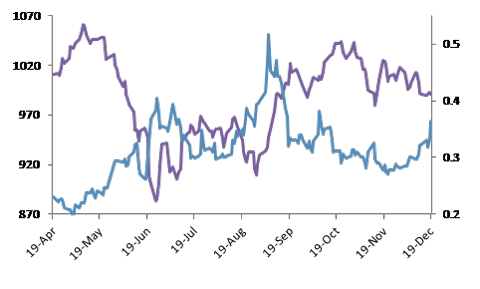 Source: MSCI, U.S. Treasury, J.P. Morgan Asset Management
For illustrative purposes only
The good news for EM stocks is that since September, the Fed has been able to anchor short-term interest rates at very low levels. Using "forward guidance," they plan to keep overnight interest rates low for quite awhile. Tapering or no tapering, the calm or restlessness of the U.S. 2-year bond yield will dictate EM volatility in the coming months.
DISCLOSURES:
Opinions and estimates offered constitute our judgment and are subject to change without notice, as are statements of financial market trends, which are based on current market conditions. We believe the information provided here is reliable, but do not warrant its accuracy or completeness. This material is not intended as an offer or solicitation for the purchase or sale of any financial instrument. The views and strategies described may not be suitable for all investors. This material has been prepared for informational purposes only, and is not intended to provide, and should not be relied on for, accounting, legal or tax advice. References to future returns are not promises or even estimates of actual returns a client portfolio may achieve. Reference to specific securities, asset classes and financial markets are for illustrative purposes only and are not intended to be, and should not be interpreted as, recommendations. Any forecasts contained herein are for illustrative purposes only and are not to be relied upon as advice or interpreted as a recommendation.
International investing involves a greater degree of risk and increased volatility. Changes in currency exchange rates and differences in accounting and taxation policies outside the U.S. can raise or lower returns. Also, some overseas markets may not be as politically and economically stable as the United States and other nations.
J.P. Morgan Asset Management is the marketing name for the asset management business of JPMorgan Chase & Co., and its affiliates worldwide.
JPMorgan Distribution Services, Inc., member FINRA/SIPC
© JPMorgan Chase & Co., December 2013
*Emerging Advisors Group: "Still No Visibility on the Biggest Call in EM" Sept 23, 2013
Disclosure: I have no positions in any stocks mentioned, and no plans to initiate any positions within the next 72 hours.
Business relationship disclosure: This article was written by Andres Garcia-Amaya, Global Market Strategist, J.P. Morgan Funds. This article was submitted on his behalf via the J.P. Morgan Funds' Seeking Alpha profile.