Ares Commercial Real Estate Corporation (NYSE:ACRE)
December 24, 2013 Stock Price: 13.12
Rating: Sell
Company Summary: (Company website)
ACRE is an externally-managed specialized real estate finance company that is taxed as a real estate investment trust (REIT). The company originates, invests in, and manages middle-market commercial real estate loans and other commercial real estate assets.
Portfolio Makeup: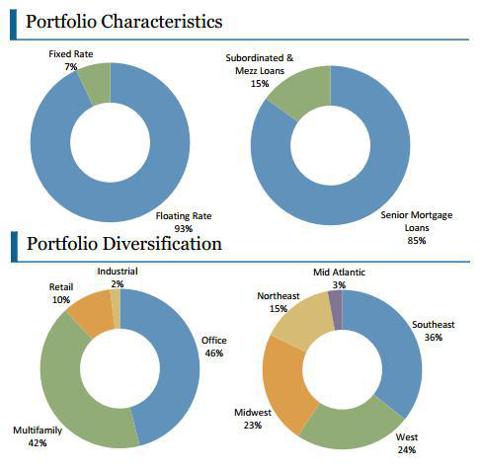 This image is from their latest quarterly earnings presentation found here. As you can see ACRE is well positioned, and has much less interest rate risk as opposed to other mREITs, due to their high exposure to floating rate loans.
Management:
Insider ownership is just above 8% and there have been no notable insider transactions recently. If you have read my previous articles, you know how much I am against offerings of public common stock. Especially at below book value. Back on June 21, the company announced the pricing of their public offering at $13.50, $2.40 under the price the stock was trading for 4 days previous to the announcement. Not to mention, the company had reported a book value per share of over $20 the previous quarter. This seems insane to me. Following the public offering, the shares have traded as low as $12.00. If you were a shareholder at the time of the announcement, you have lost nearly 25% of your investment, not accounting for dividends. Seeming as the company only completed its IPO in 2012, this is absurd to me.
Valuation: (Explanation of Graphs)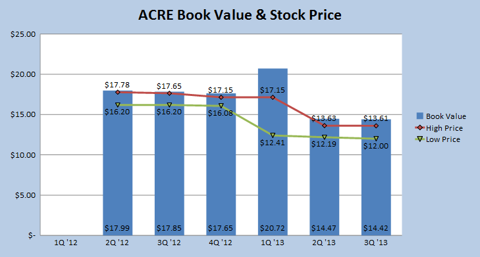 Not only is the book value per share trending downward, so has the price. Another bad sign for ACRE. One good thing is that the industry has seemed to be turning around. I think ACRE might be able to stabilize the book value next quarter, but I wouldn't be surprised to see another decrease. Especially if they do another offering, which you can't rule out.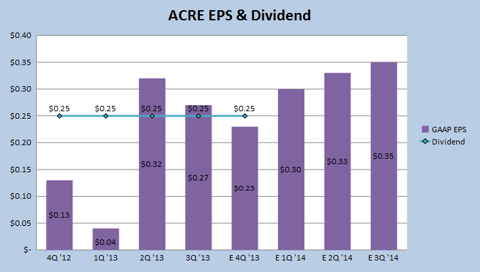 Here is another company whose GAAP earnings per share haven't been covering the dividend payout. It is important to note, GAAP earnings aren't representative of the taxable income of the company. However, it does give us an idea of where the company's dividend will be headed. If the company doesn't increase earnings, they will have to cut the dividend or do another public offering. The earnings estimates are the mean of 6 analysts that cover the stock. The last 2 earnings reports were upside surprises in earnings per share. Over the last 90 days, the fourth quarter estimates have dropped from $.25 to $.23 which is an 8% decrease.
The current yield is an attractive 7.6%, given a $.25 dividend and the closing price of $13.12. However because the earnings are not covering the current dividend, there could be a decrease in the dividend. That is, unless the company can meet the future earnings estimates.
Rating:
It is extremely hard to overlook actions by the management in this case. When you totally destroy shareholder value like they did in June with their secondary offering of public shares, you have to be very skeptical of the goals this company has. Not only that, but the earnings have not been covering their recent dividends, meaning the current dividend levels may not be sustainable. There are many more mREITs that have both outperformed ACRE, and are much more shareholder friendly. Therefore, my rating on ACRE is Sell, which is the lowest rating.
Disclosure: I have no positions in any stocks mentioned, and no plans to initiate any positions within the next 72 hours. I wrote this article myself, and it expresses my own opinions. I am not receiving compensation for it (other than from Seeking Alpha). I have no business relationship with any company whose stock is mentioned in this article.
Additional disclosure: These ratings are my opinion only and shouldn't be construed as advice to buy or sell securities. Recommendations don't take into account individual reader's investment risk or return objectives and constraints. They are for information purposes and you are encouraged to do your own research before making any investment decisions. All information here in this article is accurate to my knowledge.