My style of trading is to select a robust group of "investment grade" specific equities, not ETFs, based on fundamental analysis of these a large number of companies, covering everything from the macro-economic view of the sector down to management profile. Then, I trade this set based on proprietary technical signals, almost with no regard to the absolute stock price but with focus on patterns and relative levels of price movements.
Many technical traders actually go beyond this, and do not even care about the underlying stock. In my case, I have accepted the mathematical fact that market prices are subject to "log-normal random processes." That is, short-term trading in the capital markets is no more than spinning a wheel of fortune, and hence the wisest and smartest can only attest to a certain probability of winning and never a specific value -- alas, as you see, many prophecize perfect knowledge.
This probabilistic nature of the market means that a short term "trade" can remain as a long term "investment" on your books unless you are willing to take the realized loss. My theory is that, if I have performed my investment-grade qualification, then I need not be forced to take a loss prematurely. On the other hand, deep losses with strong negative technical signals warrant bailing out, ASAP. This particular modification to an otherwise purely technical trading strategy, combined with a diversified portfolio of around 20 equities on the books, and 40 on the watch, and with aggressive -- yet controlled - profit taking but with less aggressive loss realization, has worked very well for me over the last few years. Well enough that I have actually created an actual broker account to track the performance and publish it on monthly basis.
As this is the last week of 2013, I took advantage of the holidays to analyze my 40 equity trading set in more than the usual detail. I do provide weekly updates on this trading set -- or watchlist. Yet, this extended analysis is part of the "question reality" activity performed to assure that my trading set is not only adequate for technical trading, but also fitting for the unfortunate event that a short-term "trade" turns into an "investment" overnight. As such, I need to periodically assure myself that all equities I trade technically are investment grade and appropriate to hold as an investment for a while longer. For instance, until some event-driven negative news is absorbed by the market.
I will share with you the summary of this analysis in two parts. The first will cover 14 such equities, while the second part will cover the remaining 26 equities left for a shortly-to-follow article.
To start with, Geron (NASDAQ:GERN) and Annaly (NYSE:NLY) are tracked just like other members of my watchlist, but in reality, they are not for day-to-day trading as each is held for a non-trading purpose. Nevertheless, I will cover them in the analysis.
GERN has finally sprung to life, firstly as a changed company and then as a bio-pharma with a potential blockbuster pan-cancer drug. The technical action though has been highly distorted of late. As we stand, at the time of writing, price movement seems to be putting the company into a "neutral" posture, short and mid-term, but still holding to a positive pattern long-term -- below chart. It seems Q1-2014 is a critical time for the future of the company since, as indicated by the CEO, there will be an investor update and more information regarding how the company will conduct its next trial of Imetelstat. This trial is expected sometime in Q2-2014.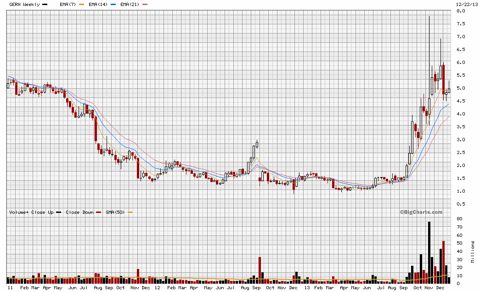 JC Penney (NYSE:JCP), is a beaten stock. The long term chart -- below -- is horrendous to say the least, with no end in sight.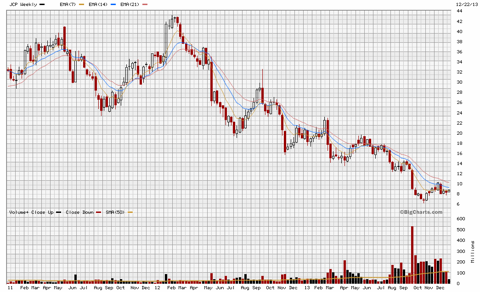 This does not mean that I was not able to trade JCP -- short term -- successfully, but it is one stock that is no longer an investment grade, and most probably will be weeded from my watch list in the near future.
JP Morgan (NYSE:JPM) on the other hand is showing healthy short-, mid- and long-term patterns.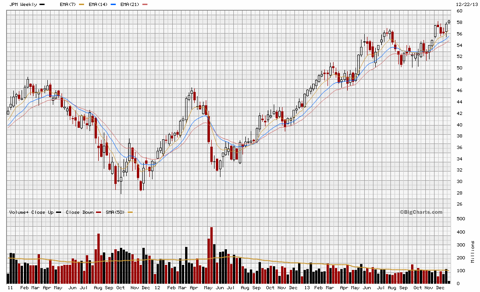 With a 2.6% dividend yield, a clearer macro-economic picture due to recent Fed action and statements, and clearer picture of regulatory litigation and fines, I feel that I can trade this as an investment grade equity.
Goldman Sachs (NYSE:GS) is even showing better signs than JPM. It seems that the regulatory overhang, despite the prominence of GS actions in the financial crisis, is more moot. The 1.25% yield is not as appealing as that of JPM, though. Yet, it seems that it does pass muster as investment grade within the banking sector.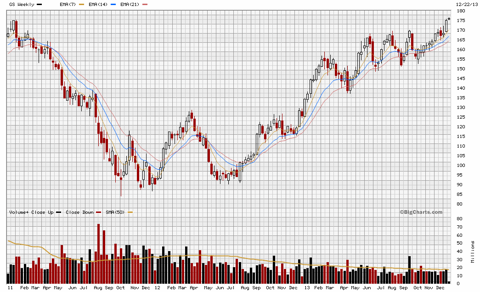 Wells Fargo (NYSE:WFC) is acting -- chart wise -- as the healthiest of the three. It seems that, despite being the largest mortgage lender, they have been able to resolve much of the regulatory overhang. With a yield of 2.64%, and with their name missing from the news, I believe that WFC presents itself as the better investment grade equity in the banking sector.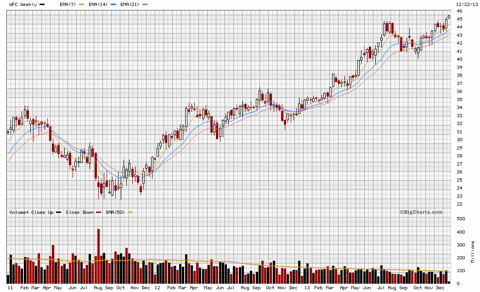 Just as a note, any bank or financial institution that has participated during the period leading to the financial crisis with origination of questionable loans, packaging and marketing of MBSs on such loans, or packaging and marketing derivatives on such MBSs, should be approached with extreme care, as they are a possible target to regulatory action.
Annaly has been the subject of a prior article of mine. I have also written a note on the issue. Yet, I admit my approach to Annaly was a bit Schizophrenic. In one sense, I am holding it as a non-trading equity, and hence I should be concerned more with book value and long-term prospects and, admittedly, these measures look better these days. Yet, if I were to add to my current holdings, then that would be for trading purposes, and for that purpose, I am not convinced that it is the right time to do so. I will wait till the dust settles around the falling long bonds (rising interest rates). Further, from a technical point of view, the NLY long term charts look quite awful. I know the 11.87% yield and 80% of Book Value market price are hard to resist, but in technical trading you "have to" accept that the market is the most efficient discounting machine. The market does not like NLY right now, or for that matter any mREIT.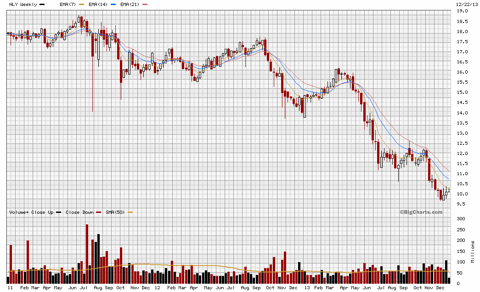 Altria (NYSE:MO) is the one company that is better held long term than for trading. Yet, I enjoy trading it as it is the poster-child for Mean Reversion. With 5.04% yield, and perpetual rise in stock price, it is hard not to have MO in your trading set.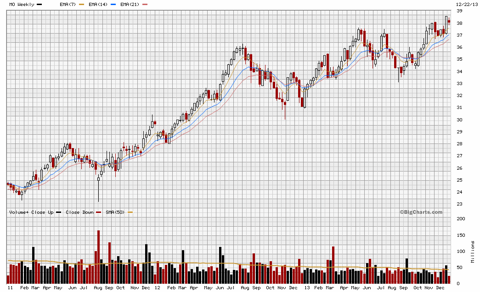 AT&T (NYSE:T) is one of the stocks that I trade because "it is there." After all, it is my belief that Telecom has to be a part of any trading set. With a 5.26% dividend yield, the lure is high. Yet, it is one sector that seems to be far too volatile for the size of its companies than it should be -- just look at the chart below.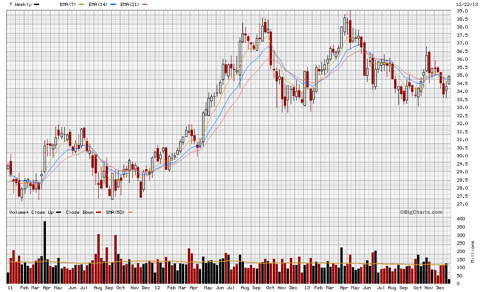 Similar argument applies to Verizon (NYSE:VZ), which yields 4.33%.
For this telecom sector, if you are trading technically, you should really expect to become "an investor" at any time. That is, you will make money, but it may take longer holding periods than other sectors.
Another volatile sector is retail. And even though for this particular sector I normally point people to an ETF, such as (NYSEARCA:XRT), I personally do not trade ETFs. Hence, I choose to cover the spectrum, mainly in the middle offerings as opposed to high-end retailers. The risk of individual retailers is that they can very easily miss a season or a fad and end up out of favor for quite a while. This "miss" is normally accompanied by (temporary) demise of stock value. Hence, just like in Telecom, be prepared to become an "investor" overnight. That is, your holding horizon can change dramatically due to an after-hours or pre-open announcement.
In particular, The Gap (NYSE:GPS) is a good such retailer, especially that they actually manage many brands and have international exposure. The 2.07% yield helps greatly.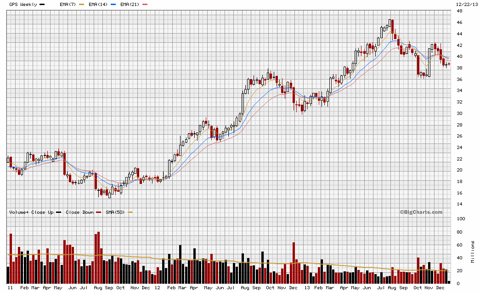 GPS's competitor, Abercrombie & Fitch (NYSE:ANF), with truly unappealing charts. Yet, that is the nature of investing in individual retailers. The current 2.39% yield can help alleviate some of the pain of abrupt price drops. Yet, ANF is a retailer with international exposure, varied offerings, and cult-like following among certain age-group. Hence, I have it in my watchlist.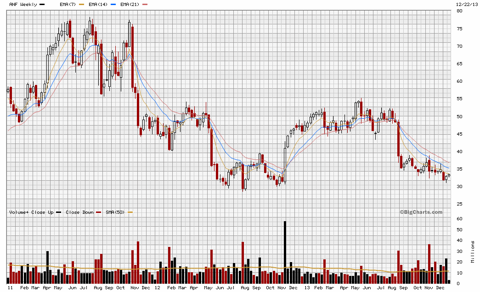 In the retail group, Nordstrom (NYSE:JWN) is by far my favorite, and has always been. Not only is it yielding 1.95%, but also they seem to provide for a more smooth ride, as far as price fluctuation is concerned. They still suffer from the typical retail volatility syndrome, but in JWN's case, it can be easily classified as mean-reversion more so than periodic corporate failure, as is the case with GPS and ANF.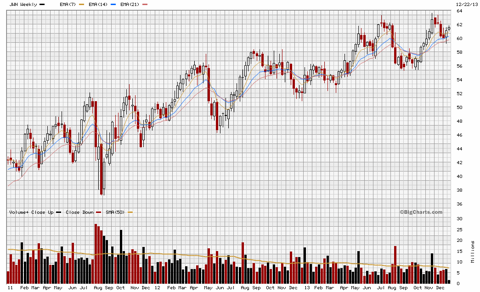 Despite its conglomerate status, I view Disney (NYSE:DIS) as a retailer, and treat it as such. It does offer a lowly once-a-year dividend with a current yield of 1.16%, but its diverse base offers for a more smooth price movement.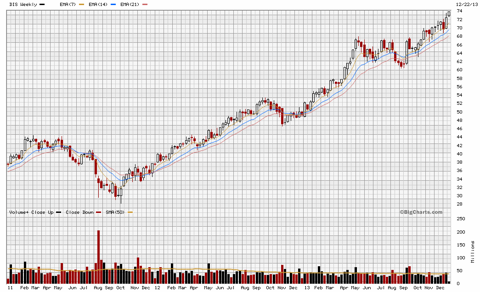 I also trade McDonald's (NYSE:MCD) as part of the retail collection. The current 3.36% yield is quite appealing, even though the short, mid- and long term price action leaves much to be desired. yet, it is a good technical trading candidate, and if all fails, with its ubiquitous US and international presence, MCD does present itself as good investment grade equity.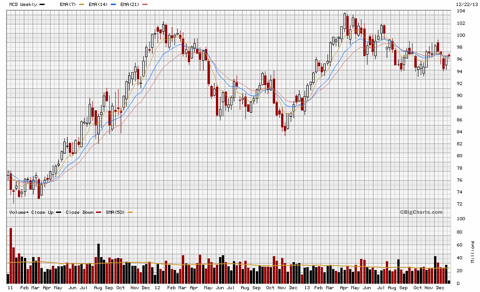 Disclosure: I am long GERN, WFC, NLY, T, VZ, GPS, ANF, JWN. I wrote this article myself, and it expresses my own opinions. I am not receiving compensation for it (other than from Seeking Alpha). I have no business relationship with any company whose stock is mentioned in this article.
Additional disclosure: It is important that you understand and agree that all information provided in this newsletter rely on publicly available data and tools with no guarantees of quality or suitability for any purpose, and that I can be long or short in any of my trading-set equities, at any time, with or without regard to indicated trends and described analytics, and that I do not give buy or sell or any other financial recommendations, and that any and all actions based on this commentary are solely the responsibility of the reader.