The competition in the cloud computing industry is getting intense. The battle among the big players in cloud computing such as Oracle (NYSE:ORCL) and Salesforce.com (NYSE:CRM), especially in cloud marketing, is getting stronger. Both companies are heavily investing in cloud computing companies to strengthen their market position. Most recently, Oracle turned the competition up a notch with the $1.5 billion acquisition of online marketing specialist Responsys (NASDAQ:MKTG). The deal is valued at $27 per share reflecting a 38 percent premium over the firm's closing price on Thursday December 19th, 2013.
About Responsys
Saas-based Responsys is a leading marketing cloud software and services vendor. The company boasts the smartest marketing in the digital world. Responsys develops software that allows brands to coordinate their email, mobile, display and social advertising across the Web. The most respected brands across the globe use the Responsys' Interact Marketing Cloud to manage their digital relationships and deliver the right marketing tools to their customers across email, mobile, social, display and the web. Its customers gain a competitive advantage through the automation, individualization and coordination of cross-channel marketing interactions on a massive scale.
Changing Trends
Marketing has pretty much been around forever in one form or another. Usually, marketing was used to convince consumers to trade. Over the past few years, the methods of marketing have changed and improved, because of technological advancements, and marketers have become a lot more efficient at selling their products and getting their marketing messages out to the buying public.
Recently, digital marketing has emerged as a cost-effective way to drive marketing results. However, traditional methods can help amplify and take campaigns to the next level. The combination of the two gives marketers an opportunity to engage consumers holistically. Traditional marketing presents a highly effective way to reach a broad consumer audience, whereas digital marketing can be used to create a relationship with the consumer that has depth and relevancy.
Digital marketing takes the marketing experience one step further as it enables marketers to instantly customize the experience and communication in real time. Personalized messages on social channels like Facebook give marketers the ability to target consumers based on the information they share through direct marketing.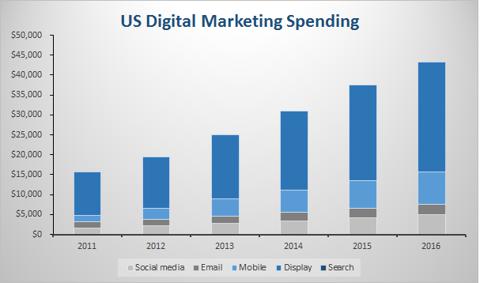 Source: Forrester
Over the past few years, the demand for digital marketing has increased substantially. According to the research firm, Forrester, advertisement spending will increase to $43.3 billion spent on digital marketing, as much as what is spent on television advertising today, by the end of 2016. Spending on search marketing, display advertising, mobile marketing, email marketing, and social media will grow to 26% of all advertising budgets as they are embedded in the marketing mix. So far, the industry has showed a tremendous growth at a CAGR of 26% from 2011 to 2013. The growth is expected to continue increase from $25 billion in 2013 to $43 billion in 2016 at a CAGR of 18%.
It seems that the company that Oracle purchased has huge growth potential in this fast growing digital marketing. Currently, Responsys has a very small portion of the market share, which is 4.54% based on the company's $201 million revenues in 2013. By joining with Oracle the company will have a greater opportunity to grow its operations beyond its limited (451) number of customers and this will help the company to generate higher revenues and serve a large customer base.
How this Benefits Oracle
Before the acquisition, Oracle only provided digital marketing services to B2C customers through its Eloqua business. The Responsys acquisition helped the company to directly counter Salesforce's competitive position when they acquired ExactTarget (for B2C) and Pardot (for B2B). Recognizing the unique needs of the CMO in B2B and B2C industries, the Oracle Marketing Cloud is now the go-to platform for uniting enterprise-class leaders in these historically diverse marketing-automation fields.

Source: Morningstar
Moreover, Responsys already produces profits meaning it is a well-managed company because it is unusual for a SaaS-based vendor to be profitable. Google's SaaS-based vendor Marketo (NASDAQ:MKTO) is valued at $1.3 billion, almost the same as Responsys. The interesting thing to note here is that Marketo is half the size of Responsys but Marketo is still losing more than $10 million per year.
Conclusion
This acquisition means a lot for Oracle because now it claims to be the only vendor to offer both B2B and B2C marketing automation. The company's efforts to become a one-stop shop for cloud computing seems to be achievable with its recent purchase. This will help the company to further expand its cloud initiative which it believes is the key ingredient for the success of the company in the coming years.
Disclosure: I have no positions in any stocks mentioned, and no plans to initiate any positions within the next 72 hours.
Business relationship disclosure: The article has been written by a Blackstone Equity Research research analyst. Blackstone Equity Research is not receiving compensation for it (other than from Seeking Alpha). Blackstone Equity Research has no business relationship with any company whose stock is mentioned in this article.