I hope you are all enjoying the holidays as much as the stock market is. The latter has been on a kind of an extended holiday for some time (from reality), but such is the nature of human behavior. Last week's prediction for S&P 1850 by year-end looks fairly safe at this point - we're only 8 points away - though whether we hold through it on the 31st is something of a guess.
I'm also still feeling uncertain about the rally's ability to continue through the end of the first quarter, in another continuation of the November-April rally the market has become accustomed to in recent years. Based only on sentiment, another rally-quarter would be a lock, but of such certainties are problems born.
In one of my replies to reader comments last week, I also noted increasing enthusiasm for the blow-off top. Sure enough, not long after I saw Jim Cramer riding high on CNBC. He observed that even if we are very possibly headed for another blow-off of stupidity like 1999, one should focus first on all the money to be made on the way up. That sort of thinking will be at the heart of any move towards S&P 2000 before summer, and indeed of the last stage of this bull market.
I noted that the Shiller P/E has been moving up quite smartly of late, and now stands at 26.3. This is dangerous territory, make no mistake, but privately I have long thought that given any chance, prices would try to move above 27 first. The ratio last peaked at around 27.5 in the summer of 2007; prior to that, the only extended sojourns in such territory were the tech bubble and the run-up to the crash of 1929.
The ratio is a good measure of valuation, but not much of a short-term indicator. It also spent some time near 27 going from 2004 into 2005, but that was when the economy was still in the first half of its expansion cycle and earnings had been recently crushed. The current expansion is nearly five years old, giving a very different aspect to another move above 27.
Yet as much as valuation measures and history make me want to start digging a moat and erecting castle walls as the ratio moves above 27, there are grounds for believing we will move past the 2007 high this time around, indeed past 28, possibly even higher. Perhaps Mr. Cramer was thinking the same thing when he invoked the 1999 parallel.
The biggest reason for thinking that is the amount of equity inflows. At bottom, the stock market is an auction room, and the faster money is pumped into that room, the easier it will be for prices to move higher. Record IPO issuance is absorbing some of the inflows, but have the perverse effect of attracting even more money.
Apart from the usual and not insignificant potential for geopolitical problems, particularly in the Middle East, to end the party suddenly, not to mention a dust-up on Capitol Hill (we aren't clear yet) I think that so long as bond yields aren't too volatile, in particular the ten-year, equity inflows are apt to continue some time longer.
Looking ahead into January, the two main preoccupations of stocks, the jobs report and the Fed meeting, aren't likely to cause too much trouble. Although the headline data has been volatile with weekly claims, the underlying actual data isn't suggesting any real trend change. That implies another monthly report of around 200,000 new jobs, seasonally adjusted of course, for December. That would leave the Fed leeway for another $10 billion cut, which wouldn't give us the same rally as December again, but isn't likely to bother markets yet.
Against that, GDP is likely to slow from the third quarter to the fourth on both a real and nominal basis, and earnings are probably going to be the same old story. But expectations are already fairly low in both areas, so prices might be able to skate around snags in either area. January should see something of a pickup in spending and other activity, as annual raises will not be cancelled out this time by the payroll tax increase and some modest amount of money is being returned via the new budget. Whether the two will enough to offset the potential of over a million people losing jobless benefits isn't clear.
Recent economic data has been a bit more encouraging, but I'm withholding judgment, as the post-crash economy has been characterized by the occasional inventory-related pop in GDP that is followed by a longer period of retrenchment. If something can get done on extending unemployment benefits, we might be able to get back to 4% nominal GDP growth again, which would provide another lift to sentiment. Here is a chart of the latest from the Chicago Fed's national activity index: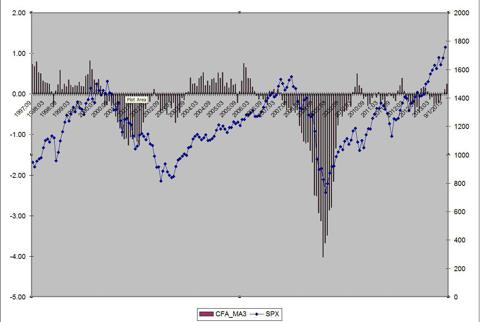 This is the third time since early 2010 that the index's three-month moving average has punched back through the zero line, coming at fairly regular intervals. It remains to be seen whether the move is sustainable this time, and not simply another restocking episode. If the former, then I expect upward pressure on yields will eventually be fatal for equity multiples. If it fades back again, I'm not sure sentiment could look past it again. Either way, the outcome looks like the end game for prices, but it could take some amount of months for this to play out.
In the short term, prices are moving back into extended overbought territory, though a typical last-day-of-year fade could help alleviate pressure. Longer-term measures are unquestionably in nosebleed territory, making survival of the trend through the end of the first quarter more problematic. If you cannot stand to get out, a relative value play might be to be long the broader market via the iShares S&P 500 (NYSEARCA:SPY) or Dow Jones (NYSEARCA:DIA), and short the Nasdaq 100 ETF (NASDAQ:QQQ) (or if you can't go short, buy the Proshares Short QQQ (NYSEARCA:PSQ)). The fact that sentiment is so heavily pro-tech right now also supports such a move.
Disclosure: I have no positions in any stocks mentioned, and no plans to initiate any positions within the next 72 hours. I wrote this article myself, and it expresses my own opinions. I am not receiving compensation for it (other than from Seeking Alpha). I have no business relationship with any company whose stock is mentioned in this article.