In "A Major Test Awaits The Australian Dollar In 2014 As 2013 Delivered New Correlations" I discussed this year's strong (inverse) relationship between the U.S. 10-year Treasury yield and the Australian dollar (NYSE:FXA). Another relationship that has caught more of my attention is that between the Australian dollar and the Japanese yen (NYSE:FXY). In the trading world of the past few years, traders seemed intensely focused on distinguishing between "risk-on" and "risk-off" modes for the market. Generally, the Australian dollar looked good during risk-on days and the Japanese yen looked good during risk-off days. This relationship meant that AUD/JPY, the Australian dollar versus the Japanese yen, served as an underline for market sentiment. In fact, until this year, AUD/JPY tended to trade in a well-correlated fashion with the S&P 500 (NYSEARCA:SPY).
The weekly chart below gives one visual on the correlation between AUD/JPY and the S&P 500.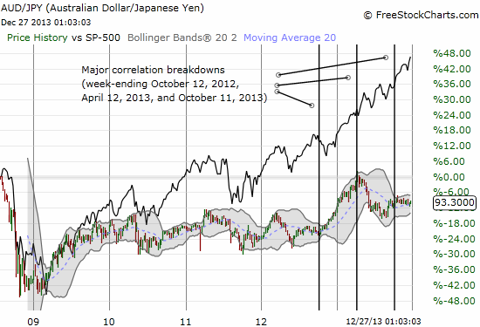 Over the past 14 months, the expected correlation has experienced 3 major breakdowns
Source: FreeStockCharts.com
The first major breakdown in the correlation occurred as AUD/JPY started racing higher while the S&P 500 dipped. Since the S&P 500 turned around in a month, it looked like perhaps AUD/JPY had turned into a leading indicator. This year turned everything around: the Bank of Japan (BoJ) forced the issue of yen devaluation in early April with its massive monetary easing program. Once AUD/JPY ended a quick streak higher, it topped out at a level not seen since. Once the Reserve Bank of Australia (RBA) cut interest rates the following month, the devaluation advantage swung back to the Australian dollar. It was a victory that lasted through much of the summer. AUD/JPY has stayed within a tight range since mid-September and enters 2014 joined at the hip. The S&P 500′s steady march since a bottom in June has generated the bulk in the latest weakening in correlation between AUD/JPY and the S&P 500.
From here, I am guessing AUD/JPY heads higher in due time. Such a move is consistent with the overall post-recession uptrend. Such a trade presents an intriguing ply on wide rate differentials given the RBA is not likely to reduce rates further absent an economic emergency. Japan just reported its highest inflation rate since 2008, but it is still just over halfway away from its aggressive 2% inflation target. While the BoJ prints money to buy government bonds, the RBA mainly jawbones - advantage Japan. Of course, to play yen weakness, stronger currencies make more sense but they are also still near-zero to zero rate-earners. If there is anywhere to go long the Australian dollar, it is (nor now) against the Japanese yen.
As 2014 unfolds, I will be watching closely to see whether the resolution of AUD/JPY's tight range comes with a new correlation with the S&P 500. In particular, if AUD/JPY manages to break away higher, the recent history says that the S&P 500 is very likely to move higher in parallel…or in due time. A downward resolution for AUD/JPY will be a red flag awaiting confirmation.
The chart below suggests that current cycle of little to no correlation is roughly halfway finished. So, an approximate target for observing increasing correlation again is late January to mid-February.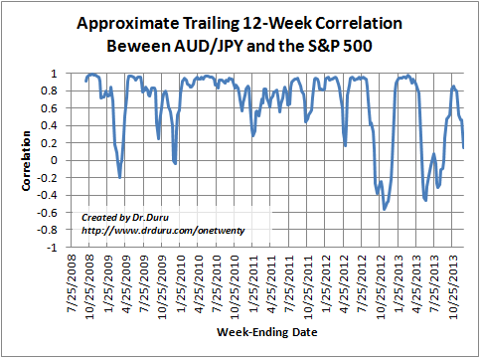 AUD/JPY vs S&P 500 correlations calculated on a weekly basis (using week-ending price levels)
Source for price levels: FreeStockCharts.com
(I did not use correlations between week-ending changes in price levels because holidays cause too many discontinuities in the rolling calculations. Last week-ending date is Friday, December 20, 2013.)
Be careful out there!
Disclosure: I am long SPHB, SPLV. I wrote this article myself, and it expresses my own opinions. I am not receiving compensation for it (other than from Seeking Alpha). I have no business relationship with any company whose stock is mentioned in this article.
Additional disclosure: I am also long SSO puts. In forex, I am long AUD/JPY.