Several retailers we follow reported February same-store sales this morning, and another 25 or so will release results tomorrow morning. After 12 straight monthly declines, retailers have posted 5 consecutive monthly gains and we expect that momentum to continue for February.
This morning, MasterCard Advisors' SpendingPulse released figures which showed most sectors saw gains in February, led by robust growth in luxury goods (+15.2% excluding jewelry), consumer electronics (+5.8%) and online sales (+16.7%). However, overall spending still remains depressed, led by weakness at clothing stores which saw a 1.8% decline on top of an 11.8% drop in the year-ago period.
Below are results from retailers who have already reported for the month. We will have full coverage of the monthly results for 30+ retailers available tomorrow morning (click charts to enlarge):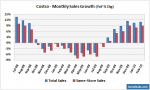 Costco (NASDAQ:COST) reported an increase of 11% in net sales and a 9% increase in same-store sales for February, compared to a 3% decline in the same period last year. Excluding the impacts from gasoline and foreign exchange, total company same-store sales increased 4%. Comparable sales in the US increased 5% for the month, up 2% excluding the effect of gas inflation. For the International segment, same-store sales were +26%, and were +10% without the effects of foreign exchange. The company also said that quarterly earnings rose 25% on an 11.3% increase in sales for the fiscal 2nd quarter of 2010, while comparable sales were up 9%.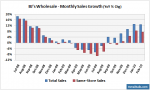 BJ's Wholesale (NYSE:BJ) reported an increase of 12.8% in net sales and a 7.5% rise in same-store sales for February, compared to a 0.6% gain in the same period last year. The company said excluding sales of gasoline, comparable sales increased 3.9% versus last year, traffic increased by approximately 3%, and the average transaction amount rose by approximately 1%. Total sales for the 4th quarter of 2009 were up 9.4% and same-store sales rose 4.6%, while diluted EPS increased 11% from the year-ago period. For the full fiscal year 2009, diluted EPS grew 6% and total sales were up slightly by 1.6%, though same-store sales dropped from the prior year by 1.9%.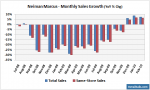 Neiman Marcus (Pending:NMG) reported an increase of 7.3% in net sales and a 6.2% increase in overall same-store sales in February, compared to a 20.9% drop in the year-ago period. This is the 3rd straight monthly gain after 18 consecutive months of negative comparable sales. Same-store sales in the Specialty Retail Stores segment were up 5.1% in January, while comparable sales for the Direct-to-Consumer segment increased 11.3% during the month. The top selling merchandise categories for the month were women's apparel, jewelry, and men's.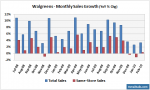 Walgreens (WAG) reported an increase of 3.2% in net sales and a 0.4% gain in same-store sales compared to a 1.9% increase in the year-ago period. Comparable pharmacy sales rose 0.9% in February, while front-end same-store sales increased by 0.6%. Prescriptions filled at comparable stores increased 3.6% and pharmacy sales accounted for 64.5% of total sales for the month.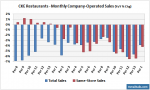 CKE Restaurants (CKE), which was recently acquired by private equity firm Thomas H. Lee Partners, reported a decrease of 3.8% in company-operated sales for period 1 (4 weeks ending Feb 22), while same-store sales declined 4.2% vs the year-ago period, marking the 14th consecutive month of negative comparable sales. Carl's Jr. saw same-store sales drop 2.6%, while Hardee's showed a 6.2% decline. "The same-store sales trend improved considerably at Carl's Jr. with the start of media advertising in support of the successful Grilled Cheese Bacon Burger, the continued strong sales of the new line of grilled chicken salads and as we lapped over somewhat weaker results in the prior year. However, Hardee's same-store sales were negatively impacted by severe winter weather in several of its core mid-west and southeast markets and by the roll-over of solid results in the prior year," said Andrew F. Puzder, chief executive officer.
Disclosure: No positions