David J. Winters is the managing member of Milwaukee-based Wintergreen Advisers, LLC, which runs the Wintergreen Fund (WGRNX). Prior to forming Wintergreen Advisers in May 2005, Mr. Winters held various positions with Franklin Mutual Advisers, LLC, including president, chief executive officer and chief investment officer.
We recently had the opportunity to ask David about his single highest conviction holding in his fund at present.
What is your highest conviction stock position in your fund - long or short?
Wintergreen Fund's highest conviction pick currently is our long position in Nestle SA (OTCPK:NSRGY). Nestle is the largest global food company, with operations not just in chocolate but also in other confectionery, infant nutrition, coffee, pet foods, and bottled water, to name a few. The company sells its products in all corners of the world, generating at least 75% of total sales outside the U.S. Its diverse global footprint gives the company a stream of earnings in different currencies such as the Euro, British Pound Sterling, Brazilian Real, Japanese Yen and Mexican Peso.
To what extent is this a sector pick on the global food market, as opposed to a pure bottom-up pick on Nestle?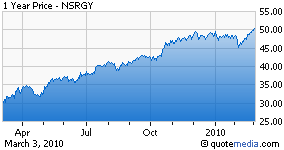 Nestle is considered a consumer staple, and the industry in general is slow growing and often seeks growth via acquisitions at premium prices. Nestle is very well positioned globally and is growing faster than its competitors. Additionally, economies of scale in many aspects of the operations – purchasing, production, marketing and distribution - help the company manage its cost structure at the same time it maintains a measure of pricing power for its brands, thus enabling margin stability or expansion. We like the industry as a whole and we are enthusiastic about Nestle's long-term prospects.
Where do you see the growth in this market - and how will Nestle capture it?
The food industry is very competitive, and in Western countries, mature. The real opportunity is in emerging markets, which presently account for about 40-45% of Nestle's sales. Expect this proportion to increase over time.
Already the company is No. 1 in certain categories in emerging markets; for example, Nestle is the dominant infant nutrition producer in Latin America with over 50% market share.
How does valuation compare to the competitors?
The shares are still quite reasonable. Recently, Nestle sold its interest in Alcon (NYSE:ACL), a listed ophthalmic drug company, to Novartis. Excluding 1) its cash, 2) Nestle's approximately 29% interest in L'Oreal (OR FP), and 3) its estimated free cash flow in 2010, Nestle's core businesses trade at about 10x earnings.
The company aggressively buys back its own shares (the buyback program for 2009 was accelerated from 4 billion Swiss Francs to 7 billion) and as of the time of this writing the stock yields close to 3%. Nestle's competitors trade at higher multiples, with less compelling prospects and often lower yields without buyback programs.
What is the current sentiment on the stock, and how does your view differ from the consensus?
Sentiment on the stock is mixed and it appears some investors find Nestle to be boring. Some investors may speculate that Nestle, with its large pile of cash, will make a large acquisition. Such a move might or might not make sense depending on the price.
We think Nestle is very well positioned and disciplined, and as a long-term investor, we benefit from waiting via the dividend and generous share repurchases as we watch sales and earnings grow around the world. We think the future is bright for Nestle.
Does the company's management play a role in your position?
Absolutely. Management is part of the "trifecta" we look for in a company -- in addition to 1) solid businesses with good and improving economics and 2) the security being available at an attractive price, the all important third factor is skilled, focused and attentive management who are working for long-term shareholders. All three elements are of key importance.
Nestle's management has done the right things for shareholders, selling Alcon at a favorable price, buying back their inexpensive shares and making opportunistic fill-in acquisitions at advantageous prices. We applaud Nestle's management.
What catalysts do you see that could move the stock?
No significant catalysts per se, just the realization that life will go on and that Nestle is one of the best and lowest risk ways to participate in the ongoing growth around the world. The company has experienced strong growth in developing markets, often in the magnitude of double digits, with the power of its brands.
With continued penetration in places like China, India and Brazil, we expect Nestle to continuously march forward and reward shareholders over the long term.
What could go wrong with your Nestle holding?

As long as people around the world desire to nourish their babies with healthy food, continue to feed their pets, and treat themselves to chocolates, we believe that there is very little that can go wrong at Nestle over time.
Thank you, David.
My pleasure.
Disclosure: Wintergreen Fund is long Nestle
Read more High Conviction Picks »
If you are a fund manager and interested in doing an interview with us on your highest conviction stock holding, please email Rebecca Barnett.