The Kinder Morgan family of companies has four publicly traded entities: Kinder Morgan, Inc., Kinder Morgan Energy Partners, L.P., Kinder Morgan Management, LLC (NYSE:KMR) and El Paso Pipeline Partners (NYSE:EPB). Combined, the Kinder Morgan companies have an enterprise value of approximately $105 billion. This is no small family and has demonstrated strong business operations. Our focus is on Kinder Morgan Energy Partners, L.P., as we describe the opportunity for 2014.
Kinder Morgan, Inc. (NYSE:KMI) is the largest natural gas pipeline and storage operator in the U.S.; the largest independent transporter of refined petroleum products in the U.S.; the largest independent terminal operator in the U.S.; the largest transporter and marketer of CO2 in the U.S.; and the only oil sands pipeline serving the West Coast of Canada.
Map of KMP locations and activities: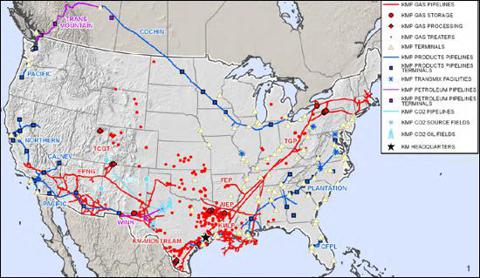 Kinder Morgan Energy Partners, L.P. (KMP) is a subsidiaries of KMI. KMP's current stock price as of the open on December 27, 2013 was $80.02, which is slightly up .05% for the year. The market cap is $24.7 billion, with a gross profit near 43% and profit margin at 27%. KMP returned $5.26 in dividends during 2013 for a yield of 6.75%. The valuable news for KMP is the four major announcements KMI made on their website, all involving KMP, during the week of December 20-23 2013. These included:
Acquisition of Jones Act Shipping Tankers

Partnership with Imperial Oil to build Edmonton Crude Oil Rail
Terminal Double Eagle Pipeline expansion to Houston Ship Channel
Kinder Morgan Energy Partners and Targa Resources Partners to Expand Capacity
On December 23, 2013, Kinder Morgan Energy Partners, L.P. announced it has entered into a definitive agreement to acquire American Petroleum Tankers (APT) and State Class Tankers (SCT) from affiliates of The Blackstone Group and Cerberus Capital Management for $962 million in cash. APT and SCT are engaged in the marine transportation of crude oil, condensate and refined products in the United States domestic trade, commonly referred to as the Jones Act trade.
APT's fleet consists of five medium range Jones Act qualified product tankers, each with 330,000 barrels of cargo capacity. With an average vessel age of approximately four years, the APT fleet is one of the youngest in the industry.
SCT has commissioned the construction of four medium range Jones Act qualified product tankers, each with 330,000 barrels of cargo capacity. The vessels are scheduled to be delivered in 2015 and 2016 and are being constructed by General Dynamics' (NYSE:GD) NASSCO shipyard. Kinder Morgan will invest approximately $214 million to complete the construction of the SCT vessels. John Schlosser, president of KMP's Terminals segment, stated:
"This is a strategic and complementary extension of our existing crude oil and refined products transportation business. Product demand is growing and sources of supply continue to change, in part due to the increased shale activity. As a result, there is more demand for waterborne transportation to move these products. We are purchasing tankers that provide stable fee-based cash flow through multi-year contracts with major credit worthy oil producers."
On December 20, 2013, Kinder Morgan Energy Partners, L.P. and Targa Resources Partners LP (NGLS) announced they have signed a letter of intent to form a joint venture to construct new natural gas liquids (NGL) fractionation facilities at Mont Belvieu, Texas, to provide services for producers in the Utica and Marcellus Shale resource plays in Ohio, West Virginia and Pennsylvania.
In order to allow producers and shippers sufficient time to assess their Gulf Coast fractionation and pipeline needs, a binding open season is currently under way for the Utica Marcellus Texas Pipeline (UMTP), a proposed joint venture between MarkWest Utica EMG, L.L.C. and KMP, will be extended until February 28, 2014. The UMTP will involve the abandonment and conversion, subject to Federal Energy Regulatory Commission approval, of over 1,000 miles of KMP's existing Tennessee Gas Pipeline system, currently in natural gas service, from Mercer, Pa., to Natchitoches, La., and building approximately 200 miles of new pipeline from Natchitoches to Mont Belvieu for fractionation. The facilities will be located adjacent to Targa's existing fractionation facilities at Mont Belvieu and will provide fractionation services for customers of UMTP of up to approximately 150,000 barrels per day (bpd), and potentially serve up to 400,000 bpd of maximum pipeline capacity over time. Don Lindley, president of Natural Gas Liquids for KMP, stated:
"The joint venture with Targa will provide our NGL pipeline customers with a fully integrated NGL solution from the tailgate of their processing plants in Utica and Marcellus to the ultimate consumer of the purity products along the Gulf Coast. Targa's market connectivity, storage, and expertise in fractionation and in LPG export infrastructure and services on the Gulf Coast may provide the Utica and Marcellus producers with maximum value and options at the largest NGL hub in the United States."
On December 20, 2013, Kinder Morgan Crude and Condensate LLC (KMCC) and Double Eagle Pipeline LLC, agreed to a 50/50 joint venture between Magellan Midstream Partners, L.P. (NYSE:MMP) and Kinder Morgan Energy Partners, L.P. The announcement stated that they have entered into a long-term agreement with Anadarko Petroleum Corporation (APC) to transport Eagle Ford Shale production from Gardendale, Texas, in LaSalle County, to the Houston Ship Channel via the KMCC Pipeline. Double Eagle will construct 160,000 barrels of storage capacity and a pump station at Gardendale in addition to building an approximately 10-mile pipeline to connect the Double Eagle Pipeline and the KMCC Pipeline in Karnes County, Texas. Double Eagle will transport product from its new Gardendale station to the KMCC Helena station in Karnes County. KMCC will construct 240,000 barrels of storage at its Helena Station to move crude and condensate from the Double Eagle Pipeline to the KMCC delivery points. Double Eagle and KMCC expect to complete construction of these facilities in early 2015 to move production to the Houston Ship Channel.
"We believe connecting the Double Eagle and KMCC systems will offer unique flexibility for Anadarko and other Eagle Ford producers to access both the Corpus Christi and Houston-area markets," said Don Lindley, president of Natural Gas Liquids for KMP, regarding the approximately $45 million Kinder Morgan investment. The transaction is expected to be immediately accretive to cash distributable to MMP and KMP unit holders upon the project's completion.
The Double Eagle Pipeline includes 140 miles of new 12-inch pipeline connecting to an existing 50-mile, 14- and 16-inch pipeline segment owned by Kinder Morgan extending from Three Rivers, Texas, to Magellan's marine and storage terminal in Corpus Christi, Texas. The initial capacity of the pipeline is 100,000 barrels per day, but can be expanded with additional pumps.
Also on December 20, 2013, Kinder Morgan Energy Partners L.P. and Imperial Oil (NYSEMKT:IMO) today announced a 50-50 joint venture to build a crude oil rail-loading facility in Strathcona County, Alberta, called the Edmonton Rail Terminal. The facility will be built on heavy industrial-zoned land approximately one-half kilometer southwest of Kinder Morgan's Edmonton storage terminal, on land adjacent to Imperial's Strathcona Refinery. The Edmonton Rail Terminal is currently being designed as a crude oil loading terminal capable of loading one to three unit trains per day totaling 100,000 barrels per day at startup, with the potential to expand to approximately 210,000 barrels per day, and ultimately to 250,000 barrels per day.
The new rail terminal will be connected via pipeline to Kinder Morgan's tank facility and will be capable of sourcing all crude streams handled by Kinder Morgan for delivery by rail to North American markets and refineries. The rail terminal will be constructed and operated by Kinder Morgan and will connect to both Canadian National and Canadian Pacific mainlines. Said Bill Henderson, vice-president for Kinder Morgan Canada Terminals:
"This facility underlines the importance of our expanding Edmonton terminal hub and adds to our growing crude by rail terminal network. The facility will be built with state-of-the-art technology and will incorporate extensive safety and environmental protection features, and will be manned with trained personnel around the clock. The Edmonton Rail Terminal will provide much needed near-term delivery capacity for Canadian producers and a strategic bridge to Trans Mountain's major pipeline expansion, currently projected to be in-service in late 2017. The additional transportation capacity will be used for current and future production from the Kearl Oil Sands project, including the expansion phase, which will come on stream in late 2015."
A company makes a major announcement about a new project every so often, but Kinder Morgan Energy Partners, L.P. had 4 major projects in the same week. These 4 agreements were made in separate product development areas, with different partners, at various locations across the continent. KMP's leadership has demonstrated the diversity that will increase long-term income and stability into the future. Profitability can be projected by the repetition of rail, ships and pipelines that constantly provide fuel for America. The impact for investors should see an increase in the top line income beginning in 2014 and throughout 2015, while the stock price should appreciate over the same and a continued dividend increasing over time as well. 2014 should bring a 10% increase in the stock value through price appreciation and dividends returned. KMP is establishing a profitable model through rail, ships and pipelines that will enhance their business operations.
Disclosure: I have no positions in any stocks mentioned, and no plans to initiate any positions within the next 72 hours. I wrote this article myself, and it expresses my own opinions. I am not receiving compensation for it (other than from Seeking Alpha). I have no business relationship with any company whose stock is mentioned in this article.
Additional disclosure: I currently have no position in KMP, but will strongly consider in 2014.