In a question and answer segment on his firm's web site, Templeton Asset Management Executive Chairman Mark Mobius recently offered his 2010 outlook for the BRIC nations -- Brazil, Russia, India, and China.

Mobius says he's keying in on two major areas when it comes to BRIC equities: commodity and consumer stocks. He also said that, while investors should expect volatility in these areas of the market in the short term, all four BRIC countries are offering good opportunities. "Our largest holdings are in Brazil, China and India but we are continuing to hold and purchase Russian stocks due to their attractive valuations and long-term potential," he says. "All four markets present opportunities at the moment and it is difficult to pick any one over the others."
That got me thinking about which BRIC stocks my Guru Strategies (each of which is based on the approach of a different investing great) are highest on right now. As part of the new Validea Professional product that I've rolled out on Validea.com [registration required], I'm now featuring several country and region portfolios that I've been tracking internally for the past few years, one of which is focused solely on the BRIC nations. (Also available through Validea Professional are portfolios focused on specific sectors or industries.) Since its inception in late 2006, the portfolio has gained almost 15%, while the S&P 500 has dropped more than 21%. (Templeton's BRIC A Fund is up about 2% over the same period.)
While Mobius says "it is difficult to pick any one [BRIC country] over the others," my BRIC portfolio is currently focused primarily on China, where nine of its ten holdings are based. The lone "BRI" stock in the mix: Russia's Lukoil (OTCPK:LUKOY).
Like Mobius, my models are keying in on commodity and consumer names, which make up more than half of the 10-stock portfolio. Here's a look at the full portfolio, with performance figures through March 2.
Validea.com BRIC Portfolio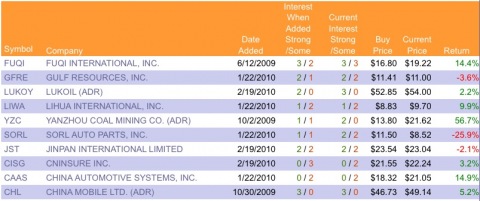 Disclosure: I'm long FUQI, GFRE, LUKOY, LIWA, YZC, SORL, JST, CISG, CAAS, and CHL.