Contrary to popular opinion, which seems to see investing as either a purely logical endeavor or a fixed game, the truth is that investing is both an art and a science. There is an important place for mathematics and the understanding of statistics in the investment process, not to mention an understanding of accounting, but there's something more to it. There is a secret ingredient, which I would label a gift of discernment that some investors have. It's the art of seeing where a business model can or will reach in the future. But beyond that, the art of investing anticipates what other investors will do and where and when capital flows will run. In the case of Twitter (NYSE:TWTR), the stock is confounding many analysts and investors through its fantastic post IPO run because of the artistic beauty of TWTR. When we can appreciate that, we can understand why it's come so far so fast, and potentially see where it might first stumble. Armed with that information, we just might know when to buy and when to sell the stock.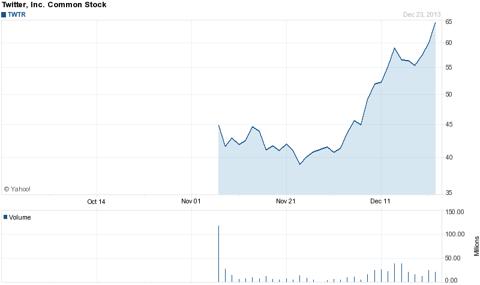 Since its IPO at a price of $26 this past November, TWTR shares have appreciated by 169% through December 24th and confounded most of the street's logical thinkers while reassuring the conspiracy theorists of their beliefs about a fixed stock market game. The logical thinkers, who have missed the stock's meteoric rise because the stock's valuation never made sense to them, are stubbornly warning of the inevitable correction for TWTR. This group of people is calling Twitter a "cult stock" today and determining the drive higher has been fueled by momentum and morons. Multiple analysts have "sell" recommendations on the stock today, or have had sell calls on it, but Yahoo's data indicates just one exists in its limited pool. Wunderlich's Blake Harper even held to his sell position on December 24, despite the stock's 8.4% gain on that day.
| | | | | |
| --- | --- | --- | --- | --- |
| Stock | P/E | PEG | P/S | Est. Sales Growth 2014 |
| Twitter | NA | -16.7X | 66X | 77% |
| Facebook (NASDAQ:FB) | 148X | 2.2X | 21X | 36% |
| LinkedIn (LNKD) | 992X | 2.5X | 19X | 42% |
| Google (NASDAQ:GOOG) | 30X | 1.6X | 6.5X | 16% |
| Yahoo (YHOO) | 35X | 2.0X | 8.7X | 2.3% |
| Apple (NASDAQ:AAPL) | 14X | 0.9X | 3.0X | 8.0% (FY 14 Sept) |
Data based on December 24 pricing
There's a case to be made, obviously, regarding the stock's valuation. We cannot even compare Twitter to its social media and Internet peers on a P/E or PEG basis, given that it is not expected to earn a profit this year or next by the consensus of analysts following it. We can, however, compare Twitter to Facebook, LinkedIn, Google, Yahoo and Apple on a price-to-sales basis. The contrast between Twitter and its rivals on a price-to-sales basis is striking, but what does it reflect that the stock's detractors cannot see?
First of all, sales growth is expected to be astounding in 2014, and far better than that of its rivals. I've seen sales growth estimates up near 100% for Twitter in 2014, but the page at Yahoo Finance shows the consensus forecast at 77%. Better sales growth somewhat justifies a richer price-to-sales valuation. Twitter has a ways to grow to get as big as Facebook and its $7.6 billion in projected revenues for 2013. Analysts see Twitter's sales reaching $639 million this year. But TWTR's P/S ratio is still three times larger than that of Facebook.
On December 26th, CNBC analyst Jon Najarian offered up another reason on the channel's after-hours program. He said Twitter had not offered enough stock in its IPO issuance to meet the demand for it. Najarian said that prospective investors have a choice to either buy the stock and drive it higher or use options as a replacement for a position. He noted that a lot of both seemed to be happening, but I think it is clearly evident that more investors are comfortable buying stock versus derivative combinations producing a synthetic comparable.
Najarian is right, but this is a factor stock analysts often leave out of their analysis. They tend to focus their efforts on the fundamentals of the company and not the market that will determine the stock's price based on supply and demand. I know, because I was a stock analyst, and it's what I did and what I noted my peers did as well. Only with experience did I come to better understand the importance of capital flow dynamics that dictate the trading price of stocks and much of the price multiple in the P/E ratio of the stock.
As a small cap analyst, I came to see that fact clearly when many of the companies I selected for Standard & Poor's Equity Research would later find their way into indexes, including the S&P Small Cap 600 and later the S&P Mid Cap 400. When this happened, my performance as a stock picker benefited as did the shareholders of the stocks because passive funds that simulated the indexes had to then buy the stocks. Also, some active funds, by their charters, can only select from stocks that have qualifying factors like representation in an index like the S&P 600. Again in this case, investors in the stock benefited from the increased demand for the outstanding shares.
There are other ways capital flows can contribute to valuation expansion and stock price appreciation and depreciation. The ability to see and expect these factors is part of the art of investing, and one reason why the performance of some investors is better than others. One factor that may have contributed to Twitter's meteoric rise is called "window dressing," where portfolio managers buy a stock in some quantity in order to have it show up within the funds' Portfolio of Investments Statement. The idea behind this is that the inclusion of a recently hot stock like Twitter in the shop window (or on the fund statement) might help capital inflows into the fund when prospective investors review the fund prospectus. This would be especially likely in the case of well known stocks whose gains have been well-publicized like Twitter and Facebook.
There are times when factors will favor capital inflows and times when they will favor outflows. We're coming upon a time soon that could reverse the recent upward trend. While still in tax year 2013, investors with big paper gains have little reason to sell now and then pay taxes on those gains in the near-term. However, at the turn of the year, many of those same investors will be tempted to take some profit off the table from TWTR, given that taxes on those gains will not come due for some time.
There's another important event coming up that could shift the trend in TWTR stock from upward to downward, or it could possibly even invigorate the current trend. The company will report quarterly earnings at some relatively early point in 2014. When that happens, if the company's operational performance and outlook do not satisfy investor expectations, the stock price trend could change. Likewise, if the company's performance exceeds expectations, shareholders could be justified for holding the richly valued shares and new investors could be drawn in. That would serve to support the stock further.
Given the rich valuation and the stock's meteoric rise up until now, and the tax consequences at the turn of the year, I find good reason to sell Twitter here. The art of the matter leads me that way, and joins the valuation argument made by the science of the matter. It seems to me there is significantly more risk to the downside and little reason to bear it in early 2014.
Disclosure: I have no positions in any stocks mentioned, and no plans to initiate any positions within the next 72 hours. I wrote this article myself, and it expresses my own opinions. I am not receiving compensation for it (other than from Seeking Alpha). I have no business relationship with any company whose stock is mentioned in this article.