Price Movement
You probably already know that Digital Realty Trust (NYSE:DLR) has been hammered over the last several months. Right now, the price is about $49 and we've seen an ugly sell-off over the last two months or so. (Although, the price has come up by several dollars in the last few days.) As a point of reference, back in July 2013, the price was nearly $65.
It's pretty obvious that if you bought DLR when the price was over $60 you're feeling some pain. On the other hand, if you're looking to invest right now, DLR might be a bargain with approximately a 6.5% yield. Let's find out.
Surface Level Problems
As indicated in the Q3 2013 Earnings Call, growth has moderated. The "technology real estate" sector is getting more mature. DLR's asset base has grown and by implication, some might say that they are suffering a bit from the law of large numbers. OK, so growth is slowing but they still expect the dividend to grow by 5-6% in 2014.
Brad Thomas recently went one level deeper after attending a recent investor conference. Be sure to read A Series Of Unfortunate Events For Digital Realty because that article is loaded with great information and it's full of nifty charts and graphs. DLR is huge, they're growing (albeit more slowly now), they're innovating and they're correcting the mistakes they've made.
Brad exposes plenty of surface level problems and easily knocks them down. Again, read his article to get your brain in the right place then hurry back on over here.
In this article, I'm going to look deeper into DLR's potential issues. Let's take a look.
Bigger Problem #1 (Worried About All REITs)
Maybe you're wondering if REITs are a poor investment right now. I understand that completely. With the threat of higher interest rates, maybe all REITs are toxic. It's a fair question.
If that's your worry, then check out What History Tells Us About REITs, Inflation and Rising Rates. I believe every REIT investor must read that article. Now, here's what stuck out to me immediately:
"Contrary to a common misconception, rising interest rates do not necessarily lead to poor REIT performance. In fact, REITs have generated an annual return of 12.6% over the six monetary tightening cycles that have occurred since 1979. Over an equal number of periods when U.S. Treasury yields were rising, REITs generated an annual return of 10.8%."
In other words...
REITs seem to outperform stocks and bonds in periods of rising rates. That report is worth reviewing. And, I recommend you do some further research on this topic because it's not a foregone conclusion that higher rates will kill REITs.
The simple caveman thinking is that the Fed's taper will lead to higher inflation and higher inflation leads to poor returns for REITs. However, history indicates higher rates may have little impact. Therefore, rising rates might not be much of a problem for DLR.
Now, let's get more specific. Time to talk about Google and the cloud, and all that fun stuff.
Bigger Problem #2 (Worried About the Cloud)
Maybe you're interested in DLR but you're freaked out because of their business model. That is to say, perhaps you're worried because they engage in the ownership, acquisition, development, redevelopment, and management of technology-related real estate.
If that doesn't worry you, maybe it should. Google recently cut prices on online storage, computer processing, high end data storage and more (see: Digital Realty's Cyber Tuesday Sale). In other words, Google's cloud offerings might shift business away from tech and data center REITs.
However, here's a quote from that same article:
"Digital doesn't really compete with Google and Amazon. They're in an entirely different business. For instance, Amazon's Web Service business rents space on its servers to small- and medium-sized businesses. Digital does not own servers, it owns real estate and the company provides a secure environment with redundant power and high connectivity where customers can house their own servers."
My simple caveman thinking is that Google and Amazon aren't going to eat DLR's lunch. One of their biggest customers is Facebook. Also, plenty of companies don't want to give up power and control to Amazon and Google. They want to keep things private. They want personal access. They want DLR's "hand holding" services.
DLR is one of the world's first and largest data center REITs and one of the largest 20 U.S. REITs. They've got a multi-billion dollar market cap, they have a diversified geographic footprint, and they've got a wide variety of tenants in financial services, telecom, IT services and more: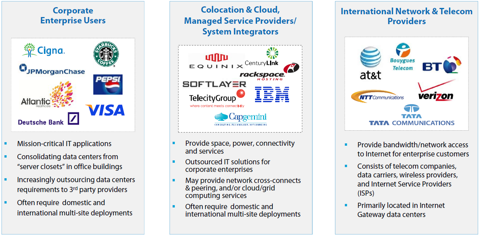 And, it's not like Digital Realty is ignoring the cloud. In fact, they provide the infrastructure to support the cloud, beyond simple real estate transactions; they provide value-add services.
Look here: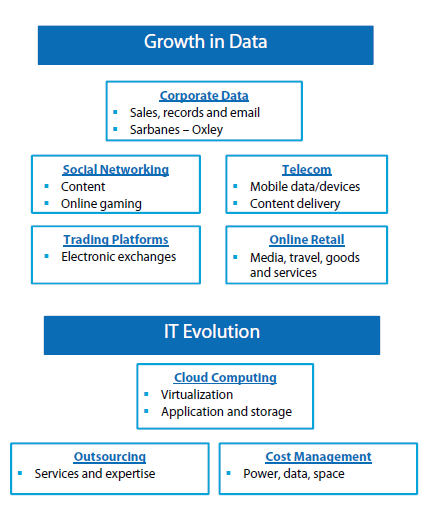 Without getting into a religious debate, the key idea is the DLR helps companies who want private cloud support for the sake of control and security. Many organizations will choose both public and private cloud, while some will only choose private clouds. This can get complicated but the bottom line is that the cloud computing market is growing at a 36% CAGR through 2016, reaching a market size of nearly $20B by 2016. And, DLR has significant skin in the game as the cloud grows.
The growth in the cloud means growth in data centers, especially as companies look to set up their own secure, private clouds. That's one of DLR's sweet spots.
In short, you can be certain that Digital Realty will be helping these companies and they'll get their cut of the cloud pie, as the pie gets bigger. In other words, the cloud is not a threat to DLR, it's an opportunity.
Disclosure: I am long DLR. I wrote this article myself, and it expresses my own opinions. I am not receiving compensation for it (other than from Seeking Alpha). I have no business relationship with any company whose stock is mentioned in this article.