We all know about the recent blunders that have made headlines with both Target (NYSE:TGT) and UPS (NYSE:UPS). They have been in all of the headlines, and so far it hasn't really seemed to affect either company's stock price. The premise of this article is going to be to update readers on the news surrounding these companies, and present why any dip in the stock of these companies could present a buying opportunity going forward.
Target has been mired in the face of news that criminal hackers had stolen or compromised 40 million credit and debit card accounts.
The latest on Target, as provided by Seeking Alpha:
Target (-0.4%) issues a new security update in which the company says it remains "confident" that PIN numbers of cardholders were not compromised, although encrypted PIN data was removed. The assertion runs counter to what some data security bloggers have been maintaining.
The data security breach of 40M Target accounts continues to draw the ire of politicians. More Congressmen want the FTC to increase the depths of its probe on the delay of Target's disclosure and the number of lawsuits filed against the company continues to increase.
Shares of Target have been somewhat resilient following the security breach, only dropping 0.5% since the story broke.
What to watch: Most countries have adopted smart cards which contain data on microchips, instead of magnetic strips, to allow for much better encryption, but the U.S. lags behind. Banks in the U.S. have been hesitant to force the issue due to the pricey upgrades to payments systems the new technology would require for some large retailers mired with older systems. If the timetable for the adoption of smart cards in the U.S. is pushed forward due to the Target fiasco, some point-of-sale hardware firms (NCR, PAY,MCRS, DBD) could pick up extra business.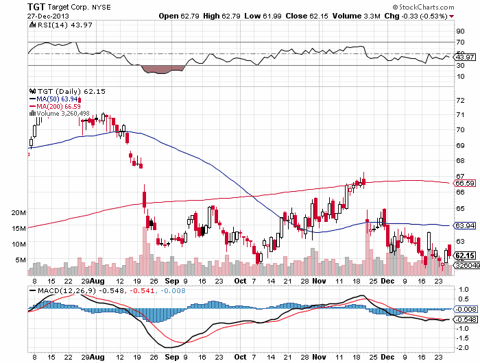 UPS , on the other hand also found itself in the headlines for not having the staff necessary to keep up with volume of packages for the holidays. Although it was reported Saturday morning that UPS's backlog has been taken care of, there remains a host of customers that are extremely dissatisfied with the company.
The latest on UPS, as provided by Seeking Alpha:
The word "guarantee" was thrown around too loosely this holiday season by retailers, writes The Dallas Mornings News' Maria Halkias.
While UPS blames bad weather for falling short with some deliveries this year, the company only hired the same number of temporary workers as last year despite forecasts for booming online sales. FedEx (NYSE:FDX) and the USPS also had their own glitches. The spottier-than-normal delivery record this year falls on the shoulders of the retail sector not shippers.
What to watch: Online retail tracking firm StellaService reports that sellers such as Zappos, Amazon (NASDAQ:AMZN), Wal-Mart (NYSE:WMT), Best Buy (NYSE:BBY), and Victoria's Secret (NYSE:LB) scored well in meeting aggressive deadlines, although the cost may be high. Many of the firms upgraded late-ordering customers to express shipping to avoid a customer service backlash. Next year, deadlines may be earlier and holiday margins higher.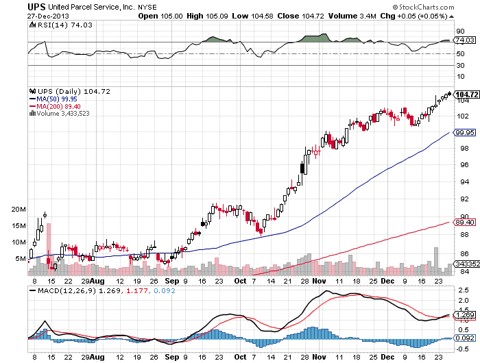 Amazon (AMZN) - whose entire business revolves around shipping - took the news in stride and offered increased customer support as well as $20 gift cards to its customers to dampen some of the dissatisfaction with its "Prime" service. And, as I predicted in a previous article, Amazon was one of the first companies to come out and comment on its holiday sales.
The company said in a statement that Amazon Prime witnessed "record sign-ups and sales" and that the company had record sales on cyber Monday. Amazon continues to keep its crown as the first company to toot its horn after the holiday season has ended for a couple of years and running.
Some examples of these sales were given by Amazon and echoed in a writeup in the International Business Times:
Amazon said more than half of its customers shopped using a mobile device, and shipments went out to 185 countries this year.

Between Thanksgiving and Cyber Monday, Amazon customers ordered more than five toys a second from a mobile device, and new Xbox One and PlayStation 4 gaming consoles were sold at the rate of more than 1,000 units every minute during the peak period of their sales.

Samsung's LED high-definition television sets topped TV sales while Samsung's Chromebook, the ASUS Transformer Book and Acer Chromebook were the best-selling laptops. Among cameras, the top sellers were the Canon EOS Rebel T3i, Canon PowerShot A2500 and Fujifilm Instax Mini 8 Instant Film Camera.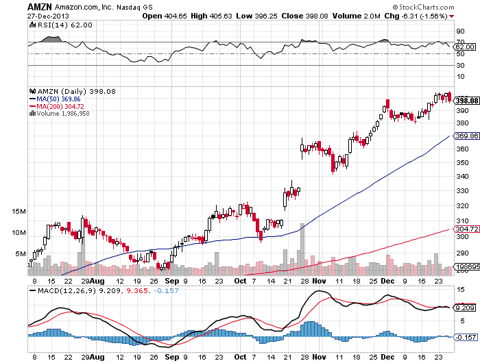 So, as we can see, it is business as usual for Amazon heading into 2014. In the face of its lofty valuation which is often argued about, Amazon at least continues to perform and grow at staggering rates - this holiday being no different.
The Argument to Buy on the Dips
UPS stock has had a great 2013. The company is up over 40% for the year and up nearly 15% in the last three months alone. So, why would you recommend buying a stock that has already performed so well and is facing bad press?
The answer is in the question of whether or not the holiday shipping issue is going to affect UPS in the long-term, and I contend that it is not going to. As a matter fact, since UPS was able to resolve the issue, there may not be any material or tangible effect to UPS's numbers as a result at the end of the day. Should this hold true, and should the stock dip on this news, it then presents us with a chance for cheaper entry.
Additionally, with UPS several analysts seem to think that it's fairly valued well into the $100 region.
With Target, it's somewhat of the same issue. You have a great company and a great brand name that happens to be suffering through some bad press, which will eventually - in time - give way. This is not to in any way undermine the seriousness of the security breach, but it is taking a step back, offering some perspective, and realistically suggesting that it will be over and done with before the first quarter of 2014 ends. There remains risk of class action lawsuits and the like - which have resulted from similar situations to the one that Target is facing - but, nothing that's going to present long-term risk for the company which has its fundamentals in order and plenty of cash to do its business with.
The fact is that if you want to be a long-term investor in Target, or you want to invest in Target for growth in dividends, you might get an opportunity for a discounted entry price if the security breach news makes its way to the stock price - which it hasn't done just yet.
Chuck Walston wrote a great article a couple of days ago comparing Target's security breach to that of other companies in the past - comparing not only the breach, but how it eventually effected the stock price of the specific companies. It's a great read for those that want to perform research via case study.
I remain bullish for the long-term on all three stocks mentioned in this article - UPS, Amazon, and Target - moving into 2014 and wish all investors the best of luck in the new year.
Disclosure: I have no positions in any stocks mentioned, and no plans to initiate any positions within the next 72 hours. I wrote this article myself, and it expresses my own opinions. I am not receiving compensation for it (other than from Seeking Alpha). I have no business relationship with any company whose stock is mentioned in this article.