Ordinarily, when I read about the "death of the metals" on multiple financial websites, it makes me think like a contrarian, and believe that the metals are near a bottom. However, if we are near a bottom, it is not a final bottom. And, all of this revolves around what the next "bounce" in the metals will do, and if we can breach 118GLD or not.
Before I go into my expectations, I want to make something clear, which, based upon last week's comments to my article, does not seem to be clear to some of the Seeking Alpha readership.
First, for those of you who have actually followed me, you will know that I was warning metals investors to get out of gold within a few dollars of the actual top hit back in 2011. In fact, not only did I sell my longs, but I began to short gold at that time. As for silver, my initial downside target from its high was the 26 region, which we hit right on the money, and held that several times. It was the 5 wave bounce in early 2012 which got me bullish and potentially looking for the bigger degree rally to continue to new highs. However, when that turned out to be part of a larger degree corrective pattern, I switched my focus and began to look for the lower 20's with the potential to target the teens. In fact, even after the rally which began in the summer of 2012, I continually suggested we should be looking down to new lows in the metals, and not up, even though everyone else was so sure we were breaking out. And, when we got down into the lower 20's, I began to rebuild the long term position which I sold at the 2011 highs. So, no, I did not ride this correction all the way down from the market highs in 2011, and am now focused upon re-building a long-term long position.
Second, there is a difference between being an investor in the metals and a trader. Personally, I am both. And many have asked me how I divide my holdings in my longer term positions. Since I, too, have big questions about the stability of the SLV and GLD funds, I allocated 95% of my "metals investing" capital to physical holdings, while I allocated 5% of such designated capital to LEAPS in SLV.
Third, all my short to intermediate term trading is through options on GLD and SLV. Ultimately, I trade multiple "wave degrees" at the same time. Whereas I own LEAPS in SLV at this time, and will add to that position at designated lower targets which have already been set within my investing plan, I also will trade both the short and long side with short term and intermediate term options to take advantage of the rapid price movements in the metals. So, it is actually possible for me to be holding 3 different, and seemingly counter positions at the same time. If I see a quick long or short opportunity, I will have short term options (sometimes even a weekly option) for that short term trade. I will also likely own intermediate term options for the intermediate term pattern I am seeing. And, lastly, as stated before, I am building a position in LEAPS to take advantage of the rally which I see beginning in 2014.
Now that I got that out of the way, and have clarified how I trade/invest in the metals, let's move onto the direction of the metals. Many seem to be calling for much lower levels, while others are calling for a big rally to begin. And, in truth, I can see the merit to both sides of this trade right now. But, I will say that any rally which begins before we see the 100GLD region will likely only be a corrective rally, and set us up for another smack down from the 138 region again towards the 100 region later in 2014. It will truly be a trade that just keeps on giving.
As for the key levels I am watching, nothing has really changed from last week. In summary, as long as we remain below 118GLD, I am looking down towards 100GLD. However, if we are able to break through 118GLD, and confirm with a strong move through 122.50GLD, my minimum target will be the 136 region, with strong potential to see the 138-142 region.
But, based upon the action at the end of the week, I think we can see one more drop into the 111.50-113.50 region, which, if one wanted to be aggressive, you may consider buying that for a long position with a stop just around 111. A lot will also depend on the manner in which we approach this region, so this will likely be a game time decision as to whether or not we implement this game plan. Just like a quarterback, we will need to read the defensive alignment on the play as we approach the line of scrimmage and determine if we will need to call an audible. Then again, those who don't view Elliott Wave analysis as useful would probably simply walk up to the line of scrimmage and not even bother looking at what the defense is doing and just continue along with the play mindlessly. Anyone want a quarterback like that running their offense?
But, if this is going to ignite a move higher towards the 140 region, then we should see a strong upside reversal, which would take out the 118 region quite quickly. If the market simply meanders up from the buy region or takes out the 111 stop, then we will likely be on our way to the 100 region to make the longer term bottom in the early part of 2014. But, if we rally towards the 140 region before breaking 111, we will not see the bottom to the metals until the middle of 2014.
As for silver, if the market does not break down below the 18 region, we will likely be targeting the 26 region if we see the same type of rally in silver that we can see in GLD.
On a personal level, may the New Year usher in blessings of health, happiness and success for you and your families.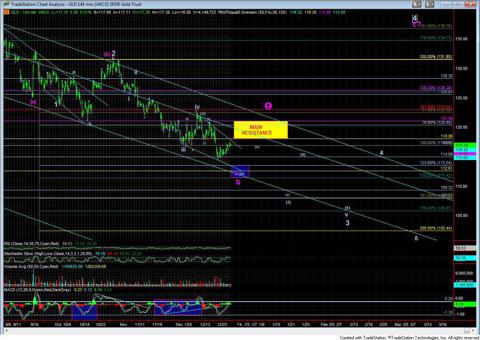 Disclosure: I am long SLV. I wrote this article myself, and it expresses my own opinions. I am not receiving compensation for it (other than from Seeking Alpha). I have no business relationship with any company whose stock is mentioned in this article.
Additional disclosure: I own SLV LEAPS, and have cashed in all my Feb puts bought at 138GLD at the 115GLD level. I only have an OTM put dated much further into 2014 at this time.