On September 2, 1945, the empire of Japan surrendered to the allied forces bringing an end to the hostilities of WWII. On March 10th, 1975, at the age of 52, a Japanese soldier named Hiroo Onoda, dressed in full uniform that was somehow still immaculately kept, marched out of the jungle and surrendered his samurai sword to the Philippine President Ferdinand Marcos. Unwilling to believe Japan could ever possibly be defeated and having been isolated on a remote island per his original orders, Onoda continued fighting a war that ended 29 years earlier.
Like Onoda, there are a number of short sellers posting here and on other sites that refuse to accept that they have already lost the war they have been waging against Unilife (NASDAQ:UNIS) Corporation. While there is something to be said for their stick-to-it-ive-ness, we have all heard the expression, "discretion is the better part of valor." In other words, it is good to be brave but if you are careful you need not put yourself in a position to be brave.
Having been a successful trader for the past ten years and after a successful career researching public companies for the last two decades, I have come to the conclusion that the shorts in UNIS have not been careful. So, now they are fearful of the upcoming short squeeze and they have no choice but to be brave.
There have been a number of articles on Seeking Alpha that attempt to discredit Unilife's management even though Chairman and CEO Alan Shortall has delivered on his promise of signing a number of blockbuster deals in 2013. If you analyze just two of those deals, the long-term supply agreements signed with Sanofi and Hikma, it is not hard to see that the cumulative revenue of these pre-filled syringe contracts (which extend out 10-15 years) is forecasted to be in the billions of dollars. In a recent letter to shareholders, Shortall says that Unilife, through these two contracts, will be the second largest supplier of pre-filled syringes in the world.
Why would anyone want to be short this stock after Sanofi and Hikma, respectively, one of the largest pharma groups and one of the fastest growing generic companies, have committed tens of millions of dollars in upfront payments in their agreements with Unilife?
The answer is simple and it is in line with the analogy I drew above. Fear.
Fear is powerful. It makes people desperate. It drives them to do illogical things.
So, why is fear the driving force behind the current short story perpetuated against Unilife. Let me show you….
During 2013, Unilife saw its short interest nearly double from 10.1M at the start of the year to a high of 19M at the end of August. When you track the increased short interest and take the volume-weighted average price (VWAP) for the associated period into consideration, it becomes clear that almost all of the short-selling was done at much lower prices than the current $4.00 stock price.
Looking at this over the course of 2013, short interest in UNIS on 12/31/12 was 10.1M. During the first 3 months of 2013, short interest increased 30% to 13.3M. The VWAP during that time was $2.38. By the end of June, short interest was increased to 16.5M and the VWAP for the 3 month period was $3.06. By the end of September, short interest was increased to 18.5M and the VWAP for the 3 month period was $3.19. Between the beginning of October until the end of November (the last reported period for short interest), short interest decreased slightly to 18.1M and the VWAP for the period was $3.54.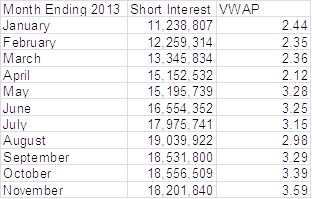 Clearly, somebody recognized it was time to cover in November, after the first of the major supply agreements was announced but for the most part, it's pretty obvious that every one that shorted UNIS in 2013 is now under water. A look even further back will show you that almost every single one of those 18,201,840 shares of Unilife that were shorted as of November 2013 are also under water.
When you take into account how difficult it has become for short-sellers to borrow stock (a call into any stock loan desk will confirm this) and considering the average price point the majority of shorts sold at this year, it's clear that almost all of these short-sellers are in trouble and they know it. They're holding on for dear life and desperate to do anything they can to delay what many longs believe is an inevitable squeeze.
The other thing that is important to mention and that these short sellers fail to highlight in any of their articles is just how big this squeeze can be….
Most people believe that only about 18% of the UNIS float was short at the end of November. That seems right based on the fact that there have been about 18 million shares shorted and 100 million shares floating. However, I propose to you that the percentage of shares short is almost double that figure.
Only about 50% of the UNIS float is actually represented on the NASDAQ. The balance of the float is in Australia, trading on the ASX. So, in reality, about 36% of the NASDAQ float is now short. That means the short squeeze facing these bears has the potential to ruin them. Not to mention the fact that insiders own 10% of the float and 42% of the float on the NASDAQ is held by institutions and mutual funds.
I can't time the market but this isn't my first rodeo. When broker-dealers start making margin calls and shorts are forced into liquidation, it's off to the races. We saw it with Netflix earlier this year. A big gap up in UNIS stock will mean millions of dollars in instant losses for these shorts and they know that all it takes to set the squeeze in motion is one more contract announcement from Unilife with a major pharma customer.
And we all know it's coming….
Alan Shortall stated publicly on multiple occasions (see the AGM transcript and Piper Jaffray Fireside Chat replay) that several of the 10-12 announcements that he expected to close during 2013 would bleed into the first quarter of 2014. He said that Unilife was negotiating terms with more than 30 major pharmas and that these deals would produce a "tsunami" of news.
Sure, short sellers will say, "So, what?"
You can say what you like about Mr. Shortall, but he sits across the table and negotiates billion dollar deals with the heads of pharmaceutical companies like Medimmune, Novartis, Sanofi and Hikma. That's more than enough credibility for me.
Most public companies don't announce major news at a time when most investors are in full-blown holiday mode, vacationing with their loved ones and trimming the tree. So, the clock is really running out on the shorts and their fear of a mammoth short squeeze is palpable.
You don't have to take my word for it. Just take a look at the facts. Shorts are writing negative articles about Unilife at such a frantic pace for the last two months because they are already under water. Some are already facing losses in excess of 100%. Seeking Alpha and the Yahoo! Message Board have become like life boats, giving them a forum to try and sway confidence in Unilife before their entire ship goes down and sucks them into the whirlpool of a giant short squeeze. They know…. when we ring in 2014, the odds are pretty damned high that the first waves of Unilife's tsunami of news will begin pounding their shores and flipping their boats.
I am all about hearing both sides of a story but the short stories published on Unilife are driven by fear, in my opinion, so their themes and arguments hold little water. I try to take things from where they come. It has always served me well.
There is nothing that can really save the short folks that are already underwater in UNIS. If new shorts want to jump on board, they should really think twice.
If you have never been on the upside of a short squeeze, well you are in for a fun ride. Short squeezes happen fast. This one has the potential to make UNIS the biggest stock of 2014.
I am long UNIS and no contractual relationship with the company or any of its affiliates.
Disclosure: I am long UNIS. I wrote this article myself, and it expresses my own opinions. I am not receiving compensation for it. I have no business relationship with any company whose stock is mentioned in this article.