ServiceNow (NYSE:NOW) is a leading provider of cloud-based services to automate enterprise IT operations. Basically, the organization makes enterprise IT more efficient and effective. These solutions are gaining traction in the market. But I would like to see more uptake from large enterprise customers.
Looking forward, management is forecasting revenue growth of about 60% in the fourth quarter. This is down from the annual growth rate. That could mean there is room for the company to outperform in the current quarter, or it could mean that the increase in the customer base is slowing. Additionally, management is predicting a breakeven operating margin.
The company is introducing new product offerings and making strategic acquisitions. This comes with solid liquidity, solvency and profitability (based on CFO/Revenues). Overall, the business looks like it has potential, but the valuation is too expensive for my taste. I would like to accumulate shares if I can get them at a better price.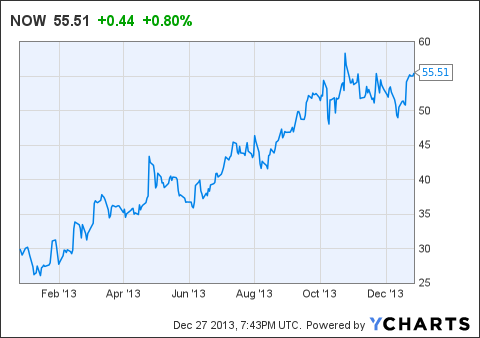 (The share price is roughly flat since my last report, but is coming off of a moderate intermediate-term correction and could be heading for a new high.)
Recent Developments
On July 1, 2013, the enterprise acquired all of the outstanding stock of Mirror42 Holding B.V., a cloud-based performance analytics company.
ServiceNow HR Service Automation, a new application that makes it easier for organizations to automate HR case management, was announced.
Red Hat (NYSE:RHT) deployed ServiceNow software-as-a-service; Red Hat is one of ServiceNow's recognizable customers.
ServiceNow won the Techworld Award for SaaS Product of the Year.
ServiceNow Configuration Automation, a new orchestration application that controls automated configuration of data center infrastructure based on the ServiceNow Configuration Management Database, was announced.
Business Summary
ServiceNow is a leading provider of cloud-based services to automate enterprise IT operations. The company focuses on transforming enterprise IT by automating and standardizing service relationships and consolidating IT across the global enterprise. Organizations deploy its service to create a single system of record for enterprise IT, lower operational costs and enhance efficiency.
The company helps make enterprise IT more efficient. The customer base is primarily large enterprises, which provide sticky, lucrative contracts. There are a few recognizable names on the list of disclosed customers.
At the end of the quarter ending September 30, 2013, the cash ratio was 0.82 as the cash balance stood at $220M. Liquidity declined since the end of calendar 2012. But the financial leverage ratio was 2.01 at the end of the September quarter, and the company didn't have any debt reported on its balance sheet.
The gross profit margin increased from 57% to 62.6% on a y/y basis (comparing the September quarters). This came as total revenues increased 73%. The company generated a GAAP operating loss. But cash flow from operations was positive and enough to cover capital expenditures. CFO was 15.2% of total revenues.
ServiceNow generates revenues from subscriptions. Thus, the revenue stream should be relatively stable. In other words, as a mature company, the variance of revenues would be lower than a manufacturer's revenues. This means the results of operations should be more predictable.
For the fourth quarter, management is expecting revenues between $119M and $121M, representing y/y growth between 58% and 61%. The gross margin could be 65% with a break-even operating margin. The revenues growth rate is expected to slow in the fourth quarter.
Risks
The variance of the growth rate can be substantial; this would likely result in significant volatility of the share price.
The organization may never generate GAAP net income.
The sales cycle is long and includes significant upfront expenditure.
Competition in the technology sector can be fierce and may adversely impact the results of operations.
Valuation
At 26.5 times book and almost 20 times sales, ServiceNow is overvalued. If you assume 100% sales growth the next two years, you get to 5 times sales. And that is without upside to the share price. In this situation, the growth rate is above the cost of equity; consequently, the valuation is infinite, which doesn't make economic sense.
Morningstar says the intrinsic value is $37 per share. This is still a bit pricey in my opinion. I would prefer $33 per share or below, which is 12x sales or lower.
There is uptake of the solutions by large enterprises and the renewal rate is encouraging. Making IT more efficient is an idea that should gain traction. I would like to see more uptake by large enterprises and a lower valuation before I "buy" the story.
Disclosure: I have no positions in any stocks mentioned, and no plans to initiate any positions within the next 72 hours. I wrote this article myself, and it expresses my own opinions. I am not receiving compensation for it (other than from Seeking Alpha). I have no business relationship with any company whose stock is mentioned in this article.