Last week, we asked readers whether or not they support the Federal Reserve's decision to taper bond and mortgage backed security purchases by $10 billion a month. The reduction is split equally between the purchase of mortgage-backed securities and Treasuries.
"No, the reduction is not enough" received the most support, with 43 percent of the vote. "Yes, the decision is right" followed with 35 percent and "Yes, but the Fed should have also raised interest rates" had 17 percent. "No, it was too much, too soon" received only 5 percent of votes.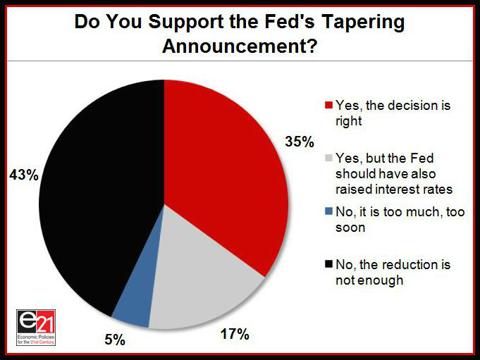 Our editors agree with the readers that the Fed's taper is delayed. The Fed plans to keep its policy of low interest rates for the foreseeable future. The Fed's turbo-charged monetary stimulus could be appropriate for "crisis management" if it were for a shorter period, but the policy has been sustained for years after the financial crisis and for over four years after the beginning of the recovery. By expanding its purchases to include long-term, mortgage-backed, and privately-issued securities, the Fed has taken unprecedented steps that do not appear to be helping the economy, which is stuck at around 2 percent growth.
In its Policy Statement released earlier this month, the FOMC emphasized it will not raise interest rates until well after the unemployment rate falls below 6.5 percent and until the Fed forecasts inflation to rise back to its long-run objective of 2 percent. The FOMC stated, "To support continued progress toward maximum employment and price stability, the Committee today reaffirmed its view that a highly accommodative stance of monetary policy will remain appropriate for a considerable time after the asset purchase program ends and the economic recovery strengthens."
At the same time, the Fed maintained its forecast of stronger real GDP growth, and lowered its forecasts of the unemployment rate and inflation. The Fed is forecasting 3 percent growth for 2014 and 3.2 percent growth for 2015.
If its forecasts are so rosy, why does the Fed keep purchases of $75 billion a month of bonds and securities? Maintaining a negative real funds rate in the fifth year after the crisis when the economy and labor markets are both moving back to potential is unwise. The Fed may have realized that its projections are often overly-optimistic. The Fed's initial expectations of four percent growth for 2013 never materialized. The Fed now forecasts economic growth this year to be only 2.3 percent.
Continued accommodative monetary policy by the Federal Reserve at this stage in the recovery is unlikely to increase GDP growth. No country ever devalued its way to prosperity. Weak currencies drive up prices of commodities and discourage saving and investment. In November, Harvard economist Larry Summers, who was one of the leading candidates for Federal Reserve Chairman, questioned whether Fed policies are helping economic growth. He said, "We may well need in the years ahead to think about how we manage an economy in which the zero nominal interest rate is a chronic and systemic inhibitor of economic activity… there's no evidence of growth that is restoring equilibrium."
The Fed argues that monetary stimulus is necessary to cure high unemployment. However, unemployment remains high for other reasons, including high tax rates, burdensome regulations, and a higher cost of hiring due to Obamacare and Dodd-Frank. Congress and the president could fix these problems through legislation. Congress is lulled into a false sense of security because members think that they can leave the economy to the Fed. But economic growth is in Congress's hands. It is Congress, not the Federal Reserve, that must create policies that lead to economic growth.
Simply put, record-low interest rates and monthly purchases of $85 billion in Treasury bills and mortgage-backed securities have not succeeded in increasing employment and jumpstarting the economy. Reducing purchases to $75 billion is a start, but it does not go far enough.