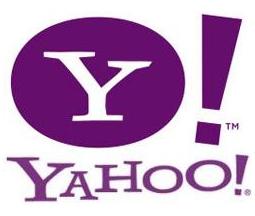 I've been a believer in Yahoo (YHOO) for some time now. In fact, I went from being very negative to thinking the stock should be owned when Marissa Mayer was named CEO in a very unexpected move (credit to Dan Loeb). After years of failed leadership, I believed once more that Yahoo could strive. It wouldn't be easy but Mayer had a shot. After the most recent Yahoo earnings release and earnings call, I thought it would be a good time to revisit that assumption. No matter how you look at things, its been a great run since that day.
Marissa Mayer is almost a reversal from leaders like Carol Bartz who were there just long enough to create severe damage to the products, talent base, brand, etc. Mayer, once a rising star at Google (NASDAQ:GOOG) has many of the qualities that Yahoo desperately needed. I think it's fair to say she has delivered so far. The first step was having a key strategy. You would think that was obvious but the previous CEOs had been unable to do it. Mayer explained it clearly:
-Build beautiful & useful products
-This will help gain traffic
-Once those two are done, advertisers will be knocking on the door more than ever
Simple isn't it? So Mayer got her teams to work on different products and quickly released improved versions of core products such as Yahoo Mail, Flickr and Fantasy sports. They improved their homepage and general mobile app and also added some newer ones such as the very popular weather app for example. By all accounts, it had been a great success.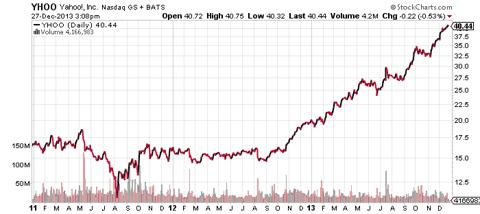 Yahoo has also been very active in acquiring companies such as Tumblr (which I thought Facebook (NASDAQ:FB) missed out on). It's been a good way to acquire good products, talented teams and help change the mindset quicker. While I don't think that phase of the strategy is close to being over yet, the effect has already started with traffic on core properties rising for the first time in years. Yahoo is looking more and more likely to be the first ever internet giant to become relevant again after years of decline. The fact that Yahoo's Asian assets (Yahoo Japan, Alibaba, etc.) have continued to do so well is also part of what has gone right.
The Road Ahead Will Be Much Longer
Yes, Yahoo has been making incredible progress and its products are much better. Having 50% more users on its sports apps compared to last year is solid. But is it much more than ESPN to others? I'm not so convinced. Mobile use of the mail service is also up 20% compared to last year but I doubt that is significantly better than competitors. Yahoo has been growing usage in an exploding market which is to be expected.
In terms of overall traffic, Mayer confirmed that in June, for the first time in years, visitors were higher than a year ago. In fact, just last month, Yahoo reached the same number of visitors that it had in 2011. That is great progress, but it also tells us how much further Yahoo has to go. Just think about the traffic for Yahoo's competitors compared to two years ago.
Many Bumps Await
-Not easy to come back: MySpace, AOL (NYSE:AOL) and others all attempted several times to come back but it is very difficult to do. Yahoo does seem to be on the right path but there are still many question marks. I still think that Yahoo has many divisions and products that should be closed and while Mayer has made progress there, it needs to make these moves as quickly as possible.
-Competition is extremely fierce: No surprise here but Yahoo is fighting against players such as Google (GOOG), Apple (NASDAQ:AAPL) and Facebook that are extremely difficult to battle. One big area of concern is the fact that while they own an ecosystem, Yahoo does not. When Apple launched iOS 7 a few weeks ago, it launched a weather app that seemed inspired by Yahoo. That will happen over and over as those companies are able to leverage what they have in terms of technology, platforms, user base, etc. That is a major problem and I don't see Mayer fixing this anytime soon. There is no obvious way for Yahoo to become an ecosystem at this point except for building its unique brand into something such as Facebook. It will be difficult to do though without the social aspect.
-Yahoo Is Working In Areas Where It Will Have Difficulty Competing: One example is in the video category, as Yahoo continues to work on acquiring content (such as its Saturday Night Live deal) and producing its own. That is certainly a promising area but it is also a space where it will compete with powerhouses such as Netflix (NASDAQ:NFLX), Amazon (NASDAQ:AMZN), Hulu, Google, etc. That sounds like an area that will be very difficult to do well in.
Valuation
In the end, like everything else, it comes down to valuations. In terms of revenues, there is no doubt that the growth is very weak. Yes earnings per share have been solid and part of that growth will continue, but without revenues growing in the double digits, I don't see how that trend can keep up. From that perspective, Yahoo seems awfully expensive compared to competitors that I think can do better.
| | | | | | | | | | | |
| --- | --- | --- | --- | --- | --- | --- | --- | --- | --- | --- |
| Ticker | Name | Price | EPS | PE Ratio | PE Next Year | Return YTD | Sales Growth | Analyst rating | Book Value | Sales 5Y Avg Growth |
| YHOO | Yahoo! Inc | 40.9 | 3.31 | 35.33 | 24.8 | 104.9 | 0.05 | 3.86 | 12.33 | -8.13 |
Yahoo Quarterly Revenues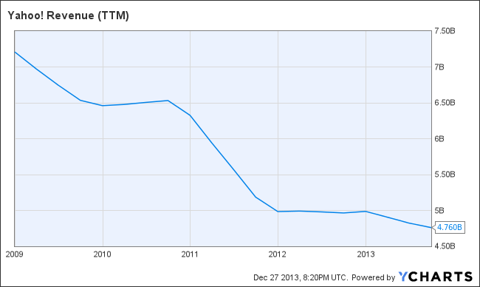 credit: ycharts.com
I'd personally never take a longer term short position on Yahoo because I do believe in Mayer as a very capable CEO, but I also think the days of outperformance by Yahoo will be over for a while.
Disclosure: I have no positions in any stocks mentioned, and no plans to initiate any positions within the next 72 hours. I wrote this article myself, and it expresses my own opinions. I am not receiving compensation for it (other than from Seeking Alpha). I have no business relationship with any company whose stock is mentioned in this article.