Since 1996, I have tripled my money every three years or so, on average. In 2009, I started sharing my Wall Street expertise with Main Street investors. That led to the creation of my popular "Poised To Triple" series on Seeking Alpha, along with the founding of PTT Research.
In total, I have presented 21 official picks to triple. With Seagate's (NASDAQ:STX) move to $53.82 last week, it becomes our 10th pick to successfully do so. I first introduced STX as a pick to triple here on Seeking Alpha. I even challenged Jim Chanos, who called Seagate one of his favorite short ideas back in May. The stock has risen 40% since then, settling the debate and making STX our latest big winner.
A few of our picks are still in play. Excluding those active selections, our current "Triple Hit Rate" is 10 for 17 or 59%.
Recent Poised To Triple Selections
CORE PORTFOLIO (Click on Company name to see our initial report)
Company
Ticker
Date
Initial Price
Current Price
Return
Peak Price
Peak Return
Seagate *
STX
11/11/2011
17.94
55.94
200%
56.15
200%
Lions Gate *
LGF
3/20/2012
12.14
30.93
200%
37.81
200%
Attunity *
ATTU
4/27/2012
3.36
9.99
200%
11.22
200%
Facebook *
FB
9/5/2012
18.06
57.96
200%
58.32
200%
Himax *
HIMX
3/4/2013
3.44
13.55
200%
13.55
200%
Glu Mobile
GLUU
10/24/2013
3.14
3.93
25%
4.14
32%
Averages
171%
172%
VALUE PORTFOLIO
Company
Ticker
Date
Initial Price
Current Price
Current Return
Peak Price
Peak Return
QAD Software
QADA
3/24/2013
11.73
17.43
49%
17.43
49%
Averages
49%
49%
SPECULATIVE PORTFOLIO
Company
Ticker
Date
Initial Price
Current Price
Current Return
Peak Price
Peak ROI
Pixelworks
PXLW
6/3/2013
3.24
4.33
34%
5.55
71%
Techprecision
TPCS
7/11/2013
0.40
1.07
168%
1.15
188%
GlobalStar *
GSAT
8/23/2013
0.67
1.85
200%
2.06
200%
Averages
134%
153%
* PTT Portfolio Graduate (stock tripled)
To find triples with a high rate of success, I adhere to a strict set of discovery guides. One of them entails identifying large, fast-growing ecosystems and figuring out who is likely to play into them, the topic of a forthcoming article.
Another guide involves is the topic of this article -- the development and utilization of fundamental risk/reward charts.
Among our outstanding selections, Glu Mobile (NASDAQ:GLUU), Pixelworks (NASDAQ:PXLW), and Techprecision (OTCQB:TPCS) are all trading at very attractive levels relative to our proprietary risk/reward charts. I'll explain the difference between a risk/reward chart and technical analysis later in the article. For now, let's dive into my charts:
Glu Mobile
GLUU is an emerging play on mobile gaming. Since the end of the Great Recession, shares of GLUU have been steadily rising, as seen in the chart below.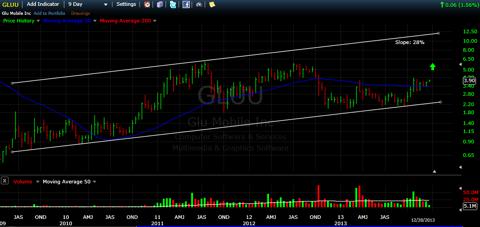 Source: FreeStockCharts and PTT Research
As you can see, I believe that the stock is traveling in a wide channel that has been rising by 28% annually. For a company in a fast-growing space, I believe 28% is a reasonable growth expectation for the next several years to come. That validates the channel in my view.
Fortunately, investors don't have to settle for 28% returns here. Over the past several quarters, GLUU was in investment mode, which took its shares down to a multi-year low. But the company has shifted into monetization mode, sparking a rebound in its shares that I believe will ultimately take it into the double-digits. Moving from the low end of my chart to the high end could support triple-digit gains for the next couple of years.
Pixelworks
PXLW is a leading provider of video processing technology. Like GLUU, I believe that PXLW has been traveling in a reasonably growing (22% per year) channel. That sort of growth is sustainable, thus validating the channel as one that could persist for some time to come.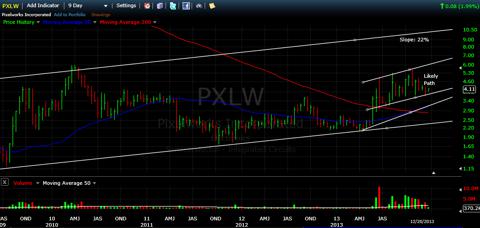 Source: FreeStockCharts and PTT Research
Also reminiscent of GLUU, PXLW has done a great deal of investment over the past few years and is now looking to monetize those efforts, thus unlocking shareholder value. With successful execution, I believe that PXLW will justify a move from the low-end of its channel to the high-end. By this time next year, the top will sit at $13, providing the potential for shares of PXLW to triple.
Techprecision
TPCS is a specialty manufacturer addressing many attractive markets, including Sapphire, Medical Equipment, and several segments in the Energy industry.

Source: Yahoo and PTT Research
Unlike GLUU and PXLW, I believe that TPCS is traveling in a risk/reward channel with absolutely no slope. That could change in time, but for now the current channel can support a return in excess of 200%, so who's to complain?
Charts like this are what distinguish risk/reward charts from technical analysis. While technical analysis merely focuses on past chart patterns to predict the future, risk/reward charts focus on the range of valuations that can be justified by a company's fundamental metrics.
In other words, I ultimately believe that a fundamental analyst can predict future technical patterns before technicians can. This is because charts don't determine a company's valuation. In fact it's the exact opposite. A company's fundamental performance drives its value…and therefore its stock price. How the company fulfills its destiny is what determines the ups and downs of the stock price, thus creating the ups and downs in its stock chart.
In the case of TPCS, my calculations suggest that the company could justify a $3.76 valuation in 2014 with superior execution. Thus, that is where I draw the top line of my proprietary chart. Given where the shares sit at present, you can see that even modestly good execution should lead to significant rewards for shareholders.
Disclosure: I am long GLUU, PXLW, OTCQB:TPCS. I wrote this article myself, and it expresses my own opinions. I am not receiving compensation for it. I have no business relationship with any company whose stock is mentioned in this article.