In case you haven't noticed, the market has a tendency to overreact to bad news, especially when the extent of trouble isn't immediately clear. Myriad Genetics' (NASDAQ:MYGN) stock price has been hit with a double whammy of uncertainty. The unofficial, and allegedy error induced, cut to its flagship diagnostic's reimbursement rate is frustrating enough to drive anyone mad. The effects of the Supreme Court decision resulting in the upholding of some but not all of its BRCAnalysis patents is also still unclear.
Expecting a complete derailment
Using a DCF model, Myriad's recent price of about $24-$25 suggests the company's top line growth will not only slow, but become negative. The market also seems convinced that the company's operating margin that has hovered between 35%-40% for about 4 years will narrow significantly.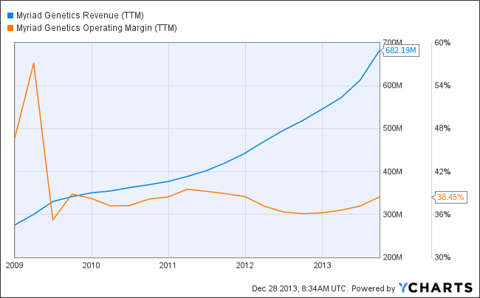 I'll admit, there are likely to be difficult days ahead for the diagnostics industry as a whole, but that's hardly anything new. This is an industry marked by increasingly tight fisted customers and cutthroat competition. Just a glance at the chart above and you can see this train will probably slow down, but it isn't about to be derailed by another round of the usual.
Oops
In Late September 2013, the Centers for Medicare and Medicaid Services (NYSE:CMS) issued a new fee schedule suggesting a 48% cut in reimbursements for Myriad Genetics' flagship BRCAnalysis Test. The company refuted the report the following day, but its shares were highly volatile illustrating the underlying fear surrounding the industry. It's likely a clerical error is responsible for the unusually severe reduction, and it wouldn't be the first time. At the time of writing, the CMS hadn't issued a definitive statement regarding the severe reduction on the still unofficial fee schedule.
Storming the gates
The invasion of Myriad's BRACAnalysis testing monopoly has gained steam since a US Supreme Court decision invalidated it's claims to isolated genes in June 2013. The ruling doesn't strike down "new applications of knowledge" about the genes, or the patentability of cDNA. These distinctions supplied Myriad with enough ammunition to fight copycats for years. Currently the company has seven ongoing lawsuits, all concerning infringement of its BRCAnalysis patents.
The most concerning competitors are industry giants, Quest Diagnostics (NYSE:DGX) and Laboratory Corporation of America Holdings (NYSE:LH). Quest intends to charge about $2,500 for its BRCAdvantage suite of genetic testing. That's significantly less than the Myriad version. Quest doesn't just intend to beat Myriad with pricing, it also has the widest distribution of patient service centers in the US.
Even if existing patent protections don't keep Quest out of the market, potential gains from BRCAdvantage aren't likely to be felt much by investors. Soaking up every penny of Myriad's 2013 BRCA derived revenue would add less than 9% to Quest's dwindling topline.
LabCorp is the latest to jump into the now crowded BRCA mutation market. On December 3, 2013, the company unveiled a suite of BRCA related tests. Myriad filed a patent infringement suit before the ink on the press release was dry. LabCorp is at least attempting to differentiate itself from Myriad's tests by offering a separate panel to test for BRCA mutations more common among people of Ashkenazi Jewish descent than the general population.
Unlike Quest, revenue at LabCorp is still growing, although its pace has slowed over the past couple years. All of Myriad's 2013 BRCA related revenue would add about 12% to LabCorp's topline.
Product and geographic diversification
The hotly contested BRACAnalysis reimbursement reduction from $2,795.09 to $1,438 is still uncertain. Even if it holds, Myriad is worth more than its recent price of about $24-$25. During the three months ended September 30, 2012, BRACAnalysis comprised about 78.7% of the company's revenue. During the same period in 2013, total revenue rose about 51.7%. The portion of that revenue attributable to BRACAnalysis dropped to 73.9%.
Currently, Myriad markets ten molecular diagnostic tests in the US. Four of these are marketed in the EU through its laboratory in Germany. The company also has distribution agreements with Asian, African and Latin American organizations that should begin adding to its bottom line in 2014.
Companion diagnostic opportunities
European approval of AstraZeneca's (NYSE:AZN) PARP inhibitor with Myriad's BRCA tests as the only approved companion diagnostic is likely to provide an unassailable source of revenue. Myriad management estimates the partnership has an annual $100 million potential. The EMA accepted AstraZeneca's market authorization application on September 30, 2013. If approved, Myriad could begin recording revenue from the collaboration in early 2015.
Myriad has a similar opportunity with BioMarin Pharmaceutical (NASDAQ:BMRN). BioMarin will likely use BRACAnalysis as a companion diagnostic for a Phase 3 trial of its PARP inhibitor. If the drug reaches a commercial stage it's likely that BRCAnalysis will also be the partnered companion diagnostic.
Increasing shareholder value
Myriad Genetics is aggressively repurchasing its stock. During its latest earnings call on November 6, 2013, management announced a further plan to repurchase an additional $300 million worth of common shares. At recent prices that represents about a 16% decrease in shares outstanding.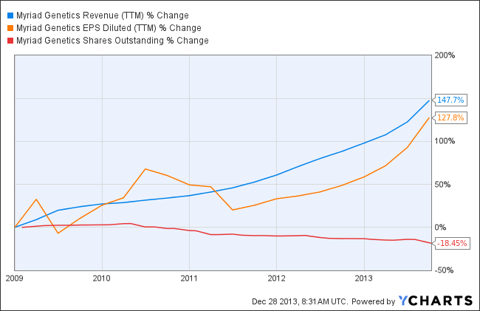 Before you get too excited about the share repurchases, the company also has a great deal of outstanding options. At the end of Q3 2013, there were employee options representing about 17.4 million shares with an average price of $22.61, and an average expiration of about 2.8 years.
Overall, I would expect that if Myriad's price rises significantly over the next few years, you can expect a great deal of these options to be exercised. As an individual investor, this will claw back some of the benefits of the company's repurchase program.
Conclusion
There are very good reasons to expect growth to slow at Myriad, but the worst case scenario seems priced in. If the still unofficial CMS fee schedule reductions don't hold, and injunctions against the impending BRACAnalysis competition do hold, investors could enjoy huge gains in a short time frame. That's fine and good, but it's not the most attractive aspect of beginning a position at recent prices. Even if the worst does happen, the well-run company is still likely to produce positive returns over the long term.
Disclosure: I have no positions in any stocks mentioned, and no plans to initiate any positions within the next 72 hours. I wrote this article myself, and it expresses my own opinions. I am not receiving compensation for it (other than from Seeking Alpha). I have no business relationship with any company whose stock is mentioned in this article.