Markets have again generally traded with a modestly positive tone overnight, reflected in modest gains in equity and commodity markets and some modest weakness in debt markets (although in late trade the US equity market surrendered its earlier advance). In part, this reflected confirmation of the Greek austerity package that had been reported across the newswires yesterday (Greek 10-year yields fell below 6% for the first time in three weeks). But the dataflow also had a distinctly more positive hue. Novell (NASDAQ:NOVL) rallied some 28% after shareholder Elliott Associates made a $2 billion bid for the software company, while Schlumberger (NYSE:SLB) and Newmont Mining (NYSE:NEM) advanced with oil and metal prices. Equities trimmed gains as the Federal Reserve said labour markets remained "soft," while Obama urged lawmakers to vote on an overhaul of the health-care industry and prepared to send Congress legislation limiting banks' size and trading.
The latest Fed Beige Book, released last night, also added to the positive tone. Whilst the severe snowstorms in early February held back activity in several Districts, nine Districts still managed to report that economic activity had improved, albeit in most cases the increases were described as modest. According to the report, consumer spending improved slightly in many Districts, tourist activity was reported as increased or mixed and the demand for services was generally positive across Districts.
Sterling has outperformed the majors in FX land over the last 24 hours. Yesterday I had noted a decent bounce in the Nationwide measure of consumer confidence (now back to levels last seen in February 2008). This was followed by a close to 4 point rise in the UK service sector PMI, boosting the index to a three year high. This index suggests that service sector conditions are stronger in the UK than in the US, and considerably stronger than conditions in the EU. If this outperformance continues and political worries fade, I wonder whether GBP can remain as weak against EUR as is presently the case.
US data today was mixed with weekly jobless claims in line, unit labour costs came in much better than expected at -5.9% (versus the -4.5% expected) but pending home sales falling off a cliff again at -7.6% against a market expectation for a +1.0% read.
Today's Market Moving Stories
Overnight Asian stocks fell for the first time in five days as China's Industrial Bank predicted slower growth in new lending and a stronger yen weighed on Japanese companies reliant on overseas profits. Mitsubishi (OTCPK:MMTOF) slumped 9.9% in Tokyo after the carmaker and Peugeot Citroen said they won't form an alliance. Shanghai composite down 2.38%, far underperforming other Asian markets (Nikkei -1.05%). The losses were largely achieved on the back of financials, with investors fretting about strong February inflation data and the possibility that could lead the Chinese central bank into another round of tightening. Note Feb's CPI is out on March 11th, with the market looking for a jump to 2.6% from 1.5% YoY. Note that PPI is expected to leap to 8.4% YoY from 5.5% YoY.
UK take-home pay growth slowed in February to the weakest pace since at least 2004 as the manufacturing slump prompted factories to curb wage increases, a survey showed. Annual wage growth after tax and other deductions was 1%, VocaLink, which processes 90% of UK salaries, said. That compares with 1.4% in January and 2.4% a year earlier.
The details of the eurozone GDP numbers provided the mix already suggested by the country data. Domestic demand remained weak, whilst the only growth worth noting emanated from net exports. Inventories had a neutral effect on the growth rate. Looking forward, we expect investment to recover, whilst private consumption is set to remain lacklustre. The main momentum will have to come from the recovery in the international trade cycle. EMU GDP was confirmed at 0.1% QoQ, -2.1% YoY in Q4.
The latest draft of the proposed Volcker rule doesn't look much different from the plans that were first put forward by the president a few weeks ago. A copy obtained by Reuters showed the main elements all remain as were – banks will be banned from prop trading and also from investing in or sponsoring hedge funds and private equity funds. Indeed neither would banks be allowed to lend to or bail out private funds advised by the firm.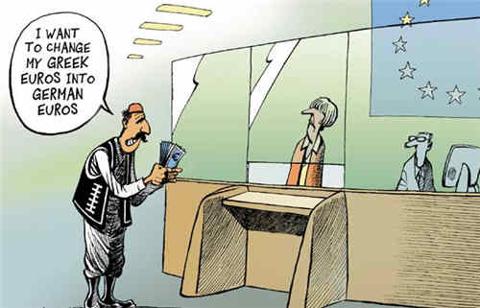 The ECB Press Conference
Bit of a damp squib really. There was very little change in the ECB macro assessment with the introductory paragraph very similar to last month, so overall market neutral, but there is a upward revision to the GDP and inflation midpoints for 2011. The ECB looks for GDP growth at a mid-point of 0.8% in 2010 and 1.5% in 2011 compared to 0.8% and 1.2% at the December (Consensus is 1.2% and 1.6%). On inflation, the inflation midpoints are now 1.2% in 2010 and 1.5% in 2011 compared to 1.3% and 1.4% in December. Consensus is 1.3% and 1.5%. On the announcement of the liquidity measures, Trichet stuck to the view of a gradual phasing.
On Greece, it was all hugs and kisses from Trichet, which is mildly dovish. We already knew that the ECB is happy with Greece's austerity measures given the press statement on Wednesday. Importantly, this referred to some of the measures being permanent reductions in spending. In the press conference, Trichet outlined that the President of the ECB giving Greece a welcome is an important message. He dismissed any notion of Greece exciting the Euro and did not make any material comment on ECB collateral. As long as Greece plays ball with budget measures, it is my view that they will not lose ECB eligibility, irrespective of Moody's ratings. In fact, even if Greece were to step back from reforms, it is feasible that the ECB would fudge the ratings criteria as a carrot for more reform. On other countries helping Greece, Trichet merely outlined that IMF help is not welcome. The Greeks are threatening Europe with turning to the IMF if they can not get their act together and this blackmail is helping speed up the evolution of EU policymaking.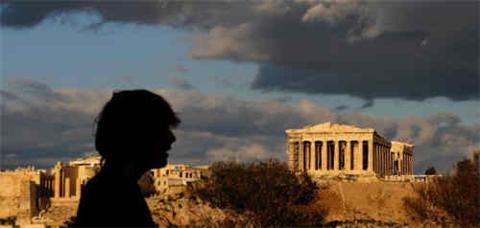 Meanwhile Back In Greece
Greek PM Papandreou launched his third fiscal austerity package in as many months yesterday. While the country prepares for the inevitable strikes that will come in response, he will set off on a European and US tour to find support for his measures and ultimately for Greece's debt. He threw the debate back to the EU yesterday by claiming the government had taken the difficult decisions demanded by Europe and now he wanted to see the pledges of support that had been promised. The FT picks up on the fact that Papandreou told his cabinet that if the EU didn't provide the necessary assistance then he was prepared to turn to the IMF.
The ECB took the rather unusual step of commending directly on the fiscal (political) policies of an individual nation yesterday. Late Wednesday the ECB noted the austerity measures outlined by Greece, and commented that "we appreciate the envisaged very swift implementation of these measures, which are both necessary and appropriate to make significant progress with fiscal consolidation in 2010." It's not so much what the ECB said (which is more acknowledgement than anything else), it's simply the fact it said it at all.
This is now the most interesting, and potentially dangerous moment of the Greek crisis. After George Panpandreou effectively did everything the ECB and the European Commission have told him, the ball has left Athens and is now in the court of the euro area. And it has to be played very quickly, for otherwise Papandreou will turn to the IMF, as he already indicated. His travel schedule leaves no doubt about the time. Tomorrow in Berlin and Paris, on Wednesday in Washington. And Greece has taken a chance and effectively called Germany's bluff today by announcing a new 10-year syndicated deal. Would Germany dare say anything and thus derail the deal today?
Bloomberg has a story that Germany remains unwilling to promise aid. It cites Angela Merkel's cool reaction to Papandreou's plans, including the announcement that tomorrow's meeting will not even address the issue of aid and financial commitments. It quoted German sources as saying that Germany can, and will not, commit. (I disagree: German can and will. This is just the attempt to emit two conflicting message, one to the outside world, one for domestic consumption). Greece is prepared to turn to the International Monetary Fund for help if the EU fails to provide the financial assistance.
Fed Speak
Richard Fisher, president and chief executive officer of the Federal Reserve Bank of Dallas, said on Wednesday that large financial institutions in the US and abroad should be broken up. In a speech in New York, Fisher said banks that were too big to fail and too complex to manage posed the biggest threat to the stability of the financial system.
Fed member Lockhart isn't quite wavering over the post meeting statements, but he's showing signs that he might be considering a language change before too long. He said for now he fully supported the message that rates are to stay low for an 'extended period' but added that he was uncomfortable with any suggestion that rates would be left extraordinarily low for a sustained period. Note – what's come from the Fed of late is that while members might not be prepared to directly dissent as Hoenig did, there's a feeling that some clarification might be needed. Evans, for instance, last week tried to put a time scale on that phrasing (6 months or about 4 meetings). Lockhart said the US economic recovery is likely to be only modest and a slow reduction in unemployment. He said inflation should remain subdued. Lockhart gave a few pointers – interest on reserves will be a key signal of policy, he said, and that he would be eager to normalise rates when the time is right.
Company News
Grafton has reported a 26% decline in full year sales to €1.98bn, inline with January's guidance. An underlying operating profit of €20.1m is ahead of forecasts of €15.2m. The group has delivered annualised savings of €85m exceeding its most recent €74m target. On outlook, management states that sales in first 2 weeks of January were impacted by weather, however conditions since then are close to expectations and the prior year. The overall commentary is encouraging.
Carols Ghosn, Renault (OTC:RNSDF) CEO said at the Geneva Motor Show that the Group would have no problem in cutting debt via asset sales, in addition commenting that Renault "was not a truck maker" and that its stake in Volvo was a possible divestiture, albeit that at current levels Renault felt its stake was undervalued. Therefore investors should not expect anything imminently. The ability to cut debt further via asset sales together with the Group's cross-shareholding with Nissan offers Renault greater strategic flexibility in the view and underpins my more favourable stance on the manufacturer compared to its peer Peugeot.
Sergio Marchionne commented that Fiat (FIATY.PK) would discuss again the much considered spin off of the Auto division at the April Board meeting on the 21st. However, given comments from Chairman Luca Cordero di Montezemolo that nothing had changed on this issue and previous commentary from Marchionne on the conditions that would need to be satisfied for an auto spin off to proceed, it seems extremely unlikely that the Board would decide on anything apart from continuing with the status quo.
Aviva's (NYSE:AV) full year net profit of £1.32bn, a small miss, is a good turnaround compared to £885m net loss in 2008 as investment returns increased massively on asset value recovery in 09. Operating profit was £2.02bn. New business is generally down. Not blowing my socks off in terms of new business sales but margins are improving and capital is very strong.
Anheuser-Busch InBev (OTCPK:AHBIF), the world's largest brewer, missed forecasts in reporting a 11% rise in fourth-quarter earnings, driven by cost-cutting and strong growth in Latin America, even as sales in the US remain sluggish. The closely-watched core earnings figure – before interest, taxes, depreciation and amortization, and adjusted for one-time items – rose to $3.12 billion in the fourth quarter, up from $2.81 billion a year ago. Analysts were expecting $3.29 billion.
Royal Ahold (AHO), the owner of Stop & Shop supermarkets, raised its dividend by 28% and said it plans to repurchase shares after fourth-quarter profit declined. Fourth-quarter net income fell to €267 million from €291 million in the year-earlier period. That beat the average expectation.
And Finally… Funny or Die's Presidential Reunion

Disclosures: None