Recently, Nike (NYSE:NKE) reported strong fiscal second-quarter results. Revenue expanded 8% during the period (9% on a currency neutral basis), while diluted earnings per share from continuing operations nudged 4% higher, to $0.59 per share. Sales at its Nike brand expanded in every product type, geography and key category. Sales in its Converse brand advanced 11% on a currency-neutral basis thanks to strong performance in its largest owned markets. Though we liked that gross margins advanced 140 basis points in the period thanks to a mix of higher-margin products, higher prices, and lower input costs, selling and administrative expenses leapt 14%, exceeding the pace of revenue growth. Earnings before interest and taxes for the three months ended November 30, 2013, advanced just 2% (shown below), which wasn't much to write home about. Demand creation expense and operating overhead expense growth continue to be key earnings headwinds, and emerging markets performance could have been better during the period.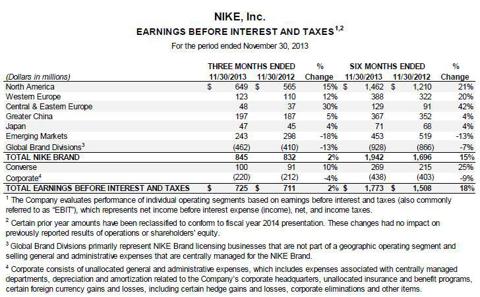 Image Source: Nike
Nike's worldwide futures orders jumped 12%, a pace faster than revenue growth. Though Nike discloses that the reported futures and advance orders growth is not necessarily indicative of its expectation of revenue due to potential cancellations, the number bodes well for future top-line expansion, in our view. Nike brand wholesale unit inventories advanced 7% to meet the expected increase in demand, while total inventories swelled 11% from the level at the end of the year-ago period. Futures growth, excluding currency changes, was strong in Western Europe (up 23%), Central & Eastern Europe (up 14%) and North America (up 11%), as shown below, but the performance was meager in China and Japan, which registered just 1% total expansion.
Image Source: Nike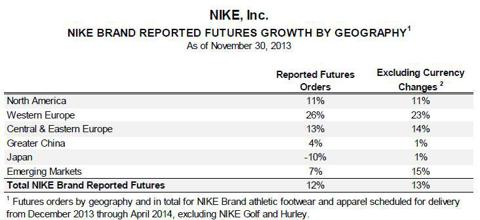 Looking ahead, Nike's revenue outlook matched the strength revealed by its futures orders expansion, but the firm continued to warn about cost pressures, almost across the board.
"…we expect revenue for Q3 to grow at a high-single digit to low-double digit rate and Q4 to grow at a low double-digit rate, reflecting the weighting of futures orders to the back half of the futures window. For the full year, we expect revenue to grow at a high-single to low-double digit rate. Gross margin for the first half of the fiscal year exceeded our expectations as we saw a mix shift to higher margin products, higher average selling prices and continued strength in our DTC business.
While we expect these factors will continue to drive margin expansion in the second half of the fiscal year, we will be facing new pressures as raw material costs shift from tailwinds to headwinds and we increase discounts to clear pockets of excess inventory. We also expect to face continued pressure from labor costs and foreign exchange. As a result, we expect gross margin to expand by about 25 basis points in each of Q3 and Q4. For full year FY'14, we now expect gross margin expansion of approximately 75 basis points."
Valuentum's Take
We don't think product extension or performance innovation is the challenge for Nike. The company's revenue outlook speaks to a very robust demand profile, but cost pressures appear to be mounting, and both fiscal second-quarter results and the company's outlook suggest the earnings environment remains challenged. We like Nike and point to the company as one of the most powerful brands in our coverage, but shares aren't cheap at current levels. Our best ideas continue to be holdings in the Best Ideas portfolio and Dividend Growth portfolio.
Disclosure: I have no positions in any stocks mentioned, and no plans to initiate any positions within the next 72 hours. I wrote this article myself, and it expresses my own opinions. I am not receiving compensation for it (other than from Seeking Alpha). I have no business relationship with any company whose stock is mentioned in this article.