The shares of American Capital Agency (NASDAQ:AGNC) dropped last week, but it was on the ex-dividend date of the stock on the 27th. Otherwise, AGNC shares trended higher all week, perhaps benefiting from the strong New Home Sales data release. Still, the creeping mortgage rate trend remains a thorn in the side of the stock, even after interest rates and stocks were less traumatically affected than was expected by Fed tapering. So what should we look forward to this week?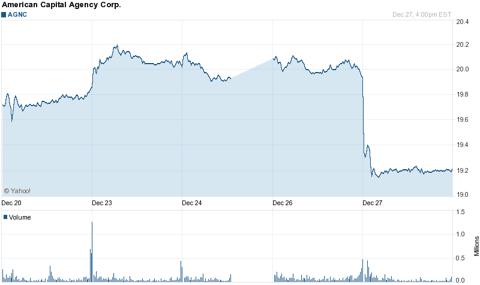 The chart for AGNC was quite colorful last week, mostly due to the affect of the ex-dividend on the 27th. However, the trend was clearly higher for the stock and its mortgage REIT peers including Annaly Capital (NYSE:NLY), despite creeping higher long-term treasury rates.
In my article, The Annaly Capital Paradox, I discussed the paradoxical behavior of the mREITs and real estate relative stocks on the announced Fed tapering. It was counter to expectations, given that mortgage rates should rise and impact the assets held of these big dividend payers. AGNC has been battered all year long, with the stock down 33.5% year-to-date, due to this precise risk. However, the Fed's measured action after much signaling of the shift in monetary policy, reduced concerns. That was especially true due to a clearly improving economy, as evidenced by sharply improved unemployment and GDP growth of late.
However, long-term treasury yields are creeping higher, and the 30-year treasury yield inched up 12 basis points over the last seven days. According to the Mortgage Bankers Association, 30-year fixed rate mortgage rates on conventional loans only moved 2 basis points higher. But if rates continue to climb, the shares of the mREITs might continue to pain.
Still, the housing data last week was mostly positive, with new home sales climbing to a much healthier annual pace of 464K in November. October's pace was revised sharply higher to 474K, from 354K. It was a strangely strong report that gave some life to homebuilders' shares last week and supported the rest of the real estate relatives. It was most likely an important source of support for AGNC as well.
This coming week, three data points offer opportunity to confirm housing hope, with Pending Home Sales, the S&P Case Shiller Home Price Index and Construction Spending due. Pending Home Sales is expected to show a sharp monthly improvement, but economists believe it would be partly due to prior month softness on the government shutdown. Home prices are expected to continue to show an improving home market, with a 1.0% increase seen for the 20-city home price index. Finally, construction spending is seen posting a solid increase. Yet, all of this positive data would be at least partly softened by the regular mortgage activity data from the Mortgage Bankers Association (MBA) if it continues to show derailing mortgage application activity on mortgage rate rise. Still, even though the mortgage data is seasonally adjusted, it may not fully account for the holidays and perhaps deserves less attention now.
The share price of American Capital Agency may already reflect the improving economy and rate rise anyway. The mortgage REIT's discount to book value, with AGNC trading at 0.8X book, similarly to NLY, may fully incorporate how far rates might adjust and how low the dividend may fall. This seems especially possible given the solid share performance since the tapering announcement, which proved tepid versus expectations. Therefore, the week ahead seems likely to provide more of the same stable share performance for AGNC, if not continued modest rise.
Disclosure: I have no positions in any stocks mentioned, and no plans to initiate any positions within the next 72 hours. I wrote this article myself, and it expresses my own opinions. I am not receiving compensation for it (other than from Seeking Alpha). I have no business relationship with any company whose stock is mentioned in this article.