Hilton Worldwide Inc. (NYSE:HLT) is one of the largest hospitality companies in the world with more than 4,000 hotels and 650,000 rooms in 90 countries. Hilton was in distress and bought out by Blackstone for $26bn in 2007, taken private and finally listed in December 2013 on the NYSE. The IPO raised $2.5bn for 24% of the company, while Blackstone controls the remaining 76%. This company is now very well managed but has a hefty debt load, which could pull down returns. Managing this debt will be critical to Hilton's long-term success.
Blackstone's model is to "buy, fix, and sell" as stated by Jonathan Gray, Blackstone's global head of real estate. This is ever more evident by examining Hilton's performance since 2010. Hilton in 2007 was in financial distress and suffering losses at the operating level. Today it is a company with sizeable profits and ever improving margins.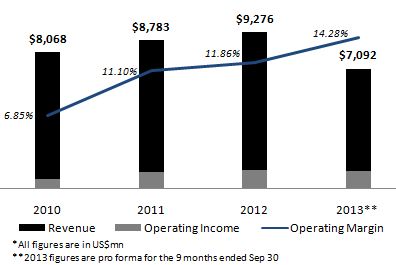 Revenue has been consistently rising year-on-year with the exception of 2013. Albeit, 2013 presented results are based up to September 30th. But the most impressive feat has been the consistent improvement in margins, with operating margins more than doubling from 2010 to 2013, reaching 14.3%.
Much of these improvements have been attributed to Christopher Nassetta, President and CEO of Hilton. Nassetta, has directed focus towards a franchise model, offering the Hilton brand to hotel owners. Representing 98% of overall room growth since 2007, this is a model that requires virtually no capital investment by Hilton, whilst offering superior margins. Inherently, this is an approach that presents less risk, higher margins, and a strong growth source.
Hilton's global footprint has been growing, with more than 60% of rooms now located outside the US, ascending from 20% in 2007. Hilton has also been growing and geographically diversifying through traditional means, representing 18% of global hotel rooms under construction.
The hotel industry is performing well. Hotel occupancy rates have increased in 2013, with 2014 rates forecasted to reach near capacity at key business locations. Hotel occupancy rates are also expected to increase for all regions of the world, with the exception of Europe. In the US, hotel occupancy rates and revenue per room are both anticipated to increase. As for Hilton, occupancy has steadily increased from 68% in 2010 to 74% in 2013.
Long-term debt on the other hand is high and a concern, standing at about $12bn as of 30 September 2013. This debt is mainly a legacy of Blackstone's LBO and debt dating back to pre-acquisition. This demonstrates that this debt is not primarily used to fund the operations of the company. A positive note, to some extent, as growth under the current format will not require significantly further debt.
LT debt to equity stands at 6.9, nearly 7 times the sectors average. Due to the large proportion of debt and terms relating to some of this debt, any sale or divestment of property or assets will lead to losses or lower yields, as a result of required debt repayment. But it should be noted that since acquisition, Blackstone have cleared $5.5bn of debt. Blackstone have also stated their willingness to allocate a share of the IPO proceeds towards paying down debt. Going forward, managing and reducing this debt will be critical.
In terms of valuation, Hilton is valued at about $23bn, which equates to $25.65/share. This valuation was based on 12 times EBITDA (what comparables Marriott (NYSE:MAR) and Starwood (HOT) are trading at), whilst also estimating EBITDA to December 31, plus a premium. With Hilton's share price currently at $21.93, Hilton is slightly undervalued using this methodology.
Yahoo Finance's EV for Hilton is $34.1bn with other analysts valuing it at the $30bn mark. Based on these estimates, Hilton's share value would be between $30-$34.5, significantly more undervalued in comparison to the previous valuation.
Hilton is under strong management with its CEO and in tandem with Blackstone. Both stakeholders have a clear and effective approach. Hilton, by means of this approach alongside solid industry fundamentals, will likely prosper and have a larger share of its ownership listed, bringing pleasant returns to both shareholders and Blackstone alike. Valuations for this stock also reflect that it is a slightly undervalued stock, a potential for shorter-term returns. However, in the longer term, returns could be pulled down by Hilton's large proportion of debt, if not managed appropriately.
Disclosure: I have no positions in any stocks mentioned, and no plans to initiate any positions within the next 72 hours. I wrote this article myself, and it expresses my own opinions. I am not receiving compensation for it (other than from Seeking Alpha). I have no business relationship with any company whose stock is mentioned in this article.