Despite unseasonably cold temperatures nation-wide and record snowstorms across the Northeast, retailers managed to post another month of solid same-store sales gains in February. While typically one of the lightest months of the year in terms of volume, and no doubt in large part due to extremely easy comparisons to a year ago, February's strong performance nonetheless suggests consumer spending is gaining momentum off of depressed levels.
Preliminary results show total sales increased 6.0% from a year ago to $28.9 billion for the 30 retailers we track, while same-store sales were up 3.9% compared to a 3.4% drop in the year-ago period. This is the sixth straight gain after 12 consecutive months of declines, and the best showing since November 2007.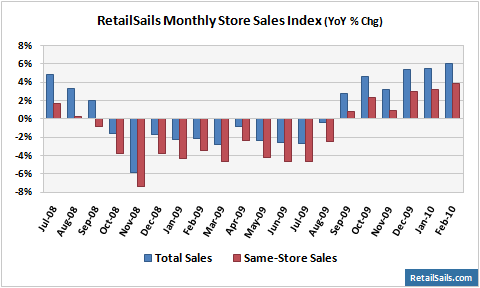 Results were strong across all segments except for Drug Stores, which have been notable laggards as of late. Gains were led by Apparel & Accessories Stores which posted the 2nd consecutive 7.3% comparable sales gain, compared to a 4.4% decrease a year ago. Department Stores saw same-store sales increase 3.4% for the month, after plunging 9.4% last February.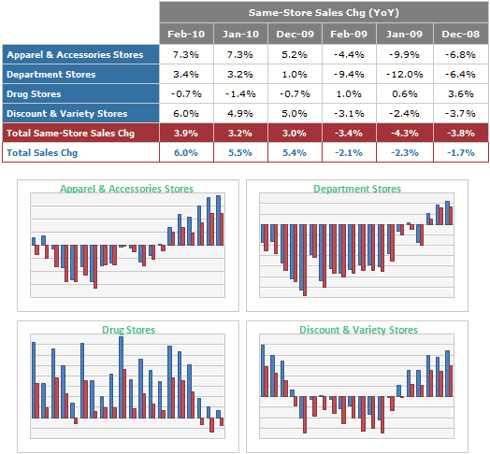 Analysts had expected the weather to put a damper on this month's results, especially with chains heavily leveraged to the East Coast. Weather Trends International [WTI] reported that temperatures for the month of February were "the coldest in 21 years and [it was the] snowiest in at least 30 years, which is a very big negative" for retail demand. However, given the constant barrage of storms, sales held up relatively well.
Some of the strongest performers during the month were the same companies that have consistently outperformed over the past two years: off-price stores TJX (NYSE:TJX) (+10%) and Ross Stores (NASDAQ:ROST) (11%), Warehouse Clubs BJ's Wholesale (NYSE:BJ) (+7.5%) and Costco (NASDAQ:COST) (+9%), and teen retailers Aeropostale (NYSE:ARO) (+7%) and The Buckle (NYSE:BKE) (+5.1%).
Other teen retailers, which were some of the weakest performers throughout the recession, managed strong gains for the month, including: Zumiez (NASDAQ:ZUMZ) (+11.2), American Eagle (NYSE:AEO) (+6%), and Abercrombie & Fitch (NYSE:ANF) (+5%). Apparel retailers including Gap (NYSE:GPS) (+3%) and Limited Brands (LTD) (+10%) had been posting negative comps for several years, but performance has stabilized over the past few months and February results were promising.
Some retailers have still yet to see any meaningful improvement, and continue their losing streaks of negative comparable sales, including: Hot Topic (NASDAQ:HOTT)(-7%, 10th consecutive decline), Stein Mart (NASDAQ:SMRT) (-9.3%, declines in 30 out of the last 32 months), Stage Stores (NYSE:SSI) (-3.9%, 19th straight decrease), and Destination Maternity (NASDAQ:DEST) (-9.3%, 13th straight decline).
About half of the retailers we track have reported fourth quarter results, and performance has been better than expected pretty much across the board. Many companies were able to post positive comparable sales gains for the first time in years, and more impressively, almost all expanded gross margins substantially. Though anecdotal evidence and recent survey results show bargain-hunting consumers are still hungry for sales, results suggest retailers have begun to wean shoppers off the deep discounts they have become accustomed to.
"Shoppers remain deal-focused and inclined to trade down among products and brands, but they are clearly ready to shop more and make some of the purchases they avoided during the recession," said Frank Badillo, Senior Economist of Retail Forward.
Because February is a light month and results were skewed due to the weather, we will be watching the next few months closely to see if the positive momentum can continue. After climbing steadily along with the stock market through the end of the year, recent confidence surveys have slipped and show consumers are still extremely concerned about their own personal finances and worried about housing and unemployment.
Easter falls a week earlier than last year, so sales will be pushed from April to March and comps should benefit next month. Going forward, expect the relatively strong year-on-year gains to continue, as retailers will be up against very easy comparisons through the fall. Redbook Research expects March same-store sales to increase 2.6% from last year.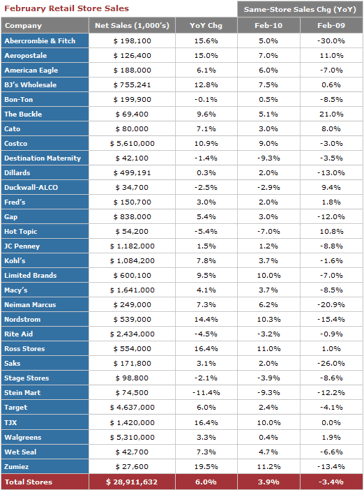 Author's Disclosure: No Positions