This is the fifth piece in Seeking Alpha's Positioning for 2014 series. This year we have once again asked experts on a range of different asset classes and investing strategies to offer their vision for the coming year and beyond. As always, the focus is on an overall approach to portfolio construction.
Brad Thomas is the founder and Editor
The Intelligent REIT Investor
(better known as iREIT Investor), a monthly subscriber-based newsletter on REITs. He has more than 25 years of experience in commercial real estate where he has worked in a variety of positions including brokerage, development, finance, and investment analysis and the majority of his experience has been research and consulting. Thomas researches and writes on a variety of real estate based income alternatives, primarily publicly-traded REITs. Given his background in sourcing, originating, and developing income producing assets, Thomas has broad experience and understanding in capital markets and evaluating the most intelligent REITs - with a keen eye on "distinguishing between an investment operation and speculative one."
Seeking Alpha's Abby Carmel and Jonathan Liss recently spoke with Brad to find out how he would advise readers to navigate the REIT investment landscape in 2014 and beyond.
SA Editors (SA): How would you describe your investing philosophy, broadly speaking?

Brad Thomas (BT): Plain and simple; I consider myself a value investor. As most Seeking Alpha writers know, I write a newsletter called "The Intelligent REIT Investor." By adding the word "REIT" in the text of the famous book, The Intelligent Investor, I have adopted my investment analysis along the lines of the legendary investor Ben Graham.

REITs were formed in 1960, and Graham's book was written around eleven years earlier; however, my investment philosophy is rooted in the same "extreme conservatism" as Graham so it shouldn't be a surprise that my investment strategies have become the sacred motto for me and other value investors: protect your principal at ALL costs.
Much of what set Graham apart was his conviction that just because "the crowd" was pursuing a risky strategy, this should not suggest that such strategy was less speculative than the facts indicated. Selecting REIT securities with a significant margin of safety remains the value investor's definitive precautionary measure.

(SA): You cover the REIT space with a level of comprehensiveness and expertise that is truly unmatched. What initially attracted you to covering REITs?
(BT): Thank you for kind words. I work hard to educate myself and my readers. Ben Graham once said "Adversity is bitter, but its uses may be sweet. Our loss was great, but in the end we could count great compensations." That is also my mantra. I can't say that I lived through the Great Depression like Graham; however, I did live through the Great Recession. Anyone who owned real estate during either of those periods could easily comprehend the agony of defeat.
My background in real estate goes back to my childhood. My grandfather developed and owned hotels, and my mother sold residential real estate. Upon graduating from college, I read Donald Trump's famous New York Times bestseller, The Art of the Deal. I was considering graduate school, however, I was ready to get in the game. As Trump explained in The Art of the Deal, "Money was never a big motivation for me, except as a way to keep score. The real excitement is playing the game."
So I spent around 22 years building. Not trophy towers like Trump, but ordinary shopping centers, drug stores, auto parts stores and video stores. Back then (1988) it was a great time to develop retail projects, and I was able to witness and learn, first-hand, the enormous growth in the retail sector. I learned every aspect of the development business – land acquisition, construction, credit underwriting, valuation and property management. In hindsight, my experience was better than an MBA.
My biggest lesson, however, was also my biggest failure. Just as the Great Recession roared its ugly head, I was glued to a partnership with no liquidity. Since I owned assets in a private company I had no way to exit the market. Owning illiquid real estate was painful and it cost me a lot of money. If I only owned REITs!
Today, I can't be happier with my newfound career. Although I have no background in journalism, I have made up for my weaknesses by building on my strengths. Real estate is my passion, and I enjoy assisting investors of all ages with building a nest egg in real estate. Ironically, my oldest daughter is a freshman at the University of North Carolina where she is entering the globally recognized journalism and business schools. She is working for the Daily Tar Heel and helping me with my monthly newsletter.

(SA): Globally, there are hundreds of REITs to theoretically choose from. Take us through your process here - how do you whittle down the list to a manageable number? Are there specific characteristics that you find the best opportunities in the space generally share?

(BT): You're right. There are hundreds of REITs, and I focus almost exclusively on Equity REITs. As I mentioned at the outset, I am a risk-averse investor. Having witnessed more than two decades of speculative investing, "We all know that if we follow the speculative crowd we are going to lose money in the long run." (Graham)
Much of my research and analysis is reflected in my risk management philosophy. While it is impossible to eliminate all investment risk, Graham believed that using a methodology to greatly minimize such risk could achieve the greatest results. After all, it takes only a few large losses to decimate overall investment performance, even if many other investments prove successful.
I have no "secret sauce." I like the more defensive sectors such as Health Care and Triple Net. History has shown that companies with a repeatable, sustainable, competitive advantage help to preserve long-term pricing power and profitability. Fortunately, there are many new REIT categories today, and that has enabled investors to diversify into unique sectors such as campus housing, data centers, gaming and even prisons.
(SA): What is your highest conviction pick in the REIT space for 2014 and beyond? Take us through your thesis, broadly speaking.

(BT): Well I guess I'll start with the "Dark Horse" for 2014. A few days ago I wrote an article on Lexington Realty Trust (NYSE:LXP) and I explained that the Triple Net REIT has been trading at the lowest P/FFO multiple in the peer group (10.2x), and I suggested that this REIT may produce outsized returns next year. While many of the larger peers – Realty Income (NYSE:O), American Realty Capital (ARCP) and W.P. Carey (NYSE:WPC) – have been more noticeable, Lexington has been flying under the radar.
Click to enlarge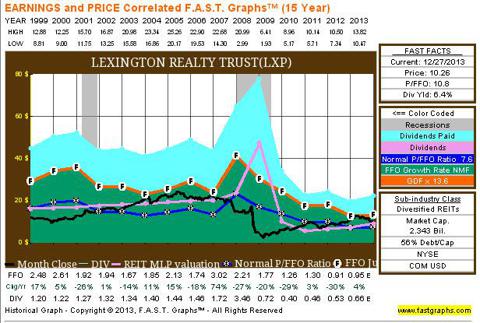 In another recent article I provided five of my top picks for 2014. I didn't provide a clear winner, but I would say that Realty Income and Ventas, Inc. (VTR) are co-champions. Both REITs have had credit upgrades this year (both now BBB+), and both have continued to build powerful moats of dividend repeatability. I think a lot of the success for both of these REITs should be credited to their respective CFOs who have managed to build fortress balance sheets.
Click to enlarge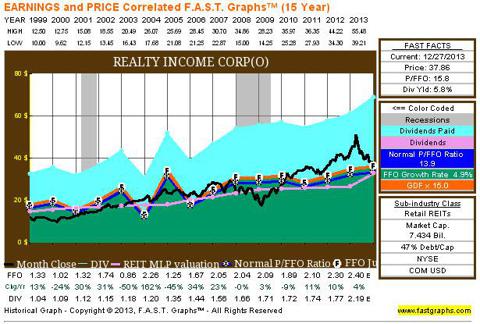 (SA): We love fundamental analysis here at SA. As an asset class, how do you feel about REITs' current valuation? Are there segments of the space that are particularly over- or under-valued at present?

(BT): In general REITs today are between fairly-valued to moderately fairly-valued. Honestly I can't say that I have seen too many over-valued REITs, and the large number of comments and page views that I see on a regular basis evidences that. One thing that I love about Seeking Alpha is the "real time" interaction with retail investors, and that has become a terrific barometer for valuation.

In my opinion, the market sell-off in the REIT space has been somewhat exaggerated. It's clear that some of the REITs were moderately expensive back in May; however, an entire market correction seemed to be more of an over-reaction. But as the old saying goes, "one man's trash is another man's treasure." In other words, there are some very attractive buying opportunities today.

I can't predict the future, especially when it comes to Mr. Market. However, I do know that REITs in general are soundly valued and the fundamentals for commercial real estate are improving every quarter.

(SA): How important is it to have a balanced portfolio of REITs across different geographic divides and sub-sectors (i.e. residential, retail, industrial/office, etc.)? Or is that sort of diversification essentially irrelevant in this sector?

(BT): Diversification is important. Every investor will make mistakes. But by confining himself to a relatively few, easy-to-understand cases, a reasonably intelligent, informed and diligent person can judge investment risks with a useful degree of accuracy.
Diversification is one of the cheapest forms of obtaining a margin of safety. It's good when it reduces risk without inhibiting returns. Diversification is bad when a portfolio becomes so diversified that mathematically it becomes difficult to outperform a benchmark or achieve a desired level of return.
As I mentioned earlier, we are seeing more and more REITs list, and that gives investors significant options to explore. Within each individual REIT portfolio it is also important to diversify as a means to reduce risk and for overall profitability and performance. For example, I would consider a REIT with one tenant, like Red Lobster, to be an extremely risky stock. On the other end of the risk spectrum, there's Realty Income that owns more than 3,900 properties (200+ tenants) in 49 states.
(SA): Speaking of specific segments of the REIT space, what is your view on healthcare REITs on the eve of the Affordable Care Act finally going into action? Will an additional 30 million insured Americans translate into greater revenue flows for healthcare properties?
(BT): Healthcare has several important macroeconomic tailwinds that should push expansion during the coming decade. First, the US population is getting older which will result in increased demand for visits to the doctor. Second, and as you mentioned, the Affordable Care Act is expected to add 25 to 35 million more insured individuals to the overall population. This is a huge tailwind that should drive many Healthcare REITs.
Finally, all of this is resulting in significant increases in healthcare employment. Healthcare produced more jobs during the downturn than any other sector. That trend is expected to continue throughout the next decade.
Two sectors that I really believe in are MOBs – or Medical Office Buildings – and Life Sciences. Both sectors own very high quality assets, and they are considered core/critical mission properties. Within the "pure play" category I like Healthcare Trust of America (NYSE:HTA) for MOBs and Alexandria Real Estate Equities (NYSE:ARE) for Life Science.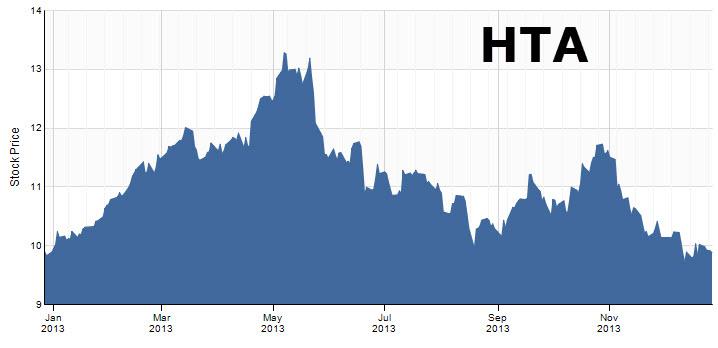 (SA): Are there any cases where you'd consider buying a broad REIT fund as opposed to an individual REIT?
(BT): No. Not for me. Remember, I'm not an average investor, as I spend my days and nights honing my skills in REITs. Given the fact that I have a "core of competence" in REITs, my portfolio should outperform the ETFs. Simply put, ETFs own "the good, the mediocre and the bad equities." Their simplicity attracts both retail investors, and financial advisors. Investment managers, by contrast, have the task of understanding industry and company fundamentals to differentiate between equities that will outperform and underperform the broader index.
Keep in mind, ETFs are extolled as a way to quickly diversify a portfolio, and therefore reduce volatility. Financial professionals know there are benefits to diversification, but also understand the rewards are not limitless. At a certain point, the volatility reduction becomes minimal and the portfolio begins to lose expected return. This concept is known as the volatility trumpet.
(SA): What advice would you give to a 'do-it-yourself' REIT investor looking at opportunities in the present environment?
(BT): Several important questions to ask yourself: (1) How much can the REIT grow over the next one, three and five years? (2) Can the REIT be as profitable as it used to be, or at least as profitable as the competition? (3) How does the REIT's balance sheet compare with the peer group? (4) What is the REIT currently buying and selling? (5) What is the management team's dividend policy? (6) Is management incentives aligned with shareholders? (7) Any insider buying? (8) What is the value of the company (using both P/FFO and NAV estimates)? (9) Is the dividend safe, and (10) Is there a quantified margin of safety today?
(SA): Any additional considerations you'd like to share with readers as they ponder their investing strategy in 2014 and beyond?
(BT): I want to take this opportunity to thank Seeking Alpha for allowing me to write my first article more than three years ago (first article was December 14, 2010). Now more than 400 articles later, I attribute much of the success to my valuable friends, followers and supporters. Seeking Alpha's platform has turned me into a true "second-level thinker" (Howard Marks), and I have learned more in three years writing for this web-based company than I could in four years at any Ivy League school.
I have now appeared in a variety of publications including Forbes Magazine, Forbes.com, The Street, Fox Business, NPR and US News & World Report. I am also writing a book that should be released in 2014. The value proposition for me and writing for Seeking Alpha boils down to one simple thing, as my role model and mentor (Ben Graham) explained, "The most durable education is called self education." Happy New Year!
Disclosure:
I have positions in the following: ARCP, CBL, DLR, GPT, HCN, HTA, O, ROIC, STAG, UMH, VTR, WPC, CSG, and MPW.
I wrote this article myself, and it expresses my own opinions. I am not receiving compensation for it (other than from Seeking Alpha). I have no business relationship with any company whose stock is mentioned in this article.
To read other pieces from Seeking Alpha's Positioning for 2014 series, click here.