Whistler Blackcomb Holdings Inc. (OTC:OTC:WSBHF) or "WB" is a publicly traded company owning a 75% interest in the Whistler Blackcomb Ski Resort and related operations. Its shares are listed on the TSX under the symbol WB.TO, while WSBHF is the unit traded on US exchanges.
It is the biggest ski resort in North America and was host of the alpine events of the 2010 Olympic Games in Vancouver, BC.
I will not go too deep into fundamentals here and would refer interested investors to fellow SA Contributor Mike Arnold who did a great job with his articles on WB throughout the year.
Notable Highlights about the Company include:
very stable business model, selling mostly lift tickets; while also offering related services like rentals and skiing lessons and operating retail stores and restaurants.

A P/E of around 9 and a very manageable debt load

quarterly dividends, yielding 6% annually
These highlights clearly indicate that the stock is a value and income play, rather than a growth stock.
But there might be an opportunity opening up for active traders: chances are that the company will post an above average result for this season in its first and second quarter of FY 2014.
The reason is a prolonged snow drought in British Columbia.
2013 was already one of the warmest and driest years in recorded history, and the month of December was no exception.
While there was a pretty cold period at the beginning of the month; precipitation was still low, and warmer periods brought +5C and pouring rain up the mountains to destroy the little snow that already fell.
The market and geographies
Metro Vancouver has a population of around 2.5 million people and they do love outdoor sports.
Skiing of course is probably the single most widespread activity in winter, and usually there are a couple of different areas to choose from.
The resorts and parks in driving proximity to the city include the Manning Park near Hope, Mt. Baker just behind the US border and of course Whistler/Blackcomb, all of which are about 1-2 hours drive, depending on where you live in the Lower Mainland.
But the most obvious choices for a day of fun in the snow are the three resorts on the so called "North Shore"; all of which are around a half hour drive, are reachable by public transport and boast magnificent views of the city. Seymour, the lowest and smallest, Grouse Mountain in the middle and Cypress Mountain which offers the highest elevation and the most runs.
While a regular season would allow all three of them to be fully operational from the beginning of December until March/ April, this year they struggle to have a handful of slopes prepared or in the case of Seymour, open at all.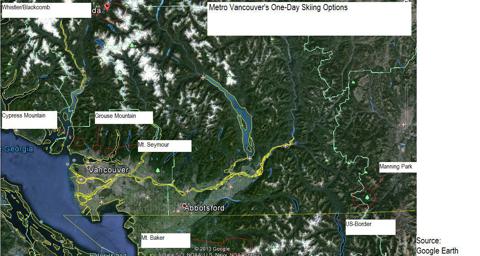 So how bad is it? Pretty bad:
Mt. Seymour has yet to open a single day and still needs a half a meter of snow to reach their preferred base depth.
Grouse Mountain is doing what they can with artificial snow, and while the snow depth numbers on their website seem alright, a closer look (follow the link and click on "runs") reveals that only 5 out of 26 (!) runs are open as of December 29th, a Sunday in the holidays!
Cypress Mountain is in a similar dilemma. It takes 5 minutes reading through their list of open lifts and taking a look at their trail maps to find out that basically only a third to a quarter of their terrain is open for skiing; once again on a Sunday during the holidays.
Now should one think that a four weeks' delay of the skiing season is not such a huge deal, consider that the Christmas/New Year's holidays are absolutely key to a mountain resort's financial success.
Seymour is on record as making 20% of their seasons business in the one week around Christmas, while the two bigger resorts' percentage should be closer to 10%.
So where do Vancouverites turn to?
The Manning Park Resort is small, far to drive to and rather unknown.
And while Mt. Baker probably gets some of the most reliable snowfall of the area, it is highly unlikely for Canadians to head there during this crucial week, as the border lineups cross the two hour mark (each way) in the wake of Christmas shopping season.
So all signs point to Whistler/Blackcomb as the only reliable choice to get some glide time with only one of their 27 lifts closed as of Sunday 29th ; even if their two meter base of snow is less than most people would hope for.
How big could the impact on Whistler/Blackcomb be?
While none of the three North Shore Resorts is anywhere close to WB´s size; all three combined and due to their proximity to the city center come up with visitor numbers equal to WB´s 2.1 million visits per year (including summer season).
Grouse Mountain alone reports 1.2 million visits a year, even though that includes summer activities while Cypress´s number is around 250,000 visits per winter and Seymour´s number too should be somewhere around the 200,000 visits per winter mark.
Of course I am aware of the fact that not all of the lost business for local resorts will go straight to Whistler/Blackcomb, as some people will just chose to not ski at all and rather wait for conditions to improve. But I expect that around 100,000 visits have migrated to WB over the course of the last four weeks, and with every snow-less day that goes by, this number is only set to rise further.
This alone should raise WB´s sales number by 5% with even more potential on the EPS number, as a lot of its expenses are fixed and do not scale up with the number of visitors.
Another way of confirming this thesis is by looking at some history concerning delayed season starts:
From an article already posted above:
Brunt said the 2001 to 2002 and 2002 to 2003 seasons were also a little slow, with Mt. Seymour waiting until Dec. 20 to open. And in the 1989-1990 season the mountain didn't open until Jan. 1 but experienced an astounding 17 feet of snowfall in 17 days.
(off topic: 17 feet of snow in 17 days! Seriously?!)
So 01/02 and 02/03 were bad seasons and you only opened on December 20th?
Guess what! These seasons saw record visits to Whistler/Blackcomb as shown in their reports: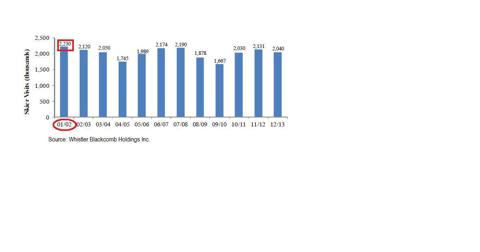 And by the way, we are way beyond December 20th.
1989/1990 you opened on January 1st?
Well, this ain't gonna happen this year!
Which indicates that it could be the toughest year for the North Shore resorts in over two decades.
With Whistler/Blackcomb being the only reliable option by now, the winner in this situation is clear.
Trading implications
Whistler/Blackcomb's stock had a good year, gaining a little over 30%, but the sideways movement throughout the last month tells me that the market is not yet aware of the record results the company could eventually post this year.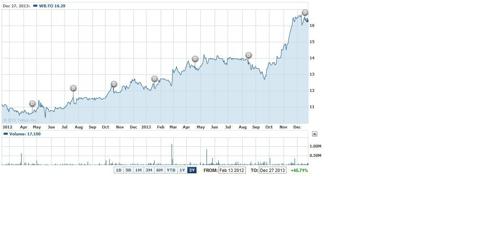 I expect EPS to increase by at least 10% compared to last year and this should be reflected in the stock price, too.
First quarter results are due somewhere around the beginning of February and second quarter results in May, both of which will be affected by this lack of snow at the other local resorts.
This means that there are around 5 weeks left until market participants will be forced to recognize the upside in this years EPS.
I therefore recommend adding some Whistler/Blackcomb stocks at current prices, either WSBHF or WB.TO for some immediate upside of at least 10%.
While this thesis is only a trading idea, there are a lot more reasons to hold WB stock for the long run, as the company trades at a low P/E and reduced financing costs and a high coverage ratio suggest that the dividend could be raised this year.
Conclusion
With this year's tricky snow conditions for local resorts, WB is set to profit the most. Mr. Market has not yet priced the stock accordingly and I see at least 10% upside on a five to six week horizon, when first quarter results are due. This potential will grow even further, with every day that the skies over British Columbia refuse to deliver snow.
The downside to the stock on the other hand should be very limited, due to its P/E of around 9 and a 6% yield.
Disclosure: I have no positions in any stocks mentioned, but may initiate a long position in OTC:WSBHF over the next 72 hours. I wrote this article myself, and it expresses my own opinions. I am not receiving compensation for it (other than from Seeking Alpha). I have no business relationship with any company whose stock is mentioned in this article.