Nokia (NYSE:NOK) went up 3.47% since Seeking Alpha published my first article on December 24 and I decided to buy a few more shares. I have been digging up positives for Nokia during the Christmas holiday. My efforts paid off - Nokia's patent portfolio is one of its easy paths to prosperity.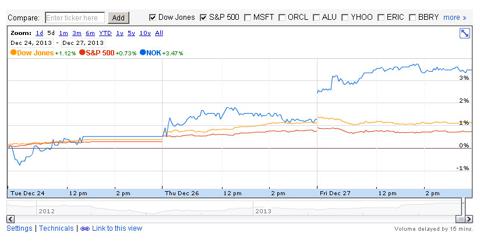 Despite the downgrade from Societe Generale, NOK is still a BUY for me. Recent developments this December convinces me that Nokia will be flying high this 2014. The Indian tax problem is well on its way to being resolved. Next, Nokia Sky Go pay-tv on the go service had its global launch for Windows 8 Lumia. The US and the EU authorities also approved Microsoft's takeover of Nokia's devices and services division.
All these favorable outcomes are further enhanced by Nokia's recent wins in patent infringement suits against HTC (OTC:HTCCY).
Nokia Patents Have Far-Reaching Applications
My detective work gave me solid evidence that Nokia has a lot of positives. I would like to focus primarily on its patent-related positives.
Nokia's court victories over HTC in UK and Germany are old December news but they still deserve a mention. HTC, like Samsung (OTC:SSNLF) and Apple (NASDAQ:AAPL), might or will soon pay licensing fees to Nokia. These two victories are just the first round, Nokia has filed several patent infringement cases versus HTC in different countries.
Nokia's multi-country patent infringement lawsuits against HTC are probably one of the major causes why the Taiwanese phone maker had such a terrible 2013. Nokia's court victories in the UK and Germany could mean a ban for some of HTC's One smartphone models.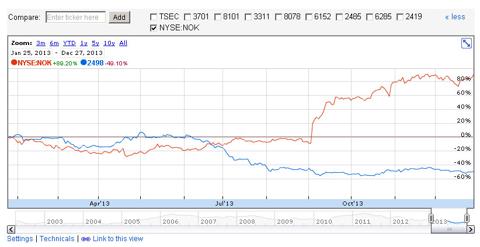 The German court decided that eight HTC Android phones have infringed Nokia's patent, EP 1246071 which covers "Method of Configuring Electronic Devices." The patent covers how computers automatically configure or select the appropriate software drivers when another device is plugged in via Universal Serial Bus (USB) ports.
Phones, cameras, chargers, printers, tablets, and other electronic devices still uses USB for transferring data to and from computers. Despite the availability of WiFi and Bluetooth, there are still many gadgets that are dependent on USB especially as away to recharge their batteries. Nokia can collect toll fees from these products' manufacturers. HTC One smartphones have micro-USB ports.
The UK court ruled that HTC violated Nokia's Patent No. EP 0998024 B1, "Modulator structure for a transmitter and a mobile station." The infringements are found in HTC One, One Mini, One Max, 8S and Desire 601. The patent violations involve components from Broadcom (BRCM) and Qualcomm (NASDAQ:QCOM) found inside HTC phones. Nokia can sue companies who use third-party patent-infringing chipsets and other components.
The Taiwanese company won on appeal for temporary injunction against a ban for HTC phones in the UK market. The word is temporary - HTC might still be found guilty of violations and penalized. HTC may soon give up and just negotiate a licensing deal with Nokia like what Samsung, Apple and Microsoft (NASDAQ:MSFT) did.
Guesstimating the Smartphone 2013 License Fees
Microsoft is paying $2.17 billion for a 10 year licensing agreement for more than 8,500 Nokia patents. NOK will also continue to benefit from future sales of Samsung, Android and iPhones. It was revealed by The Guardian that Nokia's deal with Apple gives Nokia €8 ($13.12 at today's FX rate, $11.50 on Guardian's 2011 post) per one iPhone sold. I don't know how much Samsung pays for each phone they sell. I estimate it is the same amount for top premium models like the Galaxy S4. No matter what, Nokia will keep earning royalty fees from these two smartphone leaders.
Here are the Q1 to Q3 2013 smartphone sales charts from Gartner.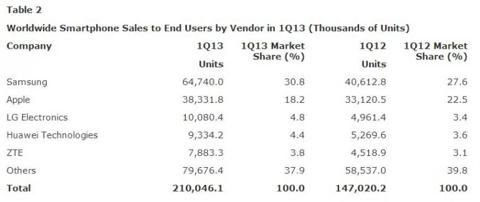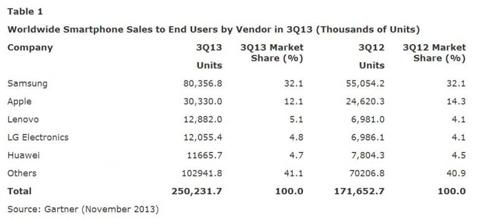 I don't have the Q4 2013 Gartner chart so I will just use Q3 data twice. The licensing agreements are secret so I can't really figure out how much Nokia will make from 2013 smartphone patent fees. I'll just go with The Guardian's figures. These are in no way accurate, its guesstimates based on my own speculation and Gartner's charts.
Since Samsung sells a lot of cheap Android Phones, I will assume a conservative figure of $3 royalty fee for each Android phone sale.
64.74 + 71.38 + 80.35 + 80.35 = 296.82 million Samsung Android phones
Multiplied by $3 = $890.6 million
I'll make another conservative $7 license fee for every iPhone sale.
38.33+31.90+30.33+30.33 = 130.89 million Apple iPhones
Multiplied by $7 = $916.23
My guesstimate total 2013 fees from Samsung and iPhone is $1.8 billion. I can even go even more prudent and halve that to $900 million.
I am not sure but I believe LG also pays Nokia. There's also the 2% royalty fees that Chinese phone makers Huawei, ZTE, and Lenovo pays to Nokia. An additional $100 million to add to that $900 million seems reasonable.
A $1 billion zero-cost annual revenue stream from mobile phone patents is a very compelling reason to buy NOK now. This figure will also gradually increase as more people buy mobile phones. Gartner estimates that by 2017, mobile phone unit sales will top 2.13 billion.

Summary
Nokia is a Buy. I expect the company will aggressively monetize the remaining 90% of its patents after Microsoft takes over its phone business. My $1 billion smartphone license fees estimate for 2013 is within realistic boundaries. I also firmly believe that HTC will soon seek out for a licensing deal.
Lastly, Nokia was recently granted new patents to add to its arsenal. Number 2 is a very interesting read - Nokia may own the patent for multi-surface touch screen interaction.
1. Patent number 8599940 - Apparatus, Method and Computer Program Product Providing Sequence Modulation for Uplink Control Signaling
2. Patent number 8599158 - Multi-Surface Touch Sensitive Apparatus and Method
3. Patent number 8599884 - System and Method for Implementing Optimized Multiplexing and Power Saving in a Broadcast Network
Disclosure: I am long NOK. I wrote this article myself, and it expresses my own opinions. I am not receiving compensation for it (other than from Seeking Alpha). I have no business relationship with any company whose stock is mentioned in this article.