Barring a major collapse over the next two trading sessions, 2013 will be the best year for the S&P 500 (NYSEARCA:SPY) since 1997. The price return of 29% through 12/27 was a shocker that surprised even those of us who were bullish. My own forecast was for a double-digit return, as I had predicted a year-end close of 1664 a year ago:
I base this on ending the year at 14.5 PE on a forward basis (this implies a 2014 EPS estimate of almost $115)... If I had to guess, my forecast this year will be wrong again, except too conservative rather than too aggressive.
I updated the forecast in early August:
I have been suggesting that my original forecast of 1664 for year-end 2013 on the S&P 500 is likely too conservative. As the market approaches 1700 with 5 months to go, it's not difficult to imagine that the trends towards PE expansion persist. The earnings numbers, which I had thought might come down as the year progressed, have not. Instead, these estimates continue to suggest more of the same: Modest growth.... I am raising my year-end forecast to 1740 (15 PE on $116 of S&P 500 projected 2014 EPS).
While I had expected 1800 to act as a ceiling, the market ended up going a bit higher. Based on what is now a $117 consensus for 2014, the current forward PE is 15.7.
Before we discuss 2013 and think about 2014, here are the last 63 years of annual price returns: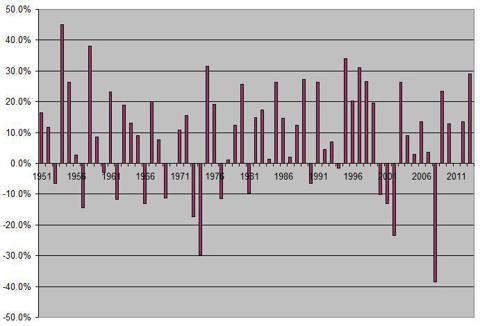 2013 marked the fifth consecutive year of positive total returns (including dividends) and the 10th out of the last 11. So much for the "lost decade!" The almost 30% return was mainly due to PE expansion, continuing a trend that has been in place since the downturn ended in 2009.
My forecast for 2014 is a lot less bullish than I have been in recent years, but I do expect higher prices. Unlike 2012 and 2013, during which the market never traded below the prior year's close, I think that the path to higher prices this year will be more challenging, as I explain below. First, here is my base case: 1968, based on 16PE and projected 2015 EPS of $123 (note, this may be slightly below the current 2015 consensus). Based on the current 1841 level of the S&P 500, this represents a price return of just 7%, almost all of which represents the earnings growth. I won't rule out further PE expansion, but I am not counting on it either.
While 7% may not sound exciting, this is likely going to be a lot better than the return of bonds. 2013 has seen a major jump in interest rates, with the benchmark 10-year note, now at 2.98%, up sharply from 1.76% at the end of 2012. The total return of the broad bond market as measured by the Barclays Aggregate Bond index (NYSEARCA:AGG) is -2.11%, and I expect more of the same.
Any forecast has risks. I think that the "more of the same" outlook I am sharing could go in two directions. First, and this is the downside: Growth may slow materially. While I don't expect that and am somewhat comforted by seemingly improving economic conditions abroad and the dissipation of headwinds like the restrained federal spending we endured this year, clearly our economy has trained us to expect weakness. If growth slows materially, I expect the market will produce modestly negative returns.
It's really the flip-side, though, that is more interesting: What if we see more growth like we enjoyed in Q3, when nominal GDP jumped to 6%? This creates a challenge for the market. Higher earnings can fuel higher prices, but a really strong economy could lead to sharply higher interest rates. Traditionally, PE ratios contract when rates are rising. In order to assess how this might play out, I think this chart is very helpful: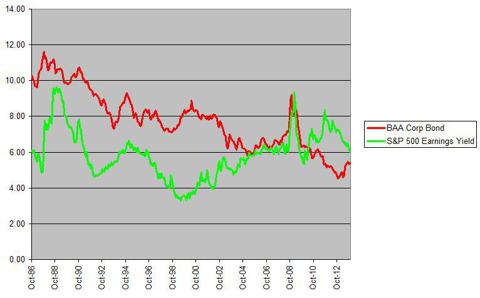 The red line is the Moody's Baa bond yield (data provided by the St. Louis Federal Reserve), while the green line, the earnings yield, is the inverse of the trailing PE as provided by Baseline. The bond yields have been dropping consistently since 1987 and are still near the lows. The earnings yield is pretty much in the middle of the range over the past 27 years.
Notice that historically, the green line has been below the red line. This changed in the "new normal" economy, when growth slowed and investors didn't want to pay up for stocks, fearing a "double-dip." The average spread has been almost -200 bps over the entire time-frame, so the slight positive spread continues to reflect nervousness.
When I think about the "risk" of high growth, I expect that the bond yields could rise sharply in that scenario. If we assume that the bond yields rise 200 bps, then the earnings yield could remain the same. More realistically, though, I would expect the earnings yield would rise modestly. In this case, earnings growth would likely be strong, but the PE would decline. I think a realistic scenario would be to see expectations for 2015 EPS growth of 15% instead of 6% (i.e. $134.50 earnings instead of $124). The bond yield might rise to 8% (up over 200 bps), but I would expect the earnings yield to rise only to 7% (a trailing PE of 14.3). Assuming 2014 EPS actually come in at $120, this would lead to 1714. On a forward PE basis, we would see compression to about 12.75X. I think that this is a pretty dire case. More likely, rates will rise much more modestly, but there is the risk that PEs contract if rates rise sharply.
The big story of 2014 will most likely be this dynamic of accelerated growth and the risk of much higher yields. This is the reason that I expect we could see some speed bumps in the year ahead, with the market perversely fearing growth and selling off as a less accommodative Federal Reserve is anticipated. Then again, maybe the growth stays muted and this leads to some selling as well. The least likely scenario would be for a robust economy and an expanding PE ratio.
The bottom-line is that the market is still priced conservatively with respect to bond yields and PE ratios: The earnings yield is slightly higher than the Baa bond yield. In a more robust economy, rates will likely rise, but the pressure on PE will be muted. In this scenario, I think that stocks could actually do a bit better than my base-case assumption as a lower PE is more than offset by the higher earnings growth. So, 2014 should likely see a 6th straight year of positive total returns for the S&P 500.
Disclosure: I have no positions in any stocks mentioned, and no plans to initiate any positions within the next 72 hours. I wrote this article myself, and it expresses my own opinions. I am not receiving compensation for it (other than from Seeking Alpha). I have no business relationship with any company whose stock is mentioned in this article.