After seeking approval from its Board on March 2, Nasdaq OMX Group Inc. (NASDAQ:NDAQ) announced plans to repurchase its common stock worth $300 million that will be funded from its existing cash balances. However, the stock buyback program may be conducted at intervals depending upon market conditions through various strategies such as open market purchase, privately-negotiated transactions or block purchase techniques.
Additionally, the Board of Nasdaq has also decided to shell out another $100 million for its amortization prepayments on its term loan during 2010. The company is working vigorously to tame its liquidity and capital position in an efficient manner.
In January 2010, Nasdaq capitalized on an opportunity to refinance its outstanding credit facility at extremely favorable terms. The terms of the new $1 billion debt offering grants increased flexibility in capital management decisions while reducing the interest rate exposure.
Recently, Standard & Poor's ratings services upgraded the long-term counterparty credit rating expecting Nasdaq to generate good earnings and operating cash flows in 2010. The rating agency also raised its debt rating on Nasdaq's new debt reflecting sound financial outlook and improvement in operating efficiencies.
Over the last 30 days, 3 of the 17 analysts covering the stock have lowered their estimates for the first quarter of 2010 while 4 revised upward. Currently, the Zacks Consensus Estimate for first quarter operating earnings is 48 cents per share, which would be up by 0.12% from the year-ago quarter.
The higher number of upward estimate revisions for the first quarter indicates a likelihood of upward pressure on the performance of the stock in the near term.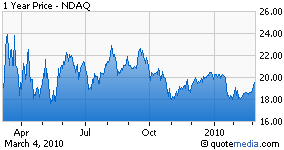 With respect to earnings surprises, the stock has been very steady over the last 4 quarters, with all positive surprises. The average remained positive at 3.34%. This implies that Nasdaq has surpassed the Zacks Consensus Estimate by 3.34% over that period.
Nasdaq's fourth-quarter earnings surpassed the Zacks Consensus Estimate by a couple of cents on low charges and expense management. However, the top-line declined on weak volumes.
Nevertheless, an improved outlook for equity investments and the number of recession-proven private companies seeking capital will add to the IPO pipeline in 2010. We believe that Nasdaq's operations will gain momentum once the global economy stabilizes and rebounds to its historical highs.