Looking through areas of the market that have underperformed this year for opportunities, one theme sticks out -- stocks that are perceived to be negatively impacted by higher interest rates. This trade has been particularly hard on real estate investment trusts (REITs). Raising interest rates could negatively impact REITs, particularly in a scenario where interest rates rise while the underlying economy stays weak. However, economic improvement can drive better underlying REIT fundamentals. If demand for office or retail space improves, it allows the owners of that space to raise their rents. The REIT sell-off this year may be a market overreaction that can be taken advantage of to generate excess returns in 2014.
The CBRE Clarion Global Real Estate Income Fund (NYSE:IGR) is an option worth considering. This is a closed-end fund that invests in global real estate. IGR has a solid track record, offers an attractive distribution, and is trading at a discount wider than its historical averages. This article looks to offer a deep dive review of IGR to evaluate its attractiveness as an investment for 2014 and beyond.
Rising interest rates have been a concern for REIT investors this year. IGR's semiannual report offers the following chart, showing returns for REITs in periods of rising interest rates. While this time may be different, the strong returns for REITs after initial sell-offs could bode well for IGR in 2014.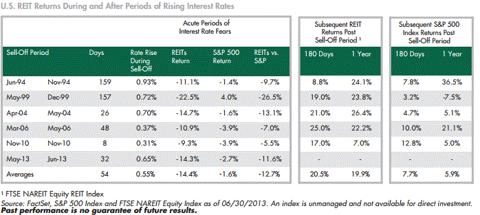 The chart below, also from IGR's semiannual report, highlights indicated dividend yields by country. As REITs are often looked at as a yield vehicle, it is important to understand the income opportunities provided by REITs around the world.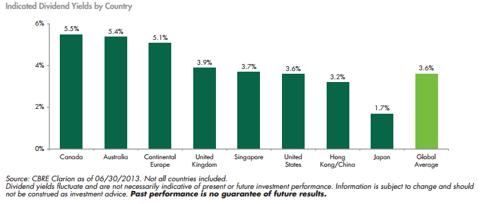 The negative view of REITs has driven underperformance YTD. Discounts on closed-end funds have also increased as investors sell to allocate capital to better performing areas of the market. At year-end, this has also generated one of the few opportunities in investors equity portfolios to harvest losses. This has opened up some opportunities in CEFs that may be worth taking advantage of.
Performance
Using an ETF with a similar investment objective gives a good comparison to allow for evaluation of the management's performance. The SPDR Dow Jones Global Real Estate ETF (NYSEARCA:RWO) appears to offer a relatively similar investment objective to IGR and should allow a good comparison to evaluate performance. As you can see below, based on NAV performance IGR has trailed RWO on a year-to-date basis, but it has outperformed on a trailing three-year basis. On a trailing five-year basis it has outperformed by more than 3% annualized.


Data as of Nov. 30, 2013.
Premium/Discount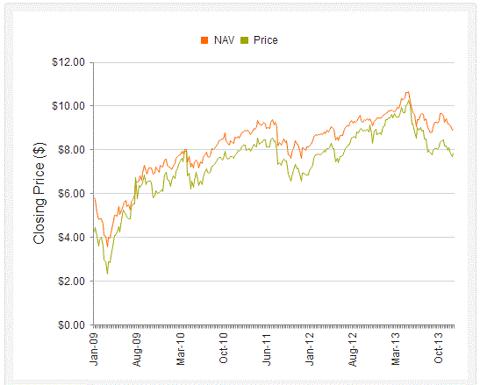 The fund closed Dec. 26, 2013, at a 12.25% discount to the NAV or underlying value of the portfolio. This is below the 52-week average discount of 7.75%. The average discount since inception is 8.44%, so there is some room for the discount to contract. During the past 12 months the fund has traded with a discount as low as 0.10%, showing there is the potential for volatility of the discount to NAV. The current discount offers an attractive entry point for this fund. The discount is likely due in part to the weak recent performance of REITs because of concern about the effect of higher interest rates on REIT business models. REITs have sold off hard since the potential of tapering quantitative easing was put on the table by Ben Bernanke, and the fund's market discount to NAV has increased since May as well. As long as interest rates don't move too quickly and the economy is strong enough to support rent increases, REITs should be able to perform well, which should drive the discount to narrow.
Expense Ratio
The fund had a 0.99% expense ratio in 2012 if interest expenses on the fund's leverage are excluded. So the fund offers a relatively low cost exposure to an actively managed portfolio of global real estate. Passive ETFs charge 0.50% or more so the incremental cost is low for the active management to get exposure to this asset class.
Distribution
The fund employs a managed distribution policy. IGR pays a monthly distribution of $0.045/share representing 6.85% at the current share price. Based on the most recent press release from the fund 57% of the 2013 distribution is expected to be return of capital and 43% is expected to be investment income. The distribution may contain investment income, long-term capital gains, short-term capital gains, and return of capital.
Leverage
As of Oct. 31, 2013, the fund employed 5% leverage. The fund has a $300 million line of credit from BNY Mellon with an interest rate of fed funds rate +0.75%. The fund has used larger amounts of leverage historically, which has contributed to the volatility of the fund's performance. The fund was burned by its use of leverage during the financial crisis and has lowered its use of leverage since then, which should reduce volatility.
Liquidity
IGR trades an average of 412,000 shares daily. At current prices that represents $3,629,000 per day in value. This is a reasonable amount of liquidity for a CEF and should allow individual investors the ability to get their orders filled. It is always wise to use limit orders to purchase or sell shares of closed-end funds, as the bid/ask spread can be wide.
Management
IGR is managed by CBRE Clarion, a firm with significant experience in global real estate. Clarion has about $20 billion in assets under management focusing exclusively on real estate investments.
Holdings
Asset Allocation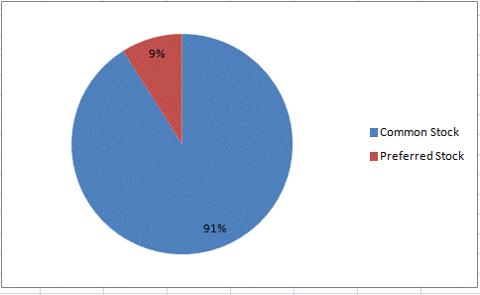 The fund is mostly invested in listed common equities with a couple of preferred stocks thrown in for good measure. The fund has significant liquidity available under the credit line from BNY Mellon to allow it to take advantage of opportunities presented by the market.
Country Allocation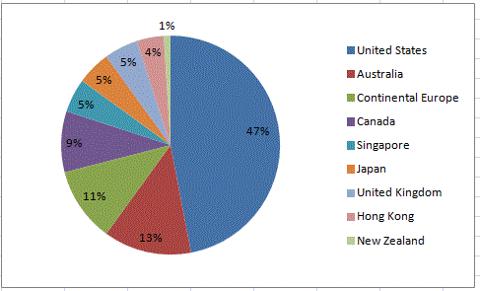 The largest country allocation is to the United States, but U.S. exposure is less than half of the total portfolio. The fund offers broad diversification to global real estate securities. This also exposes the fund to currency fluctuations, which can impact the fund's performance.
Sector Allocation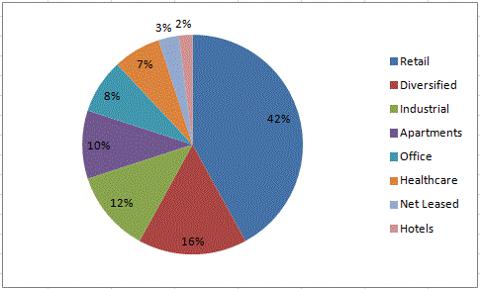 The fund offers exposure to all of the major sectors of real estate, with retail being the largest allocation at 42% of the portfolio. The fund has 10% exposure to healthcare and net leased segments, which are considered the most interest-rate-sensitive segments of real estate. Low exposure to interest-rate-sensitive investments and a larger allocation to segments, which are more economically sensitive, should allow the fund to outperform, even in a rising interest rate environment.
Top Holdings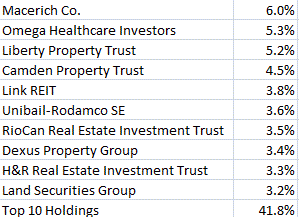 The fund is fairly concentrated, with 41.8% of the fund held in the top 10 names. There are 66 assets in the full portfolio. Portfolio turnover is low, with the highest yearly turnover in the past five years 28.04% in 2009. The average turnover in the past five years looks to be in the low teens.
*All portfolio information as of Oct. 31, 2013.
Strategy
The fund invests at least 80% of net asset in income producing real estate investments. The fund can invest up to 15% of assets in securities domiciled in emerging markets. The fund can also invest up to 25% in preferred securities, with no more than 20% of total assets in preferred stocks with below investment-grade credit ratings. The fund is also allowed buy or sell options to manage risk and produce additional income.
Tax Issues
As of June 30, 2013, the fund had $203,067,911 of net unrealized appreciation offset by $375,655,864 in tax loss carry forwards. The tax loss carry forwards provide additional shelter from tax consequences from future gains on the portfolio. The tax loss carry forwards combined with the low portfolio turnover reduce the risk of significant tax issues, unless there is a large run-up in the value of the underlying assets. The tax issue is also interesting to look at in conjunction with the discount to NAV. Academics have highlighted embedded capital gains as a potential source of the discount to NAV. However, in IGR's case investors are able to access the active management and discount with additional tax shelter offered by the loss carry forwards.
Conclusion
IGR trades at an attractive discount that will likely narrow after year-end tax harvesting. Performance should also benefit if sentiment toward REITs improves. The distribution is attractive and, if reinvested at the current discount, adds to the attractiveness of this investment. IGR has a concentrated portfolio, solid management team, and is targeting investments in a beaten-down market segment. REITs should offer some upside if the economy improves, or if interest rates stabilize. However, the historical volatility should be considered and this fund has a relatively high level of risk.
Disclosure: I have no positions in any stocks mentioned, but may initiate a long position in IGR over the next 72 hours. I wrote this article myself, and it expresses my own opinions. I am not receiving compensation for it (other than from Seeking Alpha). I have no business relationship with any company whose stock is mentioned in this article.