As numerous SeekingAlpha and other financial articles pointed out in early 2012, certain royalty trusts were substantially overvalued and risky despite offering high yields and having some amount of underlying asset value. And more generally, the royalty trust asset class was trading for implied values of their underlying oil fields substantially higher than they were selling for in the private market and higher than public non-royalty trusts were trading for.
In May of 2012, I wrote an article highlighting certain particularly risky trusts. I focused on Whiting Trust I (NYSE:WHX), which was at the time trading for approximately 2x the total anticipated distributions it would make until being dissolved in 2015! And I discussed Hugoton Trust (NYSE:HGT), why its unit price had fallen so much, and how it presented a cautionary tale for potential investors in such trusts.
Here is a price chart of these two trusts. HGT had crashed prior to the article, and I pointed out the potential for WHX to crash, which it did shortly after the article was published: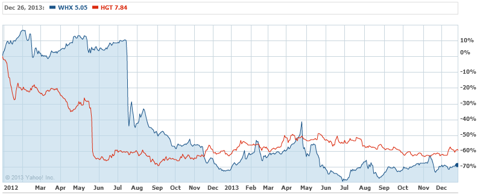 Subsequent to that first article and WHX crashing, I published a second article discussing what had happened with WHX, reviewing the valuation of other royalty trusts, and identifying a potential opportunity that could perform well if royalty trust valuations held up. Of course, those valuations did not hold up, and here is a chart that shows the two year price performance of those trusts mentioned:

The best performing of these trusts was Pacific Coast Oil Trust (NYSE:ROYT), down "only" 40% (yield adjusted closer to ~20%). Pacific Coast has produced close to what management and IPO underwriters projected, and seems to have decent prospects of continuing such production into the future. This distinguishes it among these royalty trusts, and explains its unit price outperformance over this time period.
The worst performing of these trusts was WHX, which I had noted in previous articles to be tremendously overvalued relative to projected distributions. WHX continues to trade for a premium to its future distributions, but that has not kept its unit price from falling almost 70% in the past two years (yes, there have been distributions, but not nearly enough to support this fall in unit price).
Surprisingly, the Sandridge (NYSE:SDT) and Chesapeake Trusts (NYSE:CHKR) were very poor performers too. They had appeared to trade at somewhat "reasonable" valuations, implying ~8% annual returns to investors, contingent on successful drilling results. Unfortunately for investors in these trusts, results came in far below expectations, sending their unit prices down ~60% over the time period. The poor drilling results raise questions about the size of future distributions, as poor results leads to less oil production which leads to less cash to be distributed. Investors have raised the question of why Sandridge Trust (SDT's) results have been so much worse than Sandridge Energy's (NYSE:SD) disclosed results in its investment presentations. This may become a contentious issue between the investors in SDT and Sandridge Energy, but makes it difficult to invest in SDT, CHKR and other such trusts.
And of course, I must mention Gale Force Petroleum (OTCQX:GFPMF), which was highlighted in the articles I wrote on royalty trusts as a potential beneficiary of E&P companies transitioning to royalty trust structures. Gale Force had planned to transition to a royalty trust structure, as disclosed in corporate presentations published in 2012. Unfortunately, Gale Force suffered on two fronts: capital became less available as the prices of comparable royalty trust units collapsed, and Gale Force's own drilling results were disappointing. Gale Force has subsequently sold assets, paid down debt, entered into an extended review of strategic alternatives, and replaced most of the board as a part of a settlement with its largest shareholder.
There are four possibilities for Gale Force at this point. First, it could continue its strategic review indefinitely. It generates enough cash from its properties to continue operations, and its stellar Marcellus property continues to grow rapidly and far outperform expectations. Or second, it could liquidate, likely for a modest premium to proved reserve value, driven by its low production decline rate and substantial unbooked upside in East Texas and the Marcellus.
Third, its largest shareholder which just reconstituted the board could recapitalize the company and refocus it. That shareholder did something similar with another company in the past two years, Petro-River (OTCQB:PTRC). That shareholder replaced the board at PTRC, replaced management, infused cash and vended in properties, and drove the stock from 2 cents to 50 cents (it has subsequently settled in a ~8 cents per share, a 400% premium).
And fourth, Gale Force could emerge from a strategic review with a plan similar to Alexander Energy (OTC:PTORF). I discussed Alexander Energy's situation earlier this month. Alexander brought in management from the old Spartan Oil. That management team had earned massive returns for investors in Spartan and previous entities. The team recapitalized Alexander and the stock price went from 20 cents to 80 cents within a month.
As mentioned in that article, this was a similar business plan to Magnum Hunter (MHR) and Halcon (NYSE:HK). Both MHR and HK were management recapitalizations, and both entities that were recapitalized had similar asset bases to Alexander and Gale Force. It appears that good targets for such recapitalizations have: low corporate decline rates, high percentage of oil production, development opportunities within proven fields, at least one potential exploration play with some capital already deployed there, and a stock price that had traded down substantially over the previous 1-2 years.
I was less familiar with Petro-Resources, the predecessor company to Magnum Hunter. From the limited available information on that entity, it appears it fit the criteria mentioned above. However, I was very familiar with Ram Energy, the predecessor of Halcon Resources. I held a position in Ram stock when the recapitalization was announced, and benefited from the huge run-up in the stock price post recapitalization.
Ram was a very similar situation to Gale Force, although it had a larger production base with substantially more debt. But the lower debt load, like with Petro-Resources and Alexander Energy, might actually make a re-cap easier and possibly could increase the chances of success post recap. As mentioned in the article about Alexander's recap, performance by Halcon and Magnum Hunter has substantially diverged post recap. Both stocks traded up ~400%, but Magnum Hunter has continued to outperform, while Halcon has stumbled and its share price has given up most of the gains from the recapitalization.
Here is a chart of Magnum Hunter since recapitalization: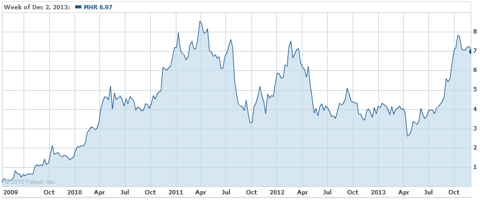 And here is a chart of Halcon since recapitalization: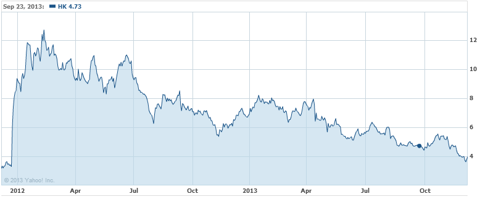 And here is a 1 year chart of Alexander Energy (recap was in early December, note the ~400% rise in price in December):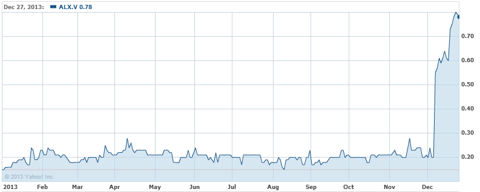 In summary, royalty trusts as an asset class have underperformed in the past couple years. The worst performance has been driven by overvaluation and poor well results (CHKR and SDT). And companies transitioning into royalty trusts, like Gale Force, may have other options that could lead to potential good returns for investors. Examples of such success stories include Magnum Hunter, Halcon and Alexander.
Incidentally, Ram was going to sell its assets to a newly created Canadian royalty trust. When that deal fell apart, its stock fell substantially. At that point, Floyd Wilson identified the opportunity, took his winnings from his sale of Petro-Hawk, brought in outside money alongside his, and recapitalized Ram (and as seen above, drove the stock price up ~400%). It is not unprecedented for such transitions to lead to positive outcomes for investors, and the long reserve life and low decline rate of Ram's assets were cited by Mr. Wilson in subsequent discussions of why he used Ram as his vehicle to return to the public markets.
Gale Force is a micro cap stock, which incurs numerous risks beyond those of investing in larger companies, including stock liquidity and capital availability. Caveat emptor.
Disclosure: I am long OTC:OTCPK:PTORF. I wrote this article myself, and it expresses my own opinions. I am not receiving compensation for it (other than from Seeking Alpha). I have no business relationship with any company whose stock is mentioned in this article.
Additional disclosure: I am also long GFPMF. I may buy or sell any security mentioned at any time with no further notice.