If you live in the Northeast U.S., don't have a false sense of security that the recent balmy weather of two weekends ago (60's+) in New York and a few other big cities, plus the melting snow cover are signs that the weather pattern has tamed down. Quite the contrary. Big time eastern snows and some of the coldest weather in years is still on track for the next week or so and perhaps off and on for much of the winter. Our longer range forecast is consistent, in which nationwide heating degree days (what utilities and energy companies use to gauge heating demand) could be in the top 5 highest in the last 50 years. While natural gas and UNG have struggled of late, the odds of natural gas prices falling below $4.30 for the entire month of January is fairly remote with a chance still for prices to reach $5.00 later this winter. The best way to play UNG is still stay long on our earlier November recommendation or look to sell put options a month or so out.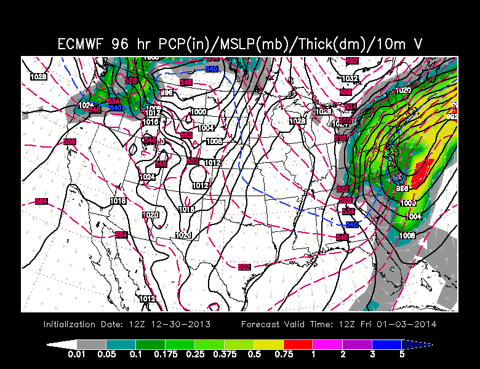 We have been talking about extreme warm blocks NW of Alaska and now over the Arctic. This coupled with historical tendencies of above normal eastern snows in to El Nino neutral years, that are leaning towards El Nino's, suggest some big time snows in the east. This Friday, near blizzard conditions (above) will affect some areas from Virginia, to New Jersey, New York and parts of New England (see storm above)
We have already seen natural gas prices rally 18% from our November recommendation. Large supplies continue to haunt this market, but the weather, at the least, will keep prices from falling very far over the next couple weeks and perhaps for most of this winter. I still like a whole host of natural gas production and transportation companies, plus (NYSEARCA:UNG) as medium term plays on my cold winter forecast.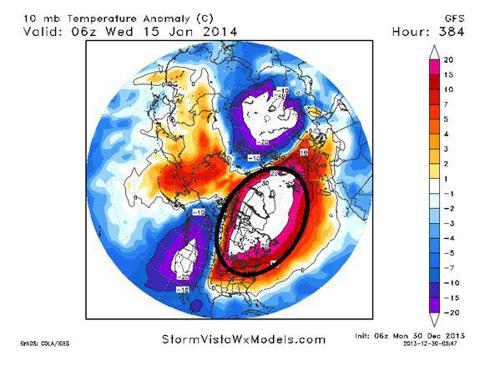 Brought on by a spike of some solar activity and increasing atmospheric torque at the higher altitudes and a developing +GAAM and weak El Nino type weather, we can see above that major warming is occurring in the stratosphere, some 10-15 miles up, over Greenland and to the NW of Alaska. This will likely mean increase blocks over the northern latitudes well into mid winter, that will transport some of the coldest weather in years into U.S. energy areas. The snow and cold could affect some sectors of the U.S. economy during the first quarter of 2014--Roemer
StormVista Graphic- Above
Heating oil prices have rallied in the face of tremendous demand for distillate and also a rebound in crude prices as the economy is a bit stronger. Over the next few weeks, weather in the U.S. could support certain heating oil spreads with temperatures as much as 12-22 degrees below normal at times. Due to my expectation of an increase in snow cover, temperatures could be colder, still, than many are saying in January. Look for heating oil prices to stay well supported the next week or two, relative to crude oil prices. One caveat is the warm weather in Europe that will continue.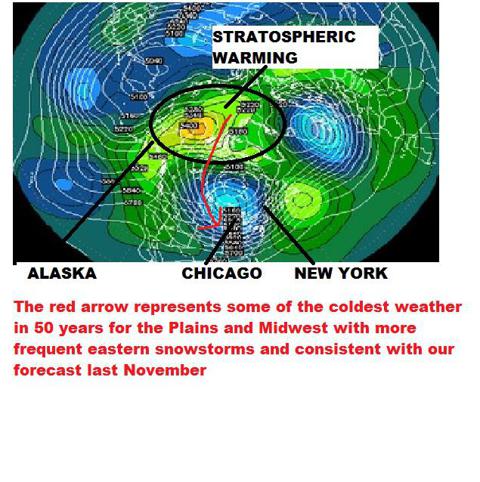 WSI Graphic- Above
Soybean prices (NYSEARCA:SOYB) have rallied on strong Chinese demand and weather woes in Argentina. However, we have what we call "positive global angular momentum (GAAM)"--a measure of the amount of atmospheric torque in the atmosphere, that can be a tell-tale sign of either future La Nina or El Nino events. When the GAAM is positive, warming along the equator could be more evident and signify El Nino events. While solar activity is low by historical standards, a sudden spike in activity could bode well for corn and soybean crops in Argentina and southern Brazil. It also might portend a decent U.S. soybean crop in 2014. Hence, prices of soybeans may turn to a longer term bearish scenario again later. If it were not for China's enormous appetite for soybeans, I think prices could drop 10% come late winter or early spring, barring any major South American production issues.
A weak El Nino, if it occurs, would also bode well for the U.S. wheat crop and prevent prices from seeing a major rally. However, the risk come late winter or spring might be some freeze damage if anything.
Overall, we became basically net bearish grains a year ago on expectations of a rebound in global grain production and better world weather and I do not see anything right now that would spike this sector into a longer term bull market.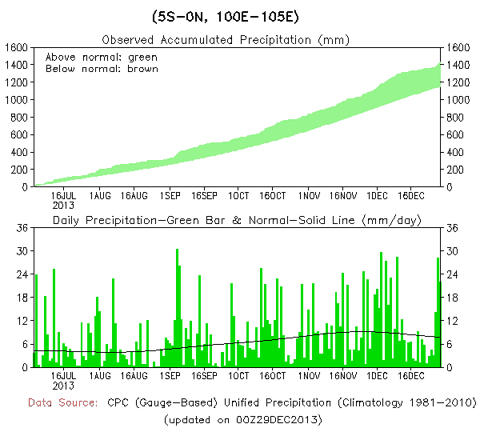 Indonesia has seen above normal rainfall since July. They are the 3rd biggest producer of cocoa that will only cause to tighten the global supply situation of cocoa (dark Chocolate). However, the west African mid-crop has gotten off to a decent start. Further problems might be needed to push prices above $3000/ton.
Climate Products Center--Above
Cocoa prices (NYSEARCA:NIB) have been on a tear, reaching our objective a month ago of $2800---a 20% increase from the drought reduced summer, 2013 west Africa crop. While strong European demand has also lifted this market, traders will be paying close attention as to whether or not strong winter Harmattan Winds play a role in reducing the mid-crop. Right now, it does not appear that unusual, strong, dry Sahara type Harmattan Winds will play too much of a negative role in west Africa the next few weeks. However, if weak El Nino conditions due to form come summer, the 2014 crop could be compromised. Combine this with incessant rains hurting the Indonesia crop, and cocoa prices still have a chance to reach $3000 later this winter.
Orange juice prices have soared since their post "feeble fall sell-off" on the lack of hurricanes hitting Florida, combined with weaker global demand for juice. However, the Florida crop is still the worst in 25 years due to disease issues and there is a reasonable chance for some January cold snaps that may keep prices firm in coming weeks.
Disclosure: I have no positions in any stocks mentioned, and no plans to initiate any positions within the next 72 hours. I wrote this article myself, and it expresses my own opinions. I am not receiving compensation for it (other than from Seeking Alpha). I have no business relationship with any company whose stock is mentioned in this article.