Editors' Note: This article covers a stock trading at less than $1 per share and/or with less than a $100 million market cap. Please be aware of the risks associated with these stocks.
At the end of September I wrote an article entitled Analysts' Picks For The Dry Bulk Sector that outlined analyst recommendations for the dry bulk shippers. Since then the Baltic Dry Index has shot up, primarily on the back of the Capesize rate, and with the help of an increase in Chinese Iron Ore imports. This surge has been a wind fall for the companies and has helped make some of them profitable or set them back on the pathway for profitability. Since then, I believe its time to re-look the analyst recommendations and see who has looking best now.
Analyst recommendations
My analyst recommendations are based on the data presented in Yahoo Finance. Since 28 September, Diana Shipping Inc. (NYSE:DSX), Navios Maritime Partners L.P. (NYSE:NMM), and Safe Bulkers, Inc. (NYSE:SB) have all improved their mean recommendations for buying sentiment. Genco Shipping & Trading Ltd. (NYSE:GNK) and Eagle Bulk Shipping, Inc. (NASDAQ:EGLE) both stayed the same with their recommendations. DryShips, Inc. (NASDAQ:DRYS) and Navios Maritime Holdings Inc. (NYSE:NM) both decreased their buying sentiments. Overall, SM has the best recommendation for buying, followed by NMM.

Short Interest
Another buying/selling indicator that I like to look at is the number of shorts for a particular company. I pulled by data from shortsqueeze, and typically look at the percent of float that is short and the number of days to cover. Both NMM and GNK have the highest number of days to cover with 5.5 and 4.9 days each. Taken alone, I don't find either of those numbers to be concerning. For the percent of the float that is short, GNK has almost 32% and EGLE has almost 30%. A high percent of the float with a low number of days to cover the short interest tells me the companies have a lot of trader interest and not as much investor interest, such as with GNK. On the other side, NM and SB both have a low level of short interest with a short period of days to cover.

Comparison
When looking at the performance of the companies over the past year, the clear lagger is GNK. While EGLE has had some success with over a 400% appreciation during the height of the first BDI surge, they have since fallen back some. Both SB and NM have maintained a steady climb and are up over 200%. DRYS, DSX, and NMM have also had some steady climbs, but not as dramatic.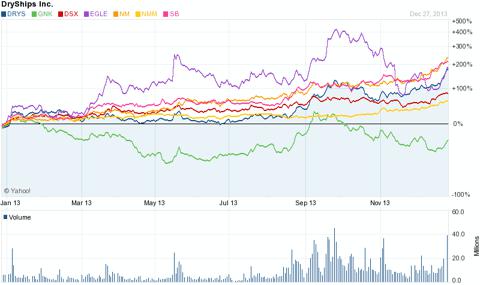 DRYS
I'll start off by saying that I'm long DRYS and believe their interest in Ocean Rig UDW Inc. (NASDAQ:ORIG) has helped them weather the storm, in spite of over $1 billion in loan facilities that will come due over the next seven years. A significant portion of the fleet is still on contract rates, but the company will be phasing more onto the spot market over the next two years, taking advantage of the improving BDI. The company lagged the first half of the year, but once BDI rates popped, investors began to come back in, catapulting the company higher.
DSX
DSX has been steadily climbing over the past year due to its strong balance sheet. The company currently has just over $400 million in long term debt and $300 million in cash on hand. The company operates all their vessels on a fixed rate, which gives it a predictable cash flow.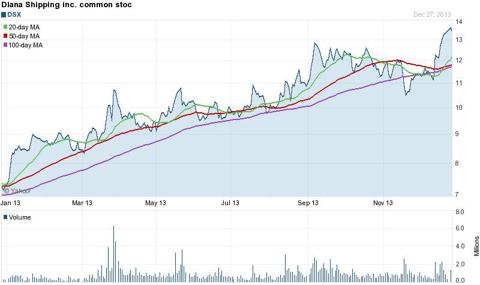 NM
NM has probably benefited the most from the surge in the BDI due to the number of Capesize ships they have. Even though analyst sentiment has slipped slightly from three weeks ago, the company has still doubled since September. Additionally the company has a low level of shorts, to me indicating that the market believes the company will continue to climb.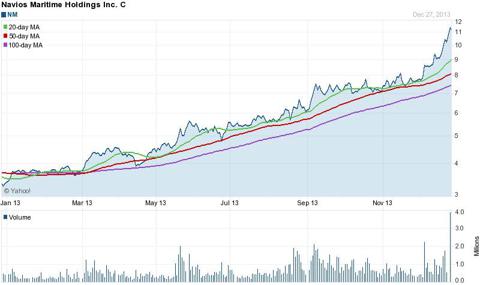 NMM
NMM did not surge during the September BDI surge, but has climbed since the beating analysts estimates for 3rd Quarter revenue and earnings. The company has $145 million in cash on hand, but intends to use most of it to acquire additional ships. It also has relatively low debt with just over $340 million in long term debt.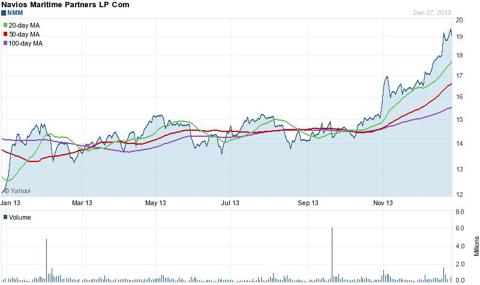 SB
The company has just over $125 million in cash on hand and almost $600 million in long term debt. Analysts have SB high on the list with a buy recommendation and there is a small number of shorts, indicating to me more investor interest than trader interest.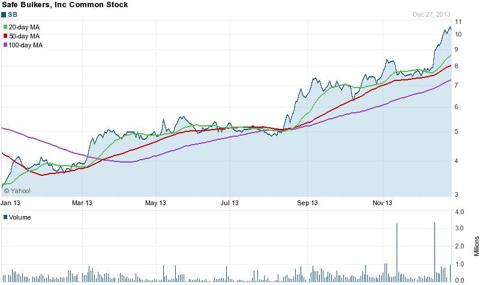 EGLE
Like GNK, EGLE has significant problems. The first indicators should be the low analyst recommendations and the high number of shorts. With almost 30% of the shares short and a 4 day cover period, it should raise a flag of a high number of traders instead of investors. When you look at the balance sheet of the company, it has just over $1.1 billion in long term debt, but just under $20 million in cash on hand. The company did climb during the September BDI surge, but then quickly fell back down and crashed.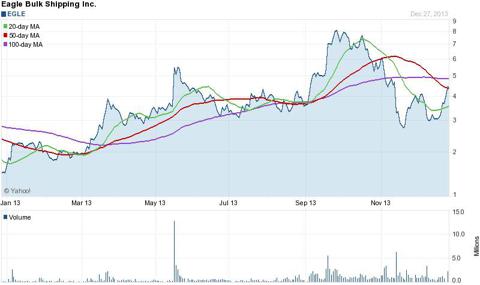 GNK
GNK has been the lagger of the group, with several analysts believing that bankruptcy isn't too far off. The company has almost $1.5 billion in long and short term debt, but continues to post losses and is burning through their cash. A look at their chart shows that investors have been bearish towards the company. There was some optimism when the BDI rates surged in September, but it hasn't been enough to encourage investors. Like I already pointed out, the company has a high level of shorts (almost 32%) with a relatively low time frame to cover (almost 5 days). To me this signals traders are active with the stock, but doesn't give me much confidence with the long term outlook of the company.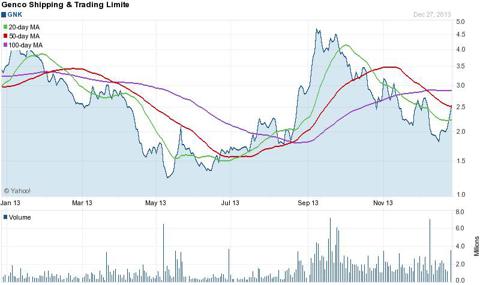 Conclusion
I am long DRYS, but still feel like DSX, NM, NMM, and SB are worthy investments. All have performed well, and will likely capitalize on the improving dry bulk shipping industry going forward. As an investor, I would stay far away from both GNK and EGLE, but they might be great for traders trying to time the tops and bottoms.
Disclosure: I am long DRYS. I wrote this article myself, and it expresses my own opinions. I am not receiving compensation for it (other than from Seeking Alpha). I have no business relationship with any company whose stock is mentioned in this article.