The shares discussed in this report are speculative but we believe have great upside potential.
WMI Holdings: (OTC: WMIH)
ARC Group Worldwide: (NASDAQ: ARCW)
Cimatron Ltd: (NASDAQ: CIMT)
Adept Technology Inc: (NASDAQ: ADEP)
12/27/2013 Closing Prices
WMIH: $2.71
ARCW: $29.09
CIMT: $8.64
ADEP: $15.40
We are always looking to discover stocks Wall Street has yet to embrace. Below are four undiscovered stocks. We believe these four can do well in 2014.
WMI Holdings Corp.
WMI Holdings Corp. (OTC: WMIH: $2.52) was known as Washington Mutual, Inc (WMI). Prior to bankruptcy on September 26, 2008, Washington Mutual was a savings and loan holding company. Immediately after its appointment as receiver, the FDIC Receiver sold substantially all the assets of Washington Mutual to JPMorgan (NYSE: JPM) in exchange for payment of $1.88 billion and the assumption of all of WMI's deposit liabilities.
On March 19, 2012, WMIH emerged from bankruptcy with a new board of directors and certain new officers. Upon leaving bankruptcy:
WMIH also received $75.0 million in cash from certain creditors.
WMIH obtained access to a $125.0 million senior credit facility. WMIH can use approximately $25.0 million for working capital and $100.0 million for acquisitions.
WMIH also issued $130.0 million aggregate principal amount of its 13% Senior First Lien Notes due 2030.
WMIH issued 200,000,000 shares of common stock, of which 194,670,501 shares were issued to new WMIH shareholders and 5,329,499 shares of common stock were issued and deposited into a Disputed Equity Escrow.
WMIH also emerged from bankruptcy with Net Operating Losses (NOL) from the previous entity. At the end of 2012, NOL amounted to $5.97 billion.
On December 9, 2013, WMI Holdings Corp. announced KKR & Co. (NYSE: KKR) entered into a conditional commitment to make a strategic investment in WMIH. KKR agreed to purchase approximately $10.55 million face amount of convertible preferred stock of the WMIH at a price per share of $1.10 convertible on a one-for-one basis into shares of common stock of WMIH. KKR also committed to purchase up to $150 million aggregate principal amount of subordinated 7.5% PIK notes, which may be issued in one or more trances over a three year period, each with a seven year term from the date of initial issuance. WMIH will use all of the proceeds from the Subordinated Notes to fund future acquisitions. Upon completion of the transaction, KKR would receive five-year warrants to purchase approximately 61.4 million shares of the Company's common stock, 30.7 million of which would have an exercise price of $1.32 per share and 30.7 million of which would have an exercise price of $1.43 per share. KKR would also have the right for three years to participate up to 50% in equity offerings up to an aggregate of $1 billion by WMIH subject to a cap in ownership by KKR (and its affiliates) of 42.5% of the WMIH'S common equity.
The KKR deal provides WMIH with significant capital to acquire a big business. The NOL makes WMIH a very attractive acquisition target, assuming a suitor is interested in purchasing WMIH just for the NOLS. The value of the WMIH'S NOLS is the amount of tax payments they can shield. With a 35% Tax Rate in the US, the NOLS are worth $2.09 billion or $10.35 per share. With KKR now holding a large percentage of the outstanding shares of WMIH, they can help WMIH realize the total value of the company by using the NOLS,and making a blockbuster acquisition that they have done many times. We would think that before such an investment was made by KKR they already have the target in mind. We are getting into WMIH early in the game. These type of programs take a long time to carry out but we think your patience will be rewarded and the shares could appreciate 100% before 2014 is over and more in future years depending on how things unfold. THESE SHARES ARE SPECULATIVE.
Technical Analysis by Harry Boxer (TheTechTrader.com)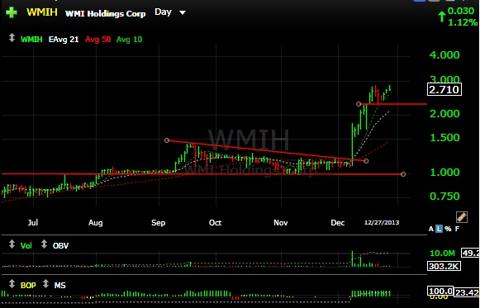 The recent explosive move from $1.00 to $2.85 on heavy volume breaks WMIH out of a 3 month consolidation phase to reach new post bankruptcy highs. The former Washington Mutual shell has a strong fundamental base and is looking very strong technically, although it's up 300% from the lows last May. However, we feel that the recent run is the price volume surge initiates a longer term move. Projected technical targets are $4 and $6. Support near $2.30-2.35
ARC Group Worldwide
ARC Group Worldwide (NASDAQ: ARCW: $29.25) is a diversified, global manufacturing company as well as the unequivocal world leader in Metal Injection Molding. ARCW was founded in 1987 and has a long history as a technology innovator in the manufacturing business.
ARCW has built technologically advanced, niche manufacturing businesses in the United States and abroad. The global manufacturing supply chain is changing, and the advent of automation, 3D printing, robotics, artificial intelligence and cheaper domestic energy prices will lead the manufacturing renaissance in the US, which is among a key area of focus for ARCW. ARCW will also continue to be a major player in the global manufacturing supply chain, so ARCW can bring innovation and solutions to customers on a global basis.
ARCW'S core manufacturing businesses are in precision components, flanges, fittings and wireless technology. The Company focuses on building these units through growing and consolidating market share. ARCW also brings significant expertise in lean manufacturing, which is core to the Company's strategy. Further, ARCW utilizes cutting edge technology like robotics and 3D printing, to stay at the forefront of manufacturing efficiency. ARCW'S mission is to bring innovation and technology to manufacturing.
On December 12th 2013, ARC Group Worldwide, Inc. announced it formed a new division, 3D Material Technologies, LLC (3DMT). 3DMT is focused on utilizing ARCW'S experience in 3D printing, rapid prototyping, short run production and tooling to dramatically reduce customer's "time to market."
Using proprietary technology and expertise, 3D Material Technologies will provide its customers with the ability to simplify the process of taking a concept to production all within a matter of days. Conventional prototype processes typically take several weeks to months to complete and often several additional months to reach production levels. 3D Material Technologies utilizes 3D printing, CNC Machining and MIM Technology to facilitate the creation of rapid prototypes, short run production and mass customization parts. Further, ARCW has used Fused Deposition Modeling ("FDM"), Selective Laser Sintering ("SLS"), and Stereolithography ("SLA") technology for several years, and will commit significant resources to build this effort in response to burgeoning demand by customers. In particular, 3DMT views metal 3D printing as a significant area to build out its capabilities. 3D printing is complementary to ARCW'S core manufacturing allowing ARCW to leverage its existing customer base. It can be highly beneficial to existing customers by reducing development cycle time. ARCW can also take advantage of the growth in the 3D market.
ARCW also recently added a well respected industry expert, Todd Grimm, to the board to help the 3D effort. Todd Grimm has been active in the field of 3D printing since 1990 and is considered to be one of the top experts in the industry. Mr. Grimm is currently President of T. A. Grimm & Associates, Inc., where he consults leading companies on their 3D printing strategy. Mr. Grimm is a founding board member of the 3D Printing Association and was named one of the "Top 20 Most Influential" by TCT Magazine.
ARCW posted very strong Fiscal Year 2013 results. FQ4 net revenue grew 153.7% over fourth quarter of the prior year. FY2013 revenue grew 125.3% over prior year results. FQ4 adjusted earnings of $1.7 million and full fiscal year adjusted earnings of $4.7 million. ARCW also generated strong cash flows with FY2013 cash flow from operations $7.4 million, up from $6.2 million for the prior year. Strong financial performance continued into Q1 of the company's fiscal year 2014 with a 38% increase in sales vs. the year ago period, and record earnings of $0.34 per share.
ARCW has a PE of 29x trailing twelve month (TTM) earnings compared to 3D Systems (NYSE: DDD) on a TTM PE of 115x earnings and ExOne (NASDAQ: XONE) Stratasys (NASDAQ: SSYS) with negative earnings and sky high stock prices. There is significant upside from ARCW's current share price.
ARCW has an existing customer base that they will be aided through decreased time to market to leverage with their new 3D solutions. They have a strong 3D team in place to guide their 3D effort and they are undervalued relative to peers. As a warning, ARCW shares are very thinly traded.
Technical Analysis by Harry Boxer (TheTechTrader.com)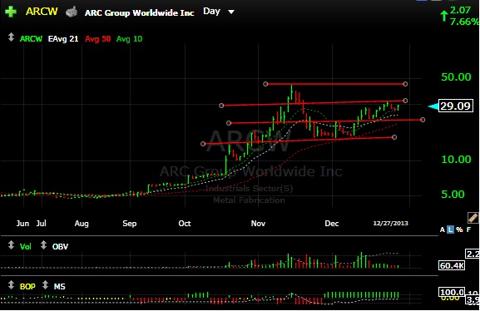 ARC Group Worldwide had a huge move from September to mid November exploding from near $5 to more than $40. Subsequently, ARCW did a 0.382 Fibonacci retracement and settled back to retest the mid teens. In December it rebounded sharply, more than doubling. With volume increasing dramatically on the recent snapback, TheTechTrader.com feels ACW may have much more to go. Projected targets are near $42 and the $55-58 zone. Current support is at $23 then $20.
Cimatron Ltd
Cimatron Ltd. (NASDAQ: CIMT: $8.32) designs, develops, manufactures, markets and supports a family of modular computer-aided design/computer-aided manufacturing (CAD/CAM) software products. CIMT'S product line includes CimatronE and GibbsCAM. CIMT'S products provide an integrated design through manufacturing solution for small-to-medium-sized companies and manufacturing divisions of corporations and interface with other CAD/CAM systems. CIMT'S end-users include small to medium-sized companies involved in the mechanical engineering and manufacturing industry, subcontractors that supply corporations within the mechanical engineering and manufacturing industry, and departments or divisions within these corporations. Its customers are located in over 35 countries worldwide.
The Focused Stock Trader first recommended CIMT on October 7th, 2013. Cimatron has 30 years of experience and over 40,000 installations. CIMT recently announced on their Q3 2013 conference call they are developing 3D software solutions. 3D software solutions are a natural progression for CIMT as CAD/CAM software is a requirement for 3D modeling. This leads to a natural customer base of over 40,000 existing customers. CIMT is in prime position to take advantage of the 3D modeling market, which is projected to grow to $7.7 billion by 2018.
CIMT has also created a 3D printing advisory board. Its first member was Terry Wohlers, a highly regarded expert in the 3D industry.
We believe CIMT is undervalued. On November 7th, 2013, Autodesk (NASDAQ: ADSK) offered £20.75 per share for Delcam, a competitor of CIMT. In 2012, Delcam earned £0.58 per share in 2012 leading to a transaction multiple of 35.75x. Delcam's TTM PE based on the transaction was 33.15x. Using a PE of 33x on CIMT'S TTM earnings per share of $0.41 leads to a fair value per share of $13.53.
CIMT has a strong ability to grow based on their current customer base with 3D software. Based on recent acquisition multiples CIMT is significantly undervalued.
Technical Analysis by Harry Boxer (TheTechTrader.com)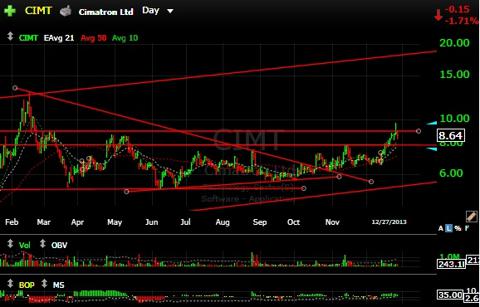 Cimatron exploded last January from $4.50 to near $13 then pulled back dramatically in a 3 wave decline to retest the $5.00-$5.25 level. Following that CIMT based out for nearly 9 months, breaking out again in the last 2 weeks. The recent break out took CIMT back to over $9.50 before settling back in the last few days. Longer term chart pattern analysis reveals a possible further extension of the move could run it to near $13 then $18. Support is currently near $7.75 and $6.50.
Adept Technology
Adept Technology (NASDAQ: ADEP: $13.18) is a provider of intelligent robots and autonomous mobile solutions and services. ADEP'S product range includes application software, integrated real-time vision and multi-axis motion controls, machine vision systems and software, autonomous navigation software and controls, industrial robots and grippers, autonomous service robots, intelligent automated guided vehicles and advanced vision-based flexible parts feeders. It operates in two segments: Robotics and Services and Support. ADEP's offering combines its motion controls systems with application software, which it sells together with its own vision-guidance technology and/or its robot mechanisms. Its business is focused on delivering intelligent, flexible automation products, solutions, components and services for assembly, packaging, warehousing and logistics, automated transportation, material handling inspection and lab automation applications.
ADEP has been losing money but is now in a turn-around mode. To fully understand our favorable position see our full report dated September 17th in our archive where We first recommended the shares at $5.81. Recently Google (NASDAQ:GOOG) has acquired eight robotic companies. If you want to have some fun go to the ADEP website and you will understand why we like the Robotics Group and especially ADEP, here.
Technical Analysis by Harry Boxer (TheTechTrader.com)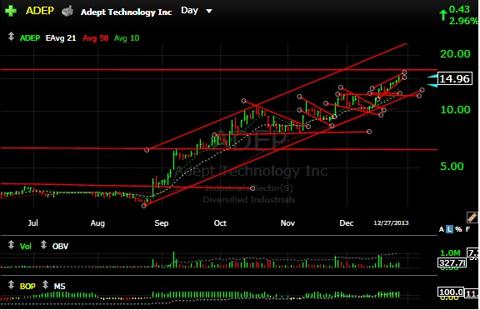 ADEPT technologies has been a big winner for TheTechTrader.com this year, running from under $5 to over $15, a triple in just 3 months. Yet, TheTechTrader.com feels the technical strength exhibited by ADEP is indicative of a larger move to come. TheTechTrader.com projections call for targets near $20 and then $25-plus. Important technical support is near $11.50 and then $10.
Conclusion
ARCW, CIMT and ADEP are three stocks that fall into our FAVORITE 2014 groups, robotics and 3D printing. WMIH is a special situation which Wall Street has yet to discover. These four stocks have significant upside potential. Their shares should do well in 2014.
THE FOCUSED STOCK TRADER
The Focused Stock Trader is not registered as an investment adviser nor a broker/dealer with either the U. S. Securities & Exchange Commission or any state securities regulatory authority. Users of this website are advised that all information presented on this website is solely for informational purposes, is not intended to be used as a personalized investment recommendation, and is not attuned to any specific portfolio or to any user's particular investment needs or objectives. Furthermore, such information is not to be construed as an offer to sell or the solicitation of an offer to buy, nor is it to be construed as a recommendation to buy, hold or sell (short or otherwise) any security. All users of this website must determine for themselves what specific investments to make or not make and are urged to consult with their own independent financial advisors with respect to any investment decision. All opinions, analyses and information included on this website are based on sources believed to be reliable and written in good faith, but should be independently verified, and no representation or warranty of any kind, express or implied, is made, including but not limited to any representation or warranty concerning accuracy, completeness, correctness, timeliness or appropriateness. In addition, we undertake no responsibility to notify such opinions, analyses or information or to keep such opinions, analyses or information current. Owners, employees and writers of and for The Focused Stock Trader a division of TFST Publishing may have long or short positions, may buy or sell additional shares of securities that may be discussed on this website.
Disclosure: I am long WMIH, ADEP, ARCW. I wrote this article myself, and it expresses my own opinions. I am not receiving compensation for it. I have no business relationship with any company whose stock is mentioned in this article.
Additional disclosure: I was assisted in prepairing this article by my associate Marc Melendez.