The oil industry has been reinvented thanks to the innovative extraction method known as fracking. Horizontal drilling and hydraulic fracturing have allowed for increased oil extraction and revitalized oil production.
During the gold rush years, successful businesses weren't mining companies, but rather support-oriented businesses like mining equipment manufacturers or even the makers of Wrangler jeans. History is known to repeat itself and in the modern-age equivalent of fracking, it's the use of proppants like sand that goes unnoticed but can yield the biggest results.
Proppants are used to reinforce the tiny cracks opened up by hydraulic fracturing in order to allow oil and gas to flow more smoothly and keep extraction costs to a minimum. This industry has performed well alongside the market at large in 2013. More specifically, oil and gas companies like Pioneer Natural Resources (NYSE:PXD) have experienced so much success with proppants that they are considering using more per job to improve efficiencies and expand margins.
We found three stocks in the sand and ceramic proppant industry have done tremendously well for 2013 - up as high as 150% for the year. All of them pay a dividend above 1% and seem poised to continue strong into 2014 with expected EPS growth of 25% or greater.
Hi-Crush Partners (HCLP) is a $542 million company that specializes in frac-sand. The stock is up 157% year-to-date but still trades at a reasonable 15 times earnings. EPS growth over the next 5 years is estimated to be around 34% giving it a PEG ratio of just 0.45. The company has an operating margin of 42% and reported quarterly revenue growth of 72% year-over-year. Hi-Crush pays an exceptionally high dividend with a yield of 5.5% as well. Fundamentally, the stock shows no reason why it wouldn't continue to outperform for 2014, especially with fracking becoming more mainstream.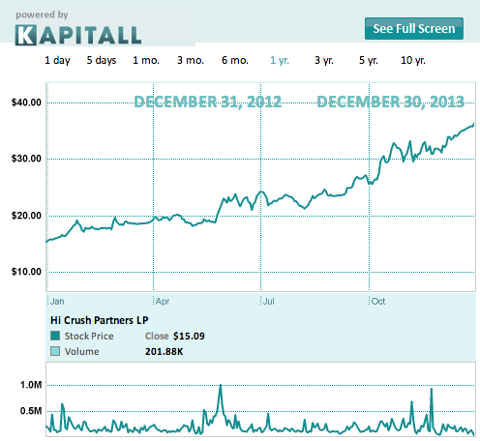 (Click to enlarge. Sourced from Zacks Investment Research.)
Another company in frac-sand is U.S. Silica Holdings (NYSE:SLCA). The stock trades at 21 times earnings but a PEG ratio of 0.81 thanks to expected EPS growth next year of 37%. Like Hi-Crush, the stock has climbed quite a bit this year - up 103%, but still looks undervalued. Operating margins are relatively high at 23% and the company began offering a dividend this year, currently yielding 1.49%. Investors have additional downside protection with U.S Silica as management approved a $25 million stock buyback program that's good until December of 2014.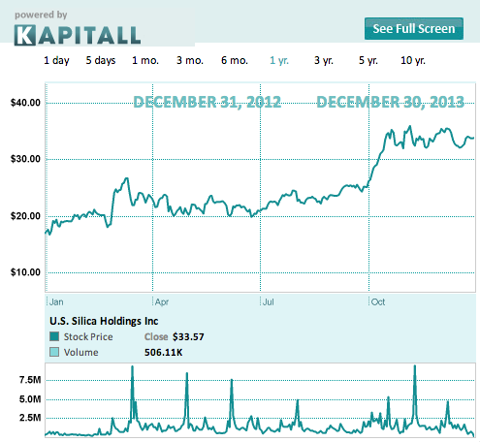 (Click to enlarge. Sourced from Zacks Investment Research.)
CARBO Ceramics (NYSE:CRR) is the last company on our list. They engage in ceramic proppant solutions rather than sand which while more expensive, can increase production by as high as 20%. Kodiak Oil & Gas (NYSE:KOG) switched to 100% ceramics for its Bakken shale operations and experienced a boost in daily production. A long term test being run by SM Energy (NYSE:SM) has revealed a production boost of 100% in less than 2 years using ceramic only proppants.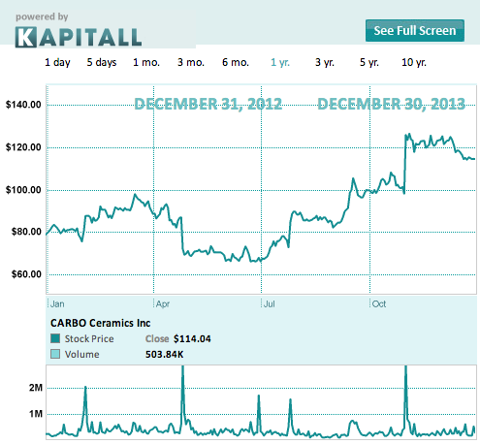 (Click to enlarge. Sourced from Zacks Investment Research.)
The stock is trading at a seemingly high 31 times earnings but has expected EPS growth next year of over 28%. Quarterly revenue growth is up 33% as compared to last year and operating margins are solid at 19%. CARBO pays a dividend of 1.05% offering some downside protection, but provides better incentive to investors by carrying zero long term debt.
Shale mining and fracking are relatively new extraction methods with unknown long-term effects. While the proppant industry has outperformed for 2013, the sector may experience some profit-taking before climbing to new highs in 2014. Because of the new nature of the mining, future growth rates are subject to change and may affect future EPS estimates.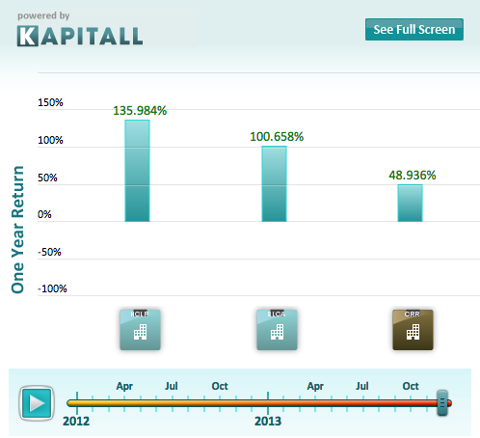 (Click to enlarge. Sourced from Zacks Investment Research.)
Disclosure: I have no positions in any stocks mentioned, and no plans to initiate any positions within the next 72 hours.
Business relationship disclosure: Kapitall is a team of analysts. This article was written by Daniel Cross, one of our writers. We did not receive compensation for this article (other than from Seeking Alpha), and we have no business relationship with any company whose stock is mentioned in this article.