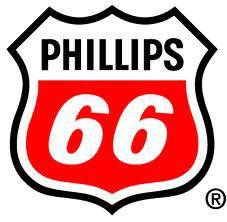 Monday's announcement that Berkshire Hathaway (NYSE:BRK.A) will acquire Phillips 66's (NYSE:PSX) flow improver business, Phillips Specialty Products Inc. ("PSPI"), came as a complete surprise to me. I know maybe 10 reasons to own perhaps the Best Play On Domestic Shale, but the PSPI business was not one of them. Nevertheless, Berkshire will exchange shares of PSX it currently holds for the wholly owned PSX subsidiary. Although the PSX press release said the specific number of shares will be determined by the share price at the deal closing, a Reuters article mentioned "about 19 million shares" of stocks for the transaction ($1.42 billion). My guess is PSX will retire all or part of the shares as part of its previously announced share buyback plans which in aggregate totals $5 billion. Regardless, it's unexpected good news for Phillips 66 shareholders. But what's on my mind today is the potential drop-down of PSX's interests in the Sand Hills and Southern Hills pipelines to the Phillips 66 Partners (NYSE:PSXP) MLP. But first, let's hear what Berkshire Hathaway CEO Warren Buffett had to say about the flow improver business transaction:
I have long been impressed by the strength of the Phillips 66 business portfolio. The flow improver business is a high-quality business with consistently strong financial performance, and it will fit well within Berkshire Hathaway. I plan to have James L. Hambrick, CEO of The Lubrizol Corporation, oversee its strategic direction.
Now to the subject at hand.
Potential Pipeline Dropdowns To The MLP
When PSX formed the MLP it was designed as a long-term vehicle to drop-down additional midstream assets. Two of the most obvious were mentioned in the IPO prospectus wherein PSXP was given right of first offer ("ROFO") for PSX's 1/3 interest in the Sand Hills and Southern Hills pipelines. In the Q3 conference call transcript, PSXP Chairman and CEO Greg Garland mentioned the pipelines:
As we look to the next several years, the partnership also has opportunities to acquire newly built projects from Phillips 66, as well as the previously announced ROFO assets, the Sand Hills and the Southern Hills pipelines.
During the call, analyst Jeremy Tonet of JP Morgan asked how the pipelines stacked up on a capital maturity basis versus other potential drop-down assets and if there's room for potential other assets to be dropped down ahead of them. Tom Liberti, PSXP VP and COO responded:
...we want to make sure that those have the level of maturity that maximizes both for PSX and for PSXP and with the portfolio that we currently have those are nice assets to drop. We also have other opportunities. So we will just look every time at different assets. We will look and study those assets and see which we think is right at the time.
The pipelines were announced "in service" back in June, so they have been up and running for about 6 months. Considering the abundance of NGLs being produced in the Permian and Eagle Ford, it's a good bet these pipelines are running at or near existing full capacity. I'm not sure that meets the "level of maturity" Liberti spoke of, but it certainly has been enough time to get the kinks worked out of the pipelines' operations. So what are these pipelines worth and is PSXP in a position to purchase them? Just to recap, here's descriptions of the two pipelines.
The Sand Hills Pipeline
The 720-mile Sand Hills NGL Pipeline transports NGLs from the Permian Basin and Eagle Ford Shale to the Gulf Coast. The pipeline provides takeaway service from DCP Midstream and third-party plants to fractionation facilities along the Texas Gulf Coast and the Mont Belvieu, TX market hub. The initial capacity is 200,000 bbl/day. Further capacity increases to 350,000 bbl/d are possible with the installation of additional pump stations.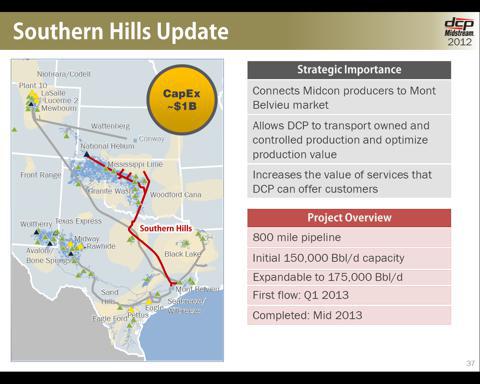 The Southern Hills Pipeline
The 800-mile Southern Hills NGL Pipeline provides takeaway service from DCP Midstream and third-party plants in the Midcontinent to fractionation facilities along the Texas Gulf Coast and the Mont Belvieu market hub. The pipeline will have a capacity of 150,000 bbl/d and a total capacity of 175,000 bbl/d after completion of future planned pump stations.
Capital Invested & Possible Sales Price
Phillips 66, Spectra Energy (NYSE:SE), and DCP Midstream each own a one-third interest in the two pipelines. The cap-ex for each pipeline was in the neighborhood of $1 billion. That means PSX has invested about $350 million or so in each pipeline. For a 25% return on one of these pipelines, the sales price would be around $440 million.
Can PSXP Swing It?

And now we get back to why it was so important for PSXP to have had such a successful IPO. Back in July, the MLP opened at $28.98, well above the initial pricing of $23. An AP report said PSXP raised $377.8 million from its initial public offering of stock. These proceeds were above expectations. More recently, PSXP reported third quarter distributable cash flow was $12.6 million and in the Q3 presentation revealed the company held $420 million in cash & cash equivalents and had secured a $250 million revolving credit facility. I'm no financial wizard on these types of transactions, but it would appear PSXP is on the verge of being able to purchase one of the pipelines now. However, since PSX is the seller and can structure transaction terms how they wish, it is possible they could take 50% of the sales price up front and string out additional payments over the next 12-18 months so as not to unduly burden the MLP.
Cash Flow Estimate
Taking a look at DCP's tariffs webpage, and clicking on the Southern Hills rates tariff for shipment originations from Oklahoma and Kansas and terminating in Mont Belvieu, TX, you can see the transport fees are between 6-10 cents/gallon. Let's assume the entire 150,000 bbl/day capacity is taken up at $0.06/gallon. At 42 gallons/barrel, I come up with transport fees of ~$378,000/day or about $138 million on an annual basis. At that run rate, which is a low-ball estimate, it should be easy for PSXP to purchase the Southern Hills during 2014 with 50% down (estimated at $220 million) and four quarterly payments of $55 million without even having to tap its credit facility or running low of cash on hand.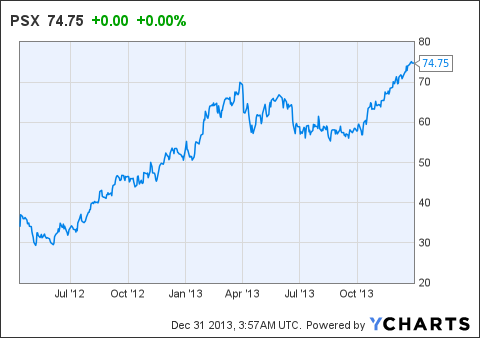 Summary & Conclusion
My bet is that Phillips 66 will drop down the smaller of the two pipelines (Southern Hills) to PSXP during 2014. The MLP is in a very strong financial position today and has adequate financing should the need arise. However, the sale could be structured for the benefit of both companies without tapping credit lines and could allow for the drop-down to come sooner rather than later.
I continue to favor investing in PSX over PSXP. PSXP has gotten expensive recently (see below) and PSX continues to reward shareholders by increasing dividends and buybacks. Note PSX currently pays a higher dividend yield (2.1%) than does the MLP. That said, obviously the market senses the long-term growth potential in the MLP.
The proceeds from the sale of one (or both) of these pipelines will likely be used for the same thing the sale of the flow improver business to Berkshire will be used for. In the words of Phillips 66 Chairman and CEO Greg Garland:
Berkshire Hathaway made a strong offer for our high-performing flow improver business. This transaction optimizes our portfolio and focuses growth on our Midstream and Chemicals businesses.
That's right - PSX is going to focus future growth on its Midstream and Chemicals business, which is exactly what they should be doing given the growth in domestic petroleum production and very low domestic natural gas prices. Even as the stock is hitting new highs on a seemingly daily basis, PSX is a BUY.
I will leave you with some current financial metrics on the PSXP MLP:
PSXP = $38.07
Mkt Cap. = $2.68 billion
P/E = 38*
Div. (Yield) = $0.62 (1.6%)*
*NOTE: P/E and dividend were annualized based off the MLP's first and only earnings report (Q3).
Disclosure: I am long PSX. I wrote this article myself, and it expresses my own opinions. I am not receiving compensation for it (other than from Seeking Alpha). I have no business relationship with any company whose stock is mentioned in this article.
Additional disclosure: I am an engineer, not a CFA. The information and data presented in this article was obtained from company documents and/or sources believed to be reliable, but has not been independently verified. Therefore, the author cannot guarantee its accuracy. Please do your own research and contact a qualified investment advisor. I am not responsible for investment decisions you make. Thanks for reading and good luck!