I find it fairly interesting that investors would conclude that Apple's (NASDAQ:AAPL) growth story is somehow over. Sure, it's fun to point to statistics that support your thesis, and use arbitrary values that overwhelmingly support a conclusion. I see it time and time again, confirmation bias, and the near endless ways market participants fool themselves out of legitimate opportunities. Some even defer to logical extremes that supplant any practical logic from taking place.
Nathan Brooks calls it the end of Apple and Ashraf Eassa thinks that the price of the stock will stagnate over the years. I really have to disagree with the outlook provided by both contributors.
Comparison/Fundamental analysis
Currently, Apple probably has the best looking financial metrics when compared to peers. One could argue a growth or value case just by looking at the numbers.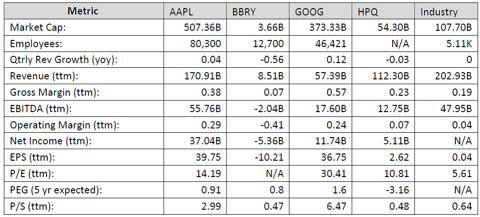 Source: Yahoo! Finance
Apple's market capitalization is the highest out of the group. Google (GOOG) comes in second, because of the growth potential of search advertising. Currently Apple has 4% year-over-year quarterly revenue growth, which is lower than Google's 12% year-over-year quarterly revenue growth. However, going into 2014, Apple's revenue is expected to grow by 8%.
Currently Apple has the highest revenue amongst its peers, and Google has the highest gross margin amongst peers. However, when considering Apple generates the vast majority of its profit from hardware, and Google generates profit from services I don't think it's necessarily a fair comparison. Gross margin fell for the year, because the pricing of the Apple iPad Mini was lower than the Apple iPad diminishing margins. Going into fiscal year 2014, the low margin products should be offset with higher unit sales.
Surprisingly Apple has the highest operating margin amongst its peers. This is because Apple has limited fixed capital, and while we could argue the same for Google. Google's commitment to higher R&D spending and administrative expenses has resulted in Apple pulling slightly ahead. However, this makes it difficult for investors to anticipate further gains from cutting operating expenditures for Apple, whereas Google could always resort to cost cutting of non-essential activities in order to boost earnings in future fiscal years.
Currently, Hewlett-Packard (HPQ) has the lowest P/E ratio out of the group, and it's unlikely that this will change in the foreseeable future. This is because computer demand is expected to further contract going into fiscal year 2014. Markets tend to price the value of a security lower if earnings aren't expected to grow significantly. Apple has the second lowest P/E ratio at a 14.19 earnings multiple. I believe this to be a fairly reasonable earnings multiple, and should eventually increase as sentiment around the stock improves.
Technical Analysis
Apple share price has been able to sustain a pretty strong up-trend since July of 2013. The stock was able to stage a recovery rally because expectations of future revenue and earnings growth improved given the weakness of competing handsets and global rollout involving NTT Docomo (DCM) and China Mobile (CHL).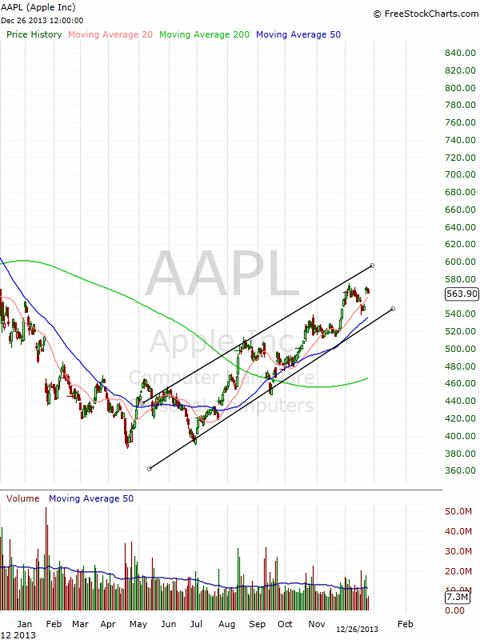 Source: FreeStockCharts
Currently Apple is above the 20-, 50-, and 200-day moving average. The stock is exhibiting typical up-trend behavior. And for those who don't know what an up-trend is, repeat after me, "higher highs, higher lows." Volume has consistently trended lower as the 50-Day moving average has continued to decline throughout all of 2013. This implies that investors are accumulating stock. I don't think Apple is a very effective trading vehicle, but if I had to offer any short-term commentary on timing. I would wait until the stock reaches the lower edge of the channel to initiate a long position. Long-term investors should probably dollar cost average and avoid any unnecessary attempts at timing entries and exits into the stock.
Price forecast and shipment forecasts
The IDC predicts that the smartphone market should be able to sustain shipment growth at an 18.5% CAGR. Apple should be able to retain the high-end of the market. This implies that Apple will enjoy both high ASPs while shipments continue to grow.

Source: IDC
Apple could potentially leverage other opportunities in the marketplace going forward. Therefore my forecast is actually a conservative one because I'm excluding certain variables that will have an even more favorable impact on the value of the stock.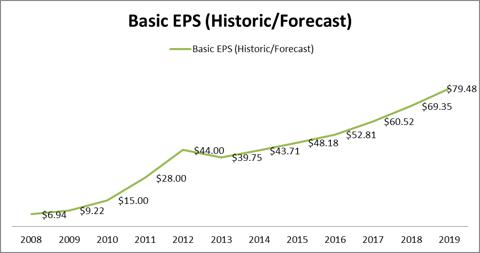 I expect earnings per share to grow by around 10% in fiscal year 2014 and 2015. I expect EPS to accelerate and grow by 14.6% (per year) from 2016 to 2019. I expect the negative impact from falling ASPs to eventually be offset with unit shipment growth. ASPs fell because of the iPhone 5C and iPad Mini. The negative impact from low ASPs will be offset with larger shipment volumes.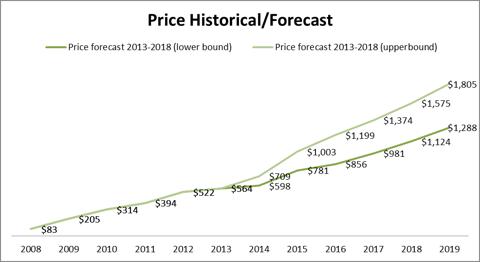 I'm moving my target to $598 to $709 per share for fiscal year 2014. A mid-point of $653 per share gives investors 15.8% upside from current levels. In the best case scenario, investors should be able to exhibit a return of around 25.7% in 2014. The compelling risk-to-reward should give investors the green light to hold onto the stock. In the best case scenario, Apple finally releases more information on upcoming product categories like the iTelevision or iWatch, which generates further excitement moving the stock price higher.
In the worst case scenario, Apple misses expectations or guidance isn't so great in one of the quarters in 2014. If that happens, Apple will trade closer to $598 per share resulting in a 6% gain, which will underperform the market.
Conclusion
Apple's earnings stalled temporarily in 2013 due to its transition to the iPad Mini and iPhone 5C. The negative impact of this transition will largely be temporary and will be overcome with rising shipment figures. The probability of losing equity by holding Apple stock is low, and the possibility of underperforming the market is low. However, if Apple were to miss expectations, investors may have a flat year with Apple.
For now, I remain a bull on Apple. With the worst behind us, I see no point in selling Apple now.
Disclosure: I have no positions in any stocks mentioned, and no plans to initiate any positions within the next 72 hours. I wrote this article myself, and it expresses my own opinions. I am not receiving compensation for it (other than from Seeking Alpha). I have no business relationship with any company whose stock is mentioned in this article.