Boardwalk Pipeline Partners (NYSE:BWP) is a diversified midstream company structured as a master limited partnership. The company operates 14,200 miles of natural gas pipelines and 240 miles of liquid pipelines. In addition, BWP has approximately 201 Bcf of natural gas- and 18 MMbbls of liquids storage capacity. The company is eager to grow organically as well as through acquisitions in order to capitalize on the ongoing production boom in key producing areas in the US. Over the last two years, Boardwalk Pipeline Partners has invested about $1.5 billion ($1.2 billion in strategic acquisitions and $300 million in organic growth projects) to expand its product portfolio.
Unit performance
Boardwalk Pipeline Partners' units have gained marginally over the last year and a return of 2.29% is not that spectacular at all. However, Boardwalk Pipeline Partners started an extended consolidation in October 2013 and units have lost up to 24% of their value since then. Units stood at $31.75 on October 22, 2013 and have subsequently corrected down to $24.07. I believe units are now way oversold and might offer a decent entry point for long-term oriented investors who get to snatch up a whopping 8.4% yield even though yield uncertainty might cause unit volatility.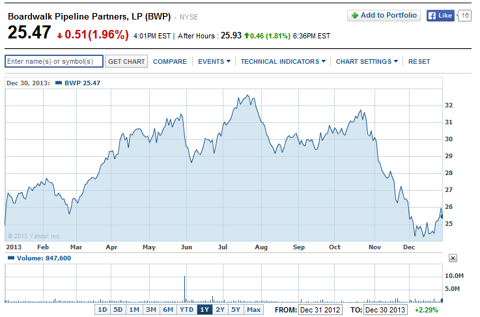 Boardwalk Pipeline Partners is among a group of pipeline companies that has had a disappointing two-year performance. With the exception of Plains All American Pipeline (NYSE:PAA) which gained 42% and Energy Transfer Partners (NYSE:ETP) which returned 23%, all other large-cap pipeline companies in the peer group produced a negative return over a two-year measurement period. Among those that disappointed are Enbridge Energy Partners (NYSE:EEP), Atlas Pipeline Partners (NYSE:APL), Kinder Morgan Energy Partners (NYSE:KMP) and Boardwalk Pipeline Partners with negative returns ranging from minus five to minus 9%.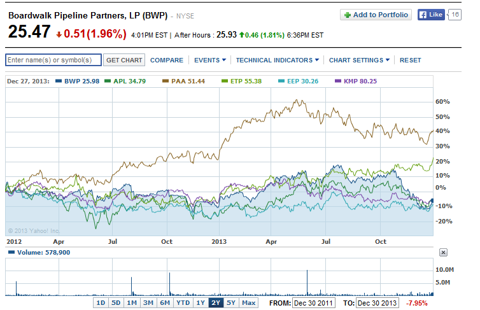 Challenges
Of course, distribution yields aren't a safe thing and cash flows to shareholders are ultimately dependent on Boardwalk's underlying profitability. The good thing with midstream companies is that a significant amount of downside risk is mitigated by pre-determined fix-fee schedules which leave companies less exposed to commodity risk.
However, Ron Hiram raised a valid point in his article 'A closer look at Boardwalk Pipeline Partners' distributable cash flow as of Q3 2013' which relates to the distribution coverage ratio for Boardwalk Pipeline Partners. Distribution coverage ratios divide the distributable cash flow of a company by the actual distribution made and show if a company pays out more than it takes in. A ratio of below one is usually a weak sign. For the most recent third quarter Boardwalk Pipeline Partners reported distributable cash flow of $117 million which compares to distributions of $136 million thereby bringing the coverage ratio to 0.86. Low coverage ratios basically imply higher risk of distribution downward adjustments although I believe the market has sufficiently priced those prospects in.
Valuation and yields
While the forward P/E generally is not the best valuation metric to appraise pipeline companies or REIT structures, it does show that Boardwalk Pipeline Partners is trading relatively cheaply compared to other major oil- and gas pipeline companies. In fact, Boardwalk Pipeline Partners trades at just 21x forward earnings which compares to nearly 30x forward earnings for Kinder Morgan Energy Partners and a peer group average P/E ratio of 25.54.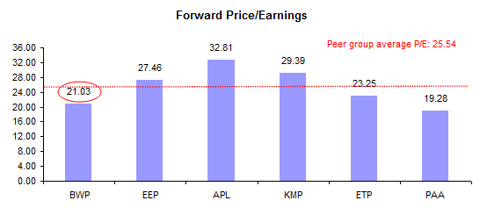 More important than forward P/E ratios are distribution yields in order to compare the attractiveness of various pipeline companies. Boardwalk Pipeline Partners currently pays $0.5325 quarterly per unit which translates into a distribution yield of 8.36%. Boardwalk Pipeline Partners is among the highest yielding pipeline companies in the sector and exhibits even higher yields than Atlas Pipeline Partners (a great company with great management, an interesting asset footprint and strong processing capacity growth) or Kinder Morgan Energy Partners.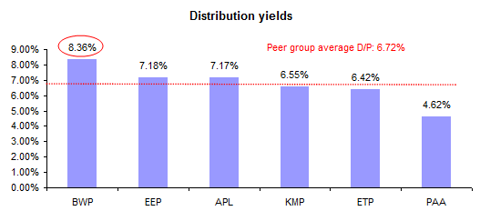 Boardwalk Pipeline Partners has a record of paying substantial amounts to shareholders. The company has increased distributions throughout much of its remuneration history, even though payments to shareholders have been held steady at $0.5325 for the last seven quarters.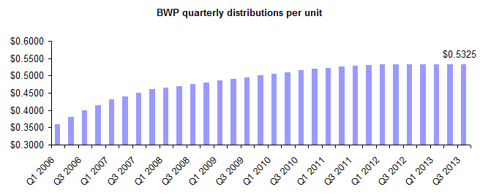 The table below summarizes the charts from above and depicts that Boardwalk Pipeline Partners not only trades comparatively cheaply on a variety of metrics but also has a distribution yield that is 24% above the already high-yielding peer group average.

Conclusion
Boardwalk Pipeline Partners has corrected quite substantially over the last two month and investors will probably find the current yield of 8.4% very attractive. The company has invested materially over the last few years in organic growth projects and acquisitions. In Q4 and throughout much of 2014 new projects will be in service adding to Boardwalk's cash flow strength and could help in offsetting low coverage ratios. BWP is operated by an experienced management team and is active in the most promising production areas of the US. Investors who don't mind acting anti-cyclically in order to secure a high-yielding MLP play might want to consider Boardwalk Pipeline Partners. Long-term BUY.
Disclosure: I am long KMP, APL. I wrote this article myself, and it expresses my own opinions. I am not receiving compensation for it (other than from Seeking Alpha). I have no business relationship with any company whose stock is mentioned in this article.