BP PLC (NYSE:BP) currently has a dividend yield of 4.54 percent. That's nearly double that of Exxon Mobil (NYSE:XOM) and well over one percent higher than Chevron (NYSE:CVX). The company's earnings are expected to grow 18 percent in 2014 and the oil giant has a market cap of $150 billion.
Through all those rosy figures, it's hard to imagine the company is being taken advantage of by way of unsupported lawsuits. But that's exactly the charge BP approached a U.S. federal judge with while attempting to now require businesses, those seeking to recover money from the 2010 oil spill in the Gulf of Mexico, to provide proof that there was a link between the disaster and their financial losses.
Even though the company failed to persuade the federal judge to alter the previously accepted settlement agreement, the company made clear its effort to eliminate these unsupported or supposedly fictitious claims would continue.
"Awarding money to claimants with losses that were not caused by the spill is contrary to the language of the settlement and violates established principles of class action law," said BP spokesman Geoff Morrell. "BP intends to seek appropriate appellate remedies to correct this error."
As an everyday citizen, it's easy to find the position taken by BP as quite troubling. Sure, nobody wants to see some liar that's only out to strike it rich through fabricated claims being paid unjustly. However, it can also be assumed BP is just as eager to limit their own financial costs as much as they're out to eliminate false claims.
Perhaps such an opinion is exaggerated. Still, the company has done little to prove otherwise. For instance, BP now estimates the cost of a settlement with most private plaintiffs to come in around $9.6 billion or up from the initially estimated $7.8 billion. With that said, the $1.8 billion difference actually comes in barely above the $1.77 billion the company paid out in its quarterly dividend in November.
Speaking of dividends, the company also hiked the payout to shareholders from $0.54 to $0.57 per quarter this year. Such a five percent jump in handouts isn't too shabby considering the extent to which the company is supposedly being reamed by others demanding the same sort of payout.
However, a solid dividend isn't the only means by which BP has to lure investors. That projected 18% growth in earnings solidly outpaces that of both Chevron and Exxon Mobil which are looking at growth of 5 percent to 6 percent, respectively, in the next year. With the company also beating on four of its past five reports and trading for well under half the price of the aforementioned competitors, the risk of getting in seems minimal.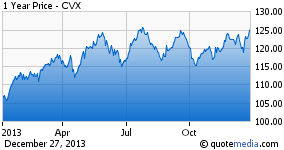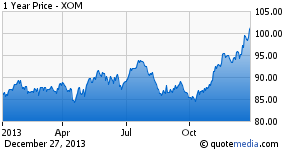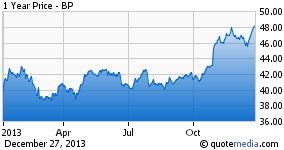 Sure, BP still faces a mountain of controversy and the company's underlying reputation may never be completely healed. Nevertheless, if there's one thing the oil giant has been shown to care about, it's the investor base. After all, statistics show the company isn't hesitating to put money which arguably should go towards affected businesses into investor's pockets instead.
Disclosure: I have no positions in any stocks mentioned, and no plans to initiate any positions within the next 72 hours. I wrote this article myself, and it expresses my own opinions. I am not receiving compensation for it (other than from Seeking Alpha). I have no business relationship with any company whose stock is mentioned in this article.